Heart is the symbol of love. Therefore, heart gifts or related heart crafts are hot theme during Saint Valentine's Day, Wedding, lover's birthday…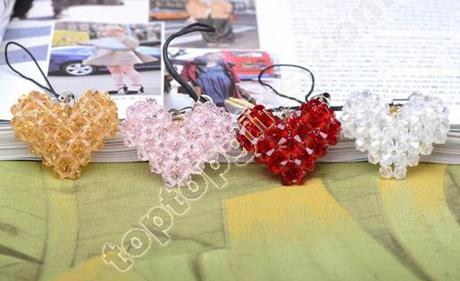 Our beaded heart is a new heart gift in the past 2012 year, which is a special handmade beaded gift. Do you want to make custom beaded hearts from us? Do you want to make your special hearts for your customers? Further more, do you want to make your unique heart for her or him? Now, follow Chinese beaded gifts factory step by step to start a beaded heart. First, prepare the materials and tools to make a beaded heart. Beads and fishing lines are the main material to make beaded gifts. If you are going to make a heart charms for cell phones, then 3mm, 4mm beads will be a good choice. Usually, we can choose plastic beads or Chinese crystal beads to make the beaded gifts. Regarding the beads shape, we can choose the shapes we like, such as faceted round, plain round, bicone, rondelle…Also, it is better to get a pair of scissors.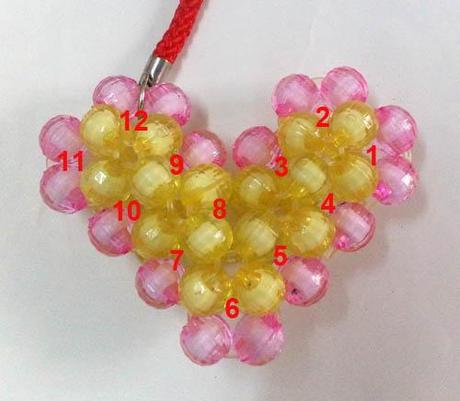 Second, start to add four beads to make a beaded heart. The beaded heart are made of four beads circle beaded. Which circle shall we make first and which circle shall we make next? You may follow the circles according the picture on the right. Third, after you finish the front of the heart, beaded the back similar as front and follow the sequence in the picture.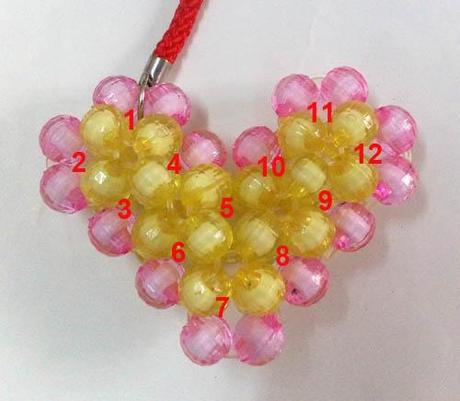 Last, when finish the beaded heart, you can add a key rings or cords to link finished beaded heart.