I have been building my banquette, and deciding on a fabric for the seat cushion was a dilemma.  Problem is I have REAL messy eaters. Every dining chair I own has been reupholstered several times, and Scotch Guard is no match against Joe.  He is a non-stop messy eater: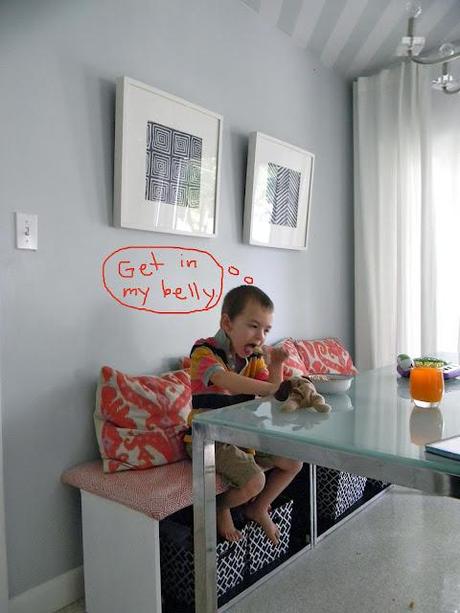 I wanted something kid friendly and in the reddish orange family.  I headed down the vinyl and oilcloth road and nothing struck my fancy.   Then I discovered I could laminate my own fabric using Therm O Web Iron-On Vinyl.   It comes in gloss and matte finishes.  I wanted the matte, but I am impatient and couldn't wait a week for delivery.  The gloss is stocked in most craft stores, and because I'm a need it now kind of gal I was at Joanne Fabrics that same day.  
So here is all you need to know about laminating your fabric.
1- The vinyl comes in 17" wide strips.  Bummed at first, but then I realized its totally all good because it would be a bit of a nightmare to maneuver if it was larger.  I broke out my ironing board, but that was useless.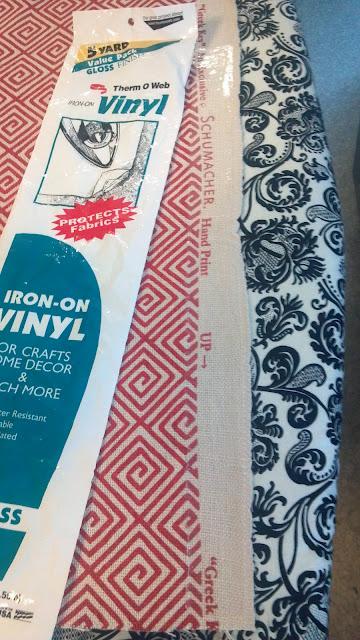 2- You need a big ass surface to laminate. I used my dining from table.   First roll out a length to match your fabric and cut.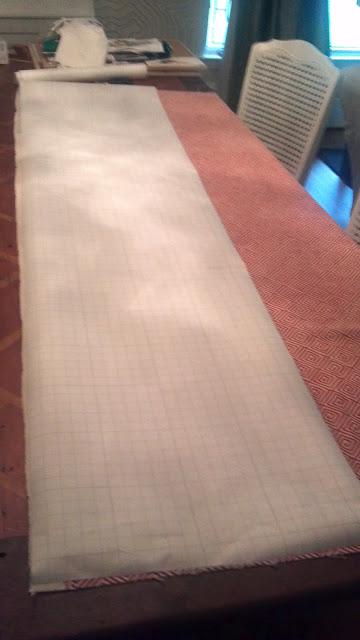 3-Now peel off the backing in sections and stick the clear vinyl to your fabric.  This gets tricky if you are doing a large piece like I was.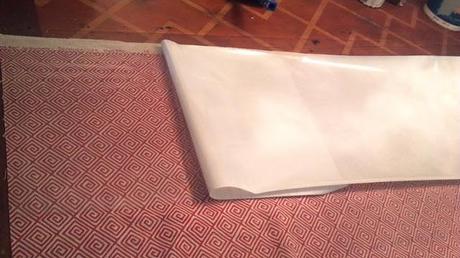 I used a magazine to smooth it as I went.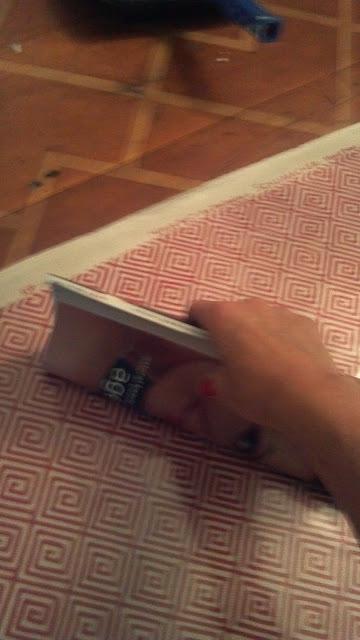 I had to cut a second strip to cover the whole piece.  I overlapped the vinyl about a 1/4" to make sure it would be covered. (The vinyl actually melted into itself and I can barely notice the seam).
Lay the paper backing back over the whole thing and iron away...  (8 seconds on medium heat).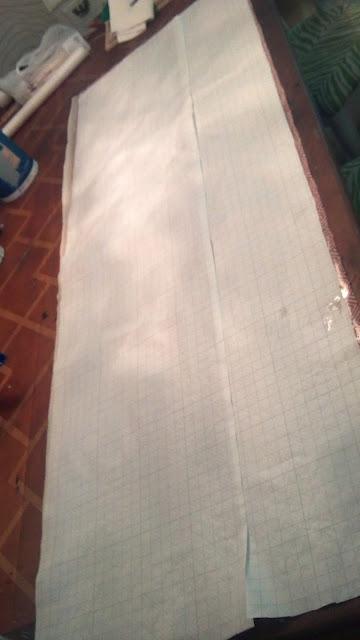 Peel the paper off and you are done.  Fancy vinyl people (if vinyl can even be fancy)...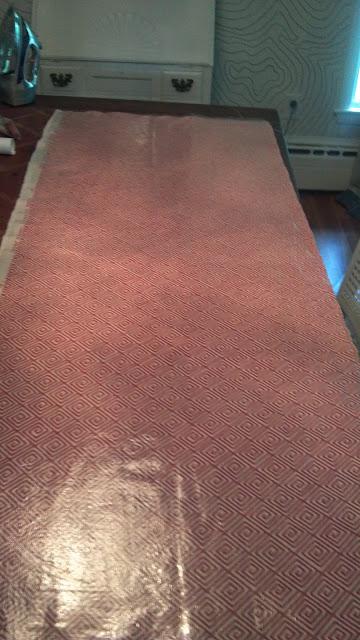 I then re-used 2 old shelves from my basement to make the bench seat out of.  I am cheap resourceful. I used mending plates to hold them together...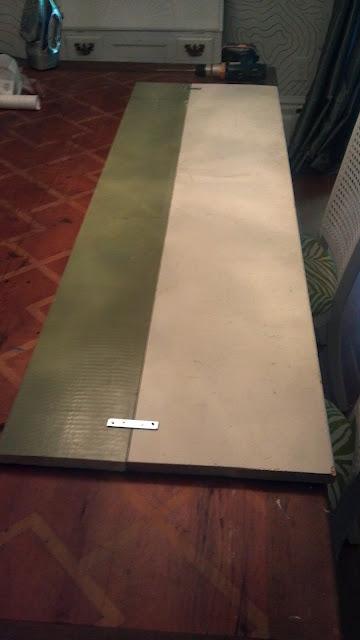 I put the fabric face down, laid a piece of foam on top, and then the board...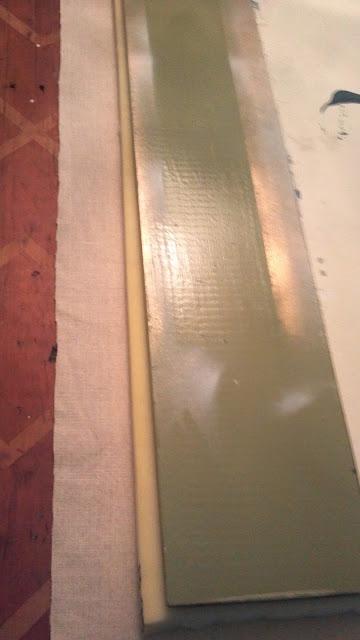 and stapled away...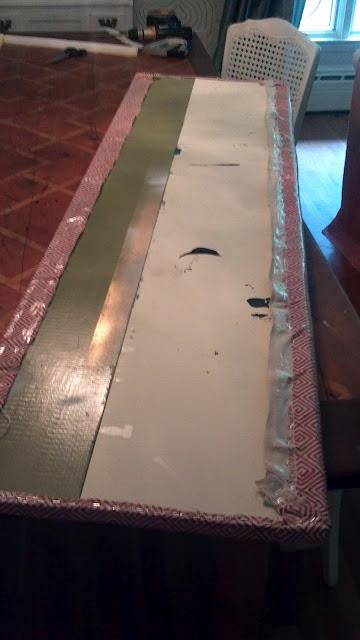 Bench seat done!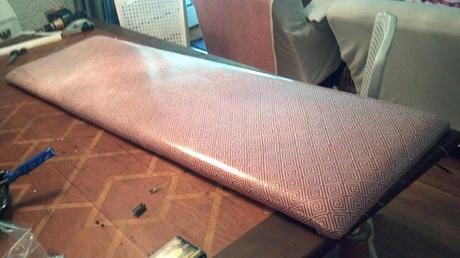 And Joe can be as messy as he'd like.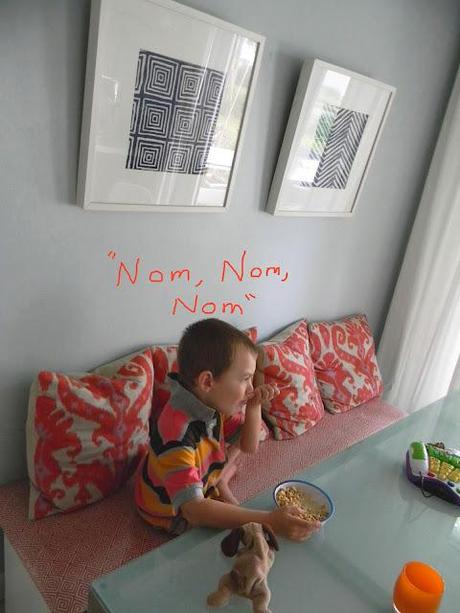 I am almost done with the banquette, need to add doors to front, will have pictures soon. Hope you have a great weekend!