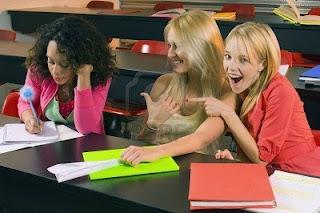 Exam time is coming up soon for all us college students so we thought we'd take some time to come up with a list of ways to remain cool, calm and collected while writing an exam.
1. Keep your eyes on the prize
This might be a no-brainer but what we're talking about is the night before the big exam. The night before the exam is the most important time to refresh our memories because with short-term learning we often forget what we studied fairly quickly. All your friends going out clubbing? Sorry, you'll have to stay home and speed through those flash cards.
2. Fool proof study methods 
Use flash cards. If I had known about how much flash cards help with studying and memorization I would have began using them in my first year of college and not my second. They are fairly inexpensive, about a dollar for 100, and you can find them pretty much any where. Ie. The dollar store, your local supply store such at staples and tons of other places.
 3. Get a good nights sleep
Its very important to make sure you are well rested the night before your exam. Who wants to fall asleep in class and wake up with drool all over their test paper? Not me! That alone is reason enough to get your full eight hours.
 4. Be on time 
There's nothing more embarrassing then the time I slept right through my alarm and was 20 minutes late for my final. Set three alarms if you have to but make sure you're on time if not early.
5. Eat breakfast
If you're anything like me on most days you skip breakfast and say you "don't have time" but then regret it when everyone can hear your stomach grumbling in class. On exam day you'll have to change that outlook. You want to be focused on the exam not on food, so be sure to eat a healthy breakfast before you leave. Hey, maybe you'll turn it into a habit!
Most of all be confident in yourself and know that all those hours of studying and missing out on events with friends weren't for nothing. You know how all your friends are making fun of the girl who sits in the front row and knows all the answers ie. "What a keener!" Well, that girl is getting the best grades isn't she?
Share your tips to stay cool during exam time in the comments and stay tuned for our back-to-school post next month.