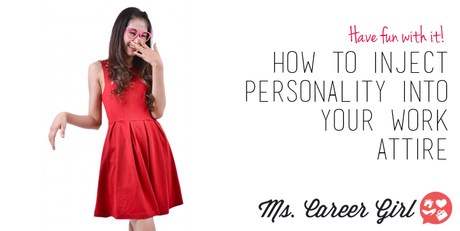 Happy Fashion Friday! I got into a conversation with a friend about how to spruce up your work wardrobe without being too flashy just recently. This is quite an ongoing dilemma, especially for the new-to-workforce Career Girls. Here's a great article by one of our friends, Elizabeth Childs, on how to put that much needed personality into your daily power ensemble. Read on, ladies!

Just because your work week often feels like more of the same day in and day out, doesn't mean that your wardrobe has to adhere to the same monotonous mentality. Your employer may dictate guidelines as to what can and cannot be worn in the office, and there is certainly a necessity to present yourself in a manner that is professional and agreeable while in said environment.
However, this is 2014 – not the 1950's! The social standards and expectations for office attire have loosened up across most industries. Gen Y'ers should feel inspired to express their personalities through dress, especially as most professions require more time in front of a computer than a client or colleague. If you're unsure of how to break free from the tedium of button-downs and black pants, here are a few general rules of thumb when looking to liven up a dreary work ensemble.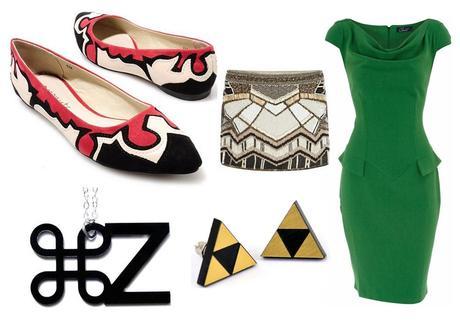 Matisse Footwear Appliqué Ballet Flats from ShopHQ | All Saints Aztec Sequined Mini Skirt from Vestiaire Collective | Plastique Command Z Necklace from VAULT | Zelda Triforce Earrings from LicketyCut |
Pencil Dress from Dorothy Perkins
#1 – Wear what feels comfortable
Employers should take notice first and foremost to your enthusiastic attitude and superior quality of work; not your appearance. So suffice it to say, the way in which you dress yourself should work towards improving upon those two factors of performance. If you feel confident in your clothes, you will present yourself as such, and that assertiveness will shine through your responsibilities and daily communications. If you're spending the day grumbling about the itchiness of your stockings or searching for relief from high heels, your behavior and performance hang in the balance. So if pant suits aren't your thing, opt for skirts and dresses. If you like wearing bright red lipstick, by all means, incorporate it into your daily ensemble. Dress yourself in a way that feels good, and you will be much better off than someone who is struggling to fit into a boss or colleague's vision of how they "should be" dressing.
#2 – Get geeky with accessories
Accessories are a perfect outlet for self-expression, especially when they make reference to passions and hobbies outside of work. Who says you can't wear a TARDIS necklace, Batman earrings or a bracelet inspired by your favorite video game to the office? Use your best judgment to determine what can be dressed up tastefully and worn in a serious work environment. Common sense says only style using one unique accessory at a time, and keep the rest of your jewelry or apparel simple and sophisticated. These fun pieces make for great conversation starters, and can even help you find common interests among other coworkers. And anyway, if there was a way that you could artfully incorporate a hipster moustache, vinyl record or steampunk electronic gadget into your office attire, why wouldn't you?
#3 – Be decisive about color
If browns, tans and grays are your thing, then by all means, style away – but your work wardrobe should not be limited to neutrals if you really love vibrant tones. It's always helpful to have the staples such as a suit, conservative dress, black dress paint, white dress shirt and so forth; but beyond that, it's your world and it should be lived in color! When you're out shopping, buy the hot pink blazer, the cobalt blue pumps, the yellow dress and floral print pants. These pieces will transform you into a more memorable employee. By expressing your individuality in a setting that's uninspiringly black and white, you're helping your communication skills and speaking volumes about who you are as a person.
#4 – Select your ideal era
Sticking solely to the latest trends in fashion can be detrimental to your wallet. Especially with selective guidelines in place for what is appropriate to wear to the office, it can be a fun challenge to see how you might draw inspiration from past decades and implement them into your modern closet. Maybe you're a Mad Men fan and want to give hip-hugging dresses and pastel pencil skirts a whirl? Maybe you're an 80's child and are making a comeback with neon accessories? Art deco is "in" at the moment, so it's never been easier to find fun headbands and geometric-inspired jewelry that emulate the roaring 20's fad. Explore the past to discover how you might reshape your future professional attire to cater more towards your tastes!
How do you maintain individuality in a straight-laced work environment? Or do you work in a casual setting with little to no rules in place regarding dress code? Share your fashion experiences in the comments below or tweet @mscareergirl now!