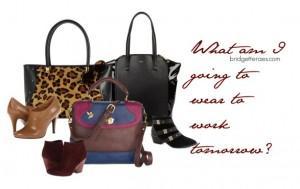 From reading this blog, you now know the importance of accessorizing.  Tonight's blog in this series is going to show how to infuse your personal style through your accessories.
Accessorizing is particularly important for work.  Work clothing tends to be more classic base pieces that can look pretty bland if something isn't done to finish the look of the outfit.
To create a level playing field to show accessories can infuse personal style into a look, I am keeping the base piece of each outfit the same– black pants by Reiss and an ivory scoop neck top from J. Crew, and changing up the accessories and layering piece of each outfit.  For each layering piece, to keep it consistent, I chose a different gray cardigan based on the type of style I wanted to capture.
Okay, on to the looks
How to Infuse Your Personal Style Through Your Accessories
Look #1- Classic Style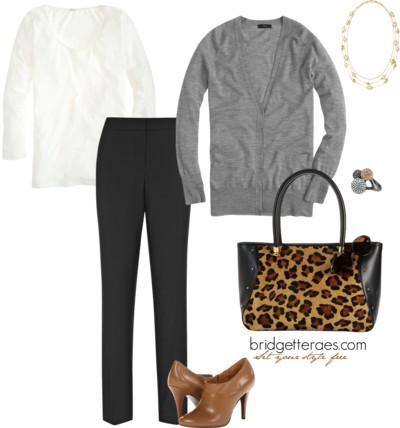 When it comes to a classic style, it is important to distinguish the difference between classic and traditional.  Classic style is timeless and it doesn't have to be boring.  Prints like leopard are classic in nature, as are cognac colored shoes, like these from Aerin Pembroke.  Because of the timeless quality, classic pieces are usually richer in look (and often price tag).  What makes this Leopard tote bag by Ralph Lauren is not only its rich look but is in a classic handbag shape.  The J. Crew cardigan is merino wool and in a timeless shape.  The necklace and ring, both by Stella & Dot, are classic but far from boring.
Look #2- Modern Style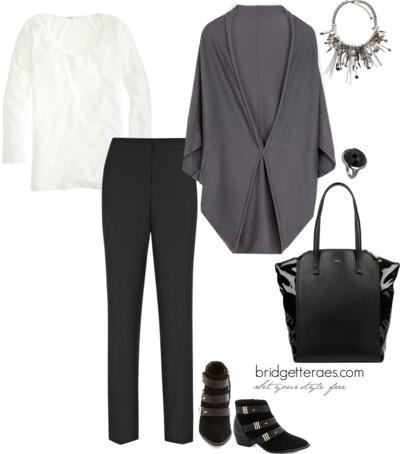 Modern style is usually sleeker, more updated on trend and with clean lines.  Taking the same black pants and white tip, the grey cardigan by Zara in this outfit is much more modern and trendy than the last one with a price to match its trendier nature.  To further pull in a sleeker style, I added a bootie embellished with hardware by Modcloth, a creative necklace by Zara and a ring by Brian Danielle.  While modern style often captures trend, modern can also be timeless.  Case in point, this sleek Furla tote bag that won't go out of style anytime soon.
Look #3- Feminine Style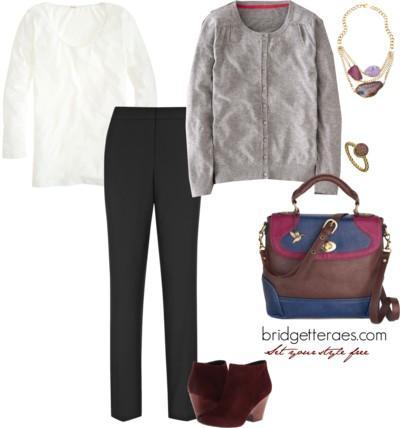 Feminine style is often captured in silhouette and color.  Depending on your work environment, you may have to watch the feminine frills.  By starting with the same base as before, I added a more relaxed cardigan by Boden with pink tipping and soft tucks at the shoulder yoke.   Next, adding feminine colors, I chose a burgundy pair of booties by Kenneth Cole, a pink and purple stone necklace by Janna Conner and druzy ring by Dara Ettinger.  The more serious bag by Modcloth is feminized with color.  With these subtle feminine touches and color the base outfit of black pants and a white top brings out the girl while keeping it right for work.
The next time you put on a basic pair of pants and top, remember, in order to infuse your personality and style into your outfit you have to finish your look.
Repost This Article