Installing a wall mounted floating desk is simple. Not only does it save you money, but provides ample space for your legs. This design is also great for a contemporary/modern style décor. While the process is relatively easy; we, at Goedeker's, want to ensure that you have the proper instructions to make installation as stress-free as possible.
BLACK FLOATING DESK WITH STORAGE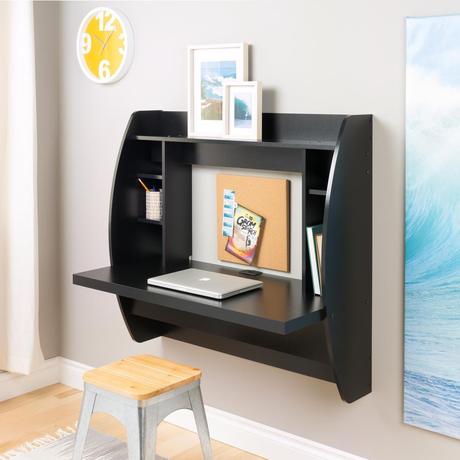 Supplies needed:
Stud finder
Power Screwdriver or Drill
Drill bit
Pencil
Tape Measure
Level
WHITE DESIGNER FLOATING DESK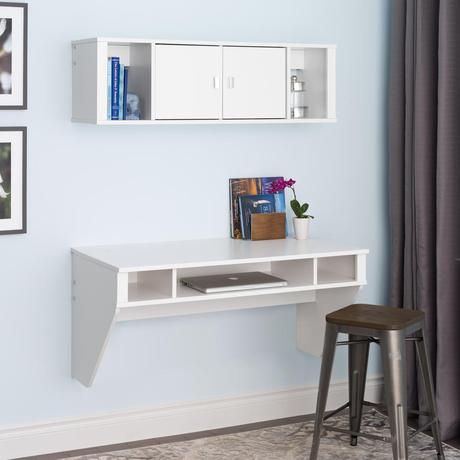 Steps to Install a Floating Desk
1. Measure the area you'd like to install the floating desk - Accurately measuring your area ensures that you have enough space on the wall for the desk you'd like to install.
2. Determine the height you would like to mount the desk - Providing adequate space underneath the desk for leg room is essential, as well as making sure that your wrists can rest comfortably on the desk.
3. Locate the studs in the wall with a stud finder - You must locate the studs to have a stable mount.
4. Measure the distance between the center of each stud and mark with a pencil - Marking where you will drill significantly reduces the chance of error.
5. Drill holes in the places marked - You want to drill exactly in the middle of the stud for the most secure mount.
6. Match up the brackets with marked studs and drill a hole - Precision in this step assures stability for your desk.
7. Place the desk on the wall mounted brackets, fully against the wall - Pushing the desk against the wall will provide an even, stable desk to work on.
KURV ESPRESSO FLOATING DESK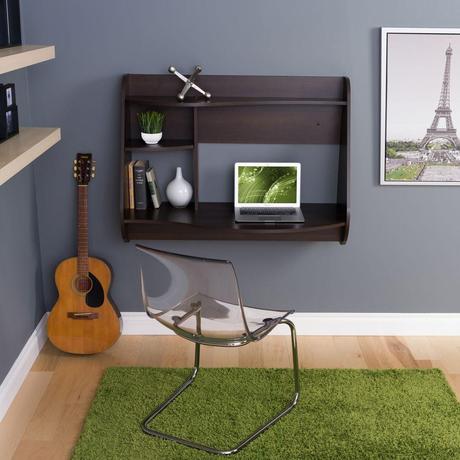 Additional tips:
Ensure that your floating computer desk is near electrical outlets (and cable outlets if applicable)
Many floating desks come with brackets and screws like our Prepac Line. Follow the link below to see a video of installation.
How to Hang a Floating Desk
About The Author