From the salmon pink pages of the Financial Times came the observation this week that South-east England is starting to suffer from drought, whilst "The north and west of Britain, by contrast, has plenty of water: Scotland has had its wettest year since records began in 1920."
And so the scene is set for the dispossessed of the south being drawn up across the border in search of the rains - driven by a parched desperation to escape the horrors of the hosepipe ban.
This is a picture of the boundless bounty of water that awaits you in the north.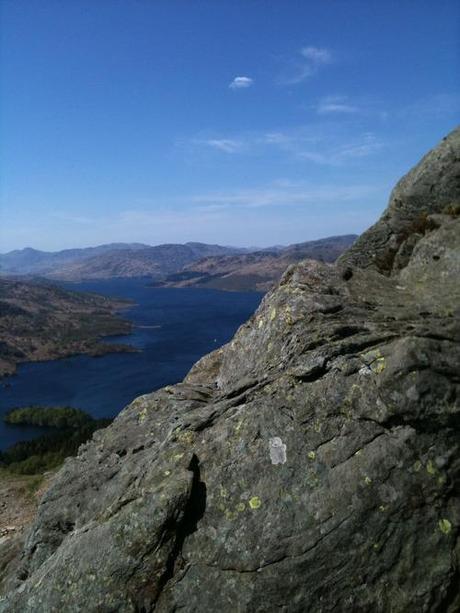 A Scottish puddle. (Loch Katrine from Ben A'an). Photograph: David Wong
Naturally, we welcome everybody with open arms in Scotland but for those who choose to tough it out in the dusty South East, I imagine that it might shape up to be a difficult gardening year. The best thing would be to choose plants that do well in drought conditions and there is no better authority than Beth Chatto on such matters. Here is her list of drought loving plants.
However, there are certain garden standbys that we come to love and which it would be a shame to do without. Sweet peas are one of my standbys. They are generally easy to grow, but in dry seasons, sweet peas can be slow to establish and can suffer from powdery mildew (a fungal disease that weakens a plant and which looks like a white powder covering the leaves).
I'll be sowing my first batch of sweet pea seeds this weekend. Whilst the serious growers who exhibit at flower shows will probably have started in autumn, those of us growing sweet peas to enjoy in the garden and to pick for the house can sow the seeds over the next couple of months.
I prefer to start them off in pots and wait till they have at least two pairs of leaves before planting them out, mainly because the slugs round these parts are ruthless, so it gives the sweet peas a head start. You can also sow the seeds directly in the ground, so long as it's not too cold. If the weeds in your garden are germinating then it should be warm enough for the sweet peas as well.
Some experts say that you have to soak the seeds overnight or scratch the surface a bit with some sandpaper before you sow them, but I don't bother and my sweet peas don't seem to take any notice of my laziness.  
Also, the suggested practice is to pinch out the tips to leave two pairs of leaves so that you get a bushy plant with more flowers. This is worth doing, but the plant will produce plenty of flowers even if you forget.
The important thing though, if you live in a drought-prone part of the country, is to add some compost or well-rotted manure to the soil when you plant the sweet peas. This will help the soil to hang on to moisture. Regular watering will help too, of course, but without the compost or well-rotted manure the conditions can become dry again quite quickly.
This is the sweet pea I'll be growing again this year, 'Cupani'.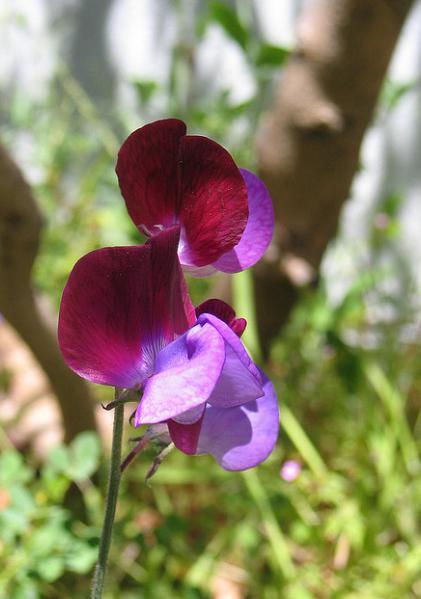 Sweet pea 'Cupani' (Lathyrus odoratus). Photograph: Jennifer de Graaf/Creative Commons
The flowers are not as big as the modern varieties, but the scent is one of the strongest and that, after all, is the whole point in growing sweet peas.
Plantedd is coming later this spring - too late to get your sweet pea seeds for this year - but sign up at www.plantedd.com to be the first to find out as soon as we launch.
Permalink | Leave a comment  »