Making your page look it's best
Before people go on to your business page and begin reading through your services, price lists or products, their first impressions are going to affect how they spend their time.
Most people respond to colour, shape and aesthetics before they engage with any bulk of text. A magazine article for instance, would need to hook it's readers with an attractive design, heading and images before they begin to delve into the article. The same goes for your company's website and social media pages.
First Impressions Count
If a potential customer first sees your brand on social media, then it's important to give out the right impression. Your 'social status' can have a huge impact on your sales and reach of customers, just having an online presence can create many leads to your website.
You need to convey your brand, it's ethos and your services within a limited amount of time and space. Once you have a strong following on your social platforms, you will be able to share more in depth information about your trade or service, but before this happens, you need to attract them in.
Social Media Graphics
Graphic design is a great way to showcase any special offers, essential information, awards or slogans in affiliation with your brand. The most notable places where graphic design should be used on your social platforms are your profile image and a cover/ header photo.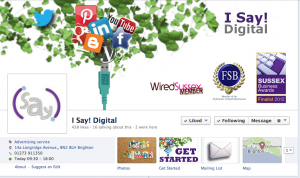 It pays off to create a header image that is the correct size for what it is being used for, (Facebook, Twitter, Google+) rather than having a "one size fits all" mentality; doing this will only result in slightly distorted images or having bits cut off the edge. Making sure your cover photo feng shui is up to scratch with not only look better to you, but it comes across more professional to your customers.
Avoid having any text-heavy or overcrowded images on your profile as this will only confuse or overwhelm visitors- which of course is not your intention. Use your brand colours and try to keep all your current images in theme with each other to create a seamless, dedicated look.

Regularly update your image to reflect your current branding, and use it to highlight any important dates, offers or products.
If you create social media graphics to share on your timeline (for example, a highlighted post on Facebook), keep the same rules in mind. Utilise the space and try to keep it in theme with your brand colours, website and logo.
As part of our social media management services, we can provide you with quality branding and complementary graphic design to be used on your site. Our in-house designer is on tap for creating engaging posts, creative header images and is fully equipped to give your brand a social makeover.
Why not pop us an email to discuss how we could help you get the most from your social media: [email protected]