Need help growing your eyelashes? Want them naturally thicker and longer? Do you need Lash TLC? Yes?.....Read on!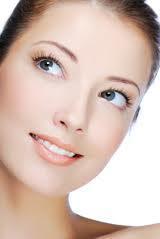 Longing for long luscious eyelashes?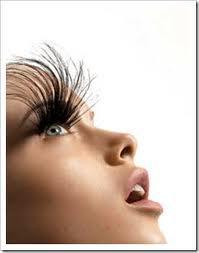 Helllllooooooo Lashes!

As an eyelash extension technician & general eyelash 'Miss know it all' I thought I would share a few tips and products that I know can help with repairing your eyelashes and also help with making them grow longer naturally. Useful if you are a false lash wearer too (who isn't these days?!) to make sure your lashes are in tip top condition.
Eyelashes for most woman are just as important as the hair on their head, so we like to take care of them and have them looking as fabulous as possible! We all want them looking luscious, glossy, thick and long! With so many eyelash treatments, products, mascaras & so on, now on the market it gets confusing and indeed pricey to know what works and what could be a good eyelash investment!
Apart from eyelash extensions, which I will always recommend as they are amazingly natural and other semi-permanent eyelash treatments (see my blog post here) I wanted to talk about products and share my own personal favourites with you so we can all be luscious lash ladies!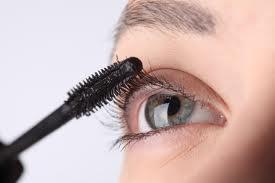 LASH FACTS! Just a few......
An eyelash is one hair. They are there to help protect our eyes from dust and any other micro-organisms that could cause irritation to our eyes! They have a very important job to do first and foremost!
An eyelash grows, falls off, and grows back again.
Eyelashes do not grow past a certain length like the hair on your head, hence why many women and some men try to lengthen their lashes with cosmetics.
Eyelashes also go through the 3 phases of the hair. These are the growth, transition, and resting phases. The 1st phase is when the lashes grow and lasts up to a maximum of 45 days. After which, it goes through the 2nd phase where the eyelashes stops growing and may last up to 3 weeks. In the 3rd phase, the lashes do not continue growing, stays for 100 days and then they fall out. It normally takes up to 8 weeks to replace an eyelash that fell out or was pulled out.
Vitamins & nutrients can help eyelash growth - these are Vitamin B-3, Vitamin C, Vitamin E, Vitamin H, and Calcium.  Olive oil acts as conditioners to the eyelashes which will allow them to grow longer, stronger, and healthier. Emu oil speeds up and encourages new hair growth. Vaseline can also be used as alternatives to olive and emu oils. Yogurt, beans, eggs, fish, and soy protein are foods that will also help.
Semi-Permanent eyelash extensions do not harm the natural lashes, if applied correctly by a professional! This happens only if the lash extension applied is too heavy & long for the lash, then will cause the natural lash to fall out.
Ok, so if you need to give them lashes a bit of a helping hand here is how......
TALIKA LIPOCILS eyelash growth gel 

Talika Lipocils 10ml
€35/£28 available from feel unique here

What does it do? Talika is a light gel that can naturally grow and thicken your eyelashes. A drug-free, cosmetic option. Safe and effective and no prescription required. Apply Talika Lipocils Expert twice daily and can be worn alone or under regular mascara.
Now I have used this on and off for about 3 years now since my days with Space NK and each time that I go back to it I see a huge difference in my eyelashes. They look so much darker as I am blonde, longer and fuller where maybe my own eyelashes have been pulled out due to false ones. It speeds up the growth of new ones! Its great on the eyebrows too if you have got a bit plucky happy! They do sell a specific brow one but this works just as well! Its great to wear alone also if you want a mascara free day, it defines the lashes to give you a groomed look. Highly recommend this and Talika is huge in France as every pharmacy sells it!
TALIKA CONDITIONING Eyelash Cleanser

Talika Lash Conditioning Cleanser 100ml
£15/€18 available from feel unique here
What is it? Talika Lash Conditioning Cleanser effortlessly removes all traces of eye makeup, including waterproof mascara. Helps restore fragile or damaged eyelashes. Active ingredients such as cornflower and silk proteins to improve the lashes structure.
This oil free eye make up remover is great for reconditioning damaged eyelashes and is good to use with lash extensions as it contains no oil so it wont disturb the adhesive. Just use on a cloth as opposed to cottonwool for lash extensions. I alternate this with my Bioderma H20 to remove my eye make up and it works so well in repairing fragile, damaged eyelashes, even on sensitive eyes like mine! ENORMOUS LASH Thickening SerumAn instant hit with the Hollywood A-List!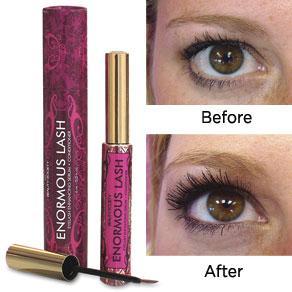 Enormous Lash Serum £76/€92
available at Space NK click here

What is it? The Enormous Lash Patent Pending Formula is Prostaglandin and Paraben Free. This super charged formula is jam packed with eyelash enhancing nutrients and the clinically tested formula has proven to be safe for even the most sensitive eyelashes. You apply the serum as you would a liquid liner, just line the lash line and let it dry! Use day and night I say for faster results. Expect results in 45 - 60 days, although some women have witnessed dramatic results in as little as 21 days - I did!I tried this first about two and a half years ago and I was very hesitant at first because I had seen so many of these on the market already and at half the price! I was given it by the company I was working for at the time (Space NK) to trial. Well I was shocked! It is A-mazing! My lashes grew a lot longer and areas that were a bit sparse looked a lot fuller. I noticed I had so many lashes all of a sudden! I even had lashes growing where I had never had them grow before?! Seriously, they were growing above aswell as within what eyelashes I already had! So be careful and precise where you apply this as it really works! As long as you take care of your new healthier eyelashes after using this treatment, you shouldn't have to re-purchase this often as it has done its job.I definitely recommend this if you have lost lashes or they have become very sparse and you want to thicken them as this will do the job for sure. 
DIVADERME LASH EXTENDER - Brush On Fibres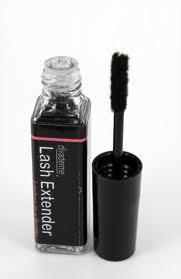 Divaderme Lash Extender, Lashes in a Bottle 3oz
£18/$28/€22 available from amazon here

What is it? Instantly Brush-On Lash Extensions - a secret to perfect lavishly long full beautiful lashes. Instantly brush-on lash extensions that add hundreds of tiny natural lash fibers enriched with panthenol. Simply apply between coats of your favorite mascara for fabulous results!
Now I was given these by a friend to try (lovely Lois) and I have in the past seen lots of companies market these products like Model Co and Talika (available here)  but personally hadn't tried any of them until this one. Being a contact lense wearer, I am always very careful about what I use on my eyes. Now I will say you do have to be careful using this product as the teeny tiny fibres can stray into the eye if not careful, so pay attention when using! Saying that though they are really good! They do thicken your eyelashes quickly and instantly, without making your mascara look clumpy - but this does take practice! If you want a quick fix to thicken your lashes without having to apply false ones then this is for you. It has no long term benefits but makes a big difference to just using mascara alone.
Note: make sure you use the little brush provided or a make up brush to brush away any stray fibres that may fall onto the face as makes you look hairy all of a sudden!?!? The only downside but a small one!
So just a few of my personal favourites that are worth a try if you havent already!
Do you have a lash growth product that you like? 
Is there one I should try out? I
f so please let me know!