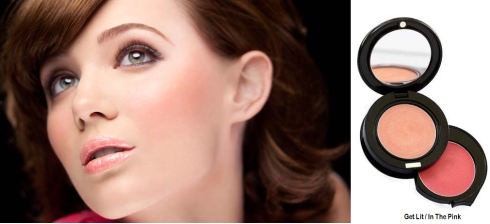 Beauty For Real is a modern makeup brand with great  a collection of Lips, Eyes, Cheeks and Nails designed for women on the go, with the core products featuring built in mirrors and LEDs for a perfect application anywhere, anytime.
Kudos to you and your parents for granting you the bone structure that the latter would kill for and for the latter, kudos because full cheeks are a wonder as you age (a win-win situation is hard to come by these days!). Nevertheless, we always want what we can't have; BUT fortunately, what we can't have we can always fake! So take a look at the step-by-step guide on how to get those ice cutting cheekbones.  My personal favorite from brand is the Goldrush/Afterglow Bronze duo. NOW GO!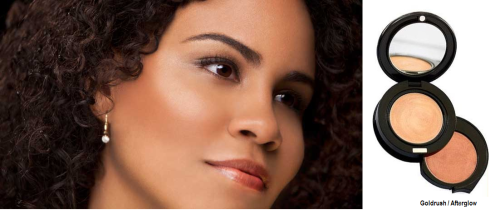 Step 1
-     Select one of the two Get Glowing! Cheek Tint and Luminizer that compliments your skin tone. Get Lit/In the Pinkblush duo is best for fare to light skin tones and Goldrush/Afterglow Bronze duo is best for medium to dark skin tone.
Step 2
-     Apply blush or bronzer to your cheek using your ring finger or a brush. Layer the color for a more dramatic look.  Repeat on the other cheek.
Step 3
-     Now, to create an illuminating look, apply Luminizer of Get Glowing! Cheek Tint and Luminizer in either Get Lit or Afterglow, on the contour of your cheekbones towards your temples and underneath your eyebrow.  Also, to brighten up add a dab at the inner corner of the eye, and at the top of your cupids bow to give the appearance of much fuller lips. Remember, product will go from a cream to a powder finish as you blend it out to give you that finished look.
Step 4:
-     Even out your cheeks and add more makeup as desired using the technique above. If you want to create a more intense look, layer on the product. Layering on the product, you will be able to create a more intense look.  To even out the look and get a long lasting look you can lightly brush on a translucent powder over the just applied Get Glowing!
Step 6:
-     Prepare yourself for killer skin, killer cheek bones and absolutely killer compliments!
Image source: Beauty For Real
Filed under: beauty, beauty secret, DIY, How-To, New Products