Sponsored by Nuffnang
I love shoes.  In fact I've loved shoes since I was a teenager as I never feel fat in shoes (or handbags, or jewellery!).   That said, I've never spent a lot of time thinking about my exercise shoes.  I have a bit of a love/hate relationship with sportswear.  I will wear running shoes when out exercising, but the minute I'm home, they come off my feet, partly because they feel chunky on and don't suit my more feminine/dramatic personality or clothes (which call for a more refined shoe), and partly because I've never really found them comfortable.  The arches of my feet ache after a while and they're often quite heavy.  I've much preferred to be barefoot than wear shoes.  But now, I know why…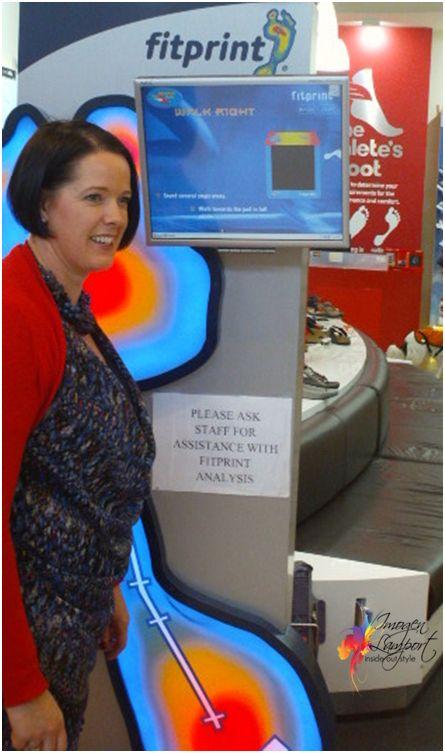 Learning about The Athlete's Foot Fitprint system
This week I was asked by The Athlete's Foot to go and be fitted using their Fitprint system to discover which of the new Asics runners would be ideal for my foot and walking style.  I've never been properly fitted for sports shoes before and the session really opened up my eyes to what a difference being fitted can make.
I met up with the lovely salesperson Veronica (who is a marathon runner and knows loads about running shoes) at The Athlete's Foot in Northland where she took me through a process to discover the very best shoes for my feet.
To start with, she measured my feet.  One tip to remember with sports shoes is that they are all in US sizing, which is ½ size smaller than Australian shoe sizes, so always make sure you go up ½ size on your regular shoe size when purchasing running shoes.   I also now have a nice bunion forming (thanks to doing ballet as a teenager) which also needs to be catered for.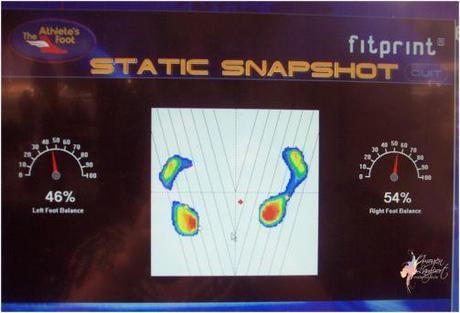 The static snapshot of my stance
I then stood on the Fitprint machine which measured how I stand and where the pressure points of my feet are.  I discovered that I stand with more weight on my right foot (which I knew about and that's why my right foot is ½ size larger than my left) and it pronates  (rolling inwards, not much arch), and this is why the running shoes I had been wearing which didn't have enough arch support for me made my feet ache.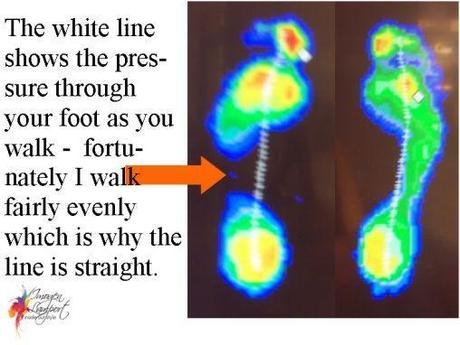 How I move and where my weight goes
Veronica observed me walk, to see how my feet hit the ground, and how my feet moved as this gave her more information on how to find my fit.  The Fitprint snapshot that she took also showed the movement of my feet as I walk.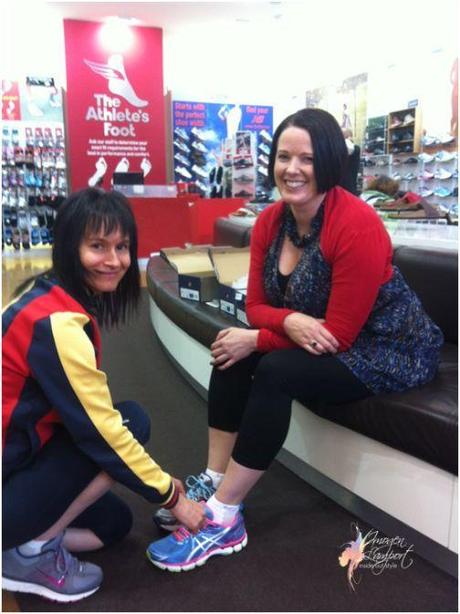 Veronica fitting me for new Asics running shoes
Veronica then brought out the new and exclusive to The Athlete's Foot, range of Asics Kayano 19, Asics GT 1000 and Asics GT 2000 for me to try on, along with a pair of  Experia sports socks that have padding in all the right places.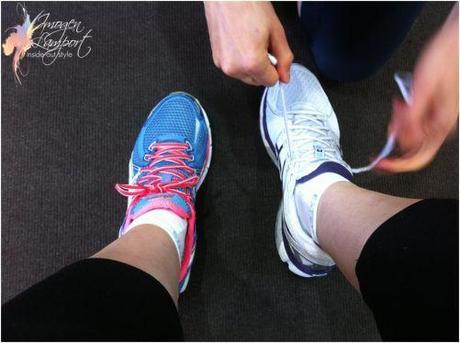 Try a different shoe on each foot so you can compare
We tried a different shoe on each foot.  This is the best way to compare which is more comfortable and suitable for your foot.  Another shoe fitting trick I'd never known before.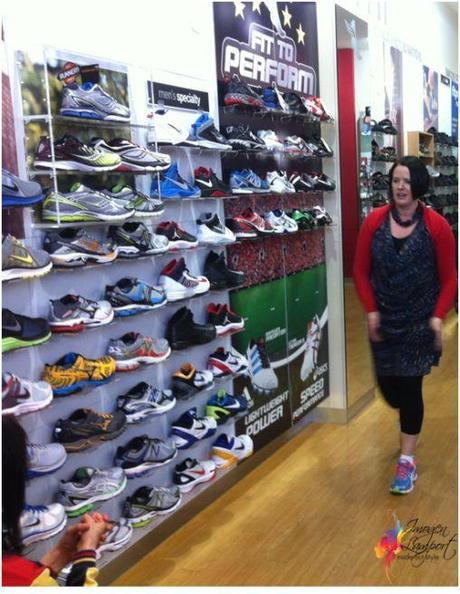 Walking the shop to see which are the most comfortable
After walking up and down the shop to see the shoe that fit best (with Veronica eagerly assessing my gait), taking all my feet and ankle peculiarities into account, Veronica and I settled on the Asics Kayano 19 as the ideal shoe for my feet and I happily brought them home to give them a try in my real world setting.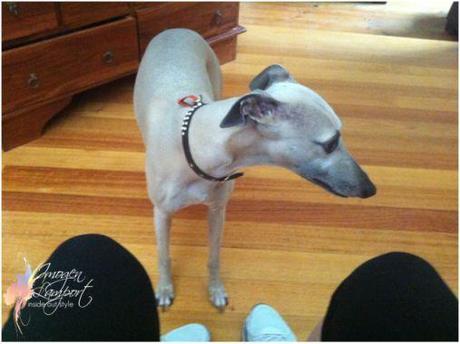 Cleo always love it when I put on running shoes
Over the weekend I chased Niamh as she rode her bike as I jogged after her with Cleo (who considers my jogging speed her walking speed).  I went to the gym and gave them a workout on the treadmill.  I'm happy to report that my feet no longer ache, and I didn't want to take them off immediately after I got home from running around the neighbourhood with Niamh.  I am a convert to a properly fitted running shoe!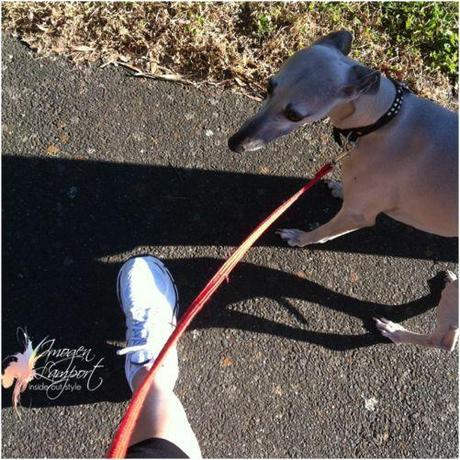 Taking Cleo out for a 'test run' in my new Asics Kayano 19 shoes
While at The Athlete's Foot I asked lots of questions and Veronica answered them all:
How often should you replace your running shoes?  About every 1000kms (on average 6-18 months if you exercise 3 or more times a week)
How can you tell if your shoes need replacing?  Bring them back into store and try on another shoe of the same make and model on one foot and your old ones on the other – compare.
Veronica explaining all about the construction of my new Asics runners
Can you extend the life of your shoe?  You can replace the insole with a new one – and this will give you back more support and bounce.
How should a shoe fit?  Your foot should slide into it easily, but it shouldn't feel sloppy or loose around your ankle.
So if you've been like me and didn't realize just how much goes into finding your perfect fit, I can highly recommend getting down to one of the 130 Athlete's Foot stores or online at www.theathletesfoot.com.au and check out the exclusive Asics range (Kayano 19, GT 1000, GT 2000) to put your best foot forward in the challenge to keep fit and healthy.
$100 Gift Voucher Giveaway
The great peeps at The Athlete's Foot want to give one of you a $100 gift voucher so that you too can go and find your fit for your ideal sports shoe.
To enter leave a comment here and tell me:
What's your favorite running shoe and why?
Full Terms and Conditions here:
Entries only from Australia
Competition closes: 5pm AEST 22nd November 2013
Digg Digg