In my previous job, customers had the ability to go online and fill out an NPS (Net-Promoter Score) survey on their experience. NPS is a scoring system for customer feedback that determines how likely the customer is to recommend a business based on one or more factors.
On our NPS surveys, the location and employees would be ranked 1-10 on different factors with comment sections. A customer survey is designed to do two things - 1.) Give well deserved kudos to the employees at the counter and 2) keep the employees accountable.
Being the overachiever that I was (er, am), I wanted to get 10s on everything. How could I not? I was always polite, I took good care of my customers, but I learned something about filling out NPS surveys.
You can't please everyone and it seemed like all of those people were renting their cars from our location.
It was rare to get a five and we were a highly rated branch across our area, but it was forever surprising when we would receive a three or below (which triggered a conference call with the area leaders, explaining the reason). Here are some of the reasons why we got three or below on some of our surveys.
Did not get the car that was pictured on the website.
Someone once got in an accident in a rental vehicle and left a poor review because the accident paperwork took additional time on return.
I think that NPS and other kinds of survey's are a great tool for customers to communicate with the staff about their experiences, whether it be good or bad. I highly suggest that you take the opportunity to fill out a survey or comment card whenever you get the chance. You might think that your representative or management isn't interested, but I promise you that for the most part, those of us in customer service are truly dedicated to our jobs.
If you want your comment card to make a true impression, I have some tips on what gets read, and what gets dismissed. Keep these in mind the next time you fill out your comment card or take a moment for the survey.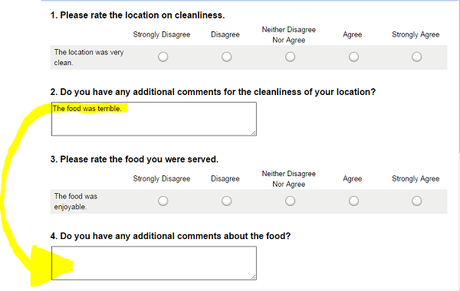 Use the Comment Box
If you feel like you need to score the location or business low, that's okay. You're allowed to and I promise that any good business wants to know where they can improve and grow their business. Use the comment box and expand on your thoughts or add more. The simple rankings of 1-10 are great but it might leave a huge question of what you actually expected. The comment box is a great place to give more information to have a better experience next time.
Consider the Question Carefully
Be sure that your responses are going into their corresponding categories. If you had a terrible meal at a really clean restaurant, marking 0 for cleanliness will make it harder for the staff and management to take your comments and ratings into consideration. When filling out your survey make sure that you are marking your comments in the right places.
Rank Locations on Things They Can Control
There are some things that may sully your experience that are out of the business' hands. If you go to restaurant with the hopes of sitting on the patio, but can't because it's raining, it's not appropriate to score your location on something that was completely out of their control.
Please take the opportunity to fill out the survey or talk to the manager (especially when you have a great experience) but even when you don't let the company know so that they can make changes and adjustments for a better experience in the future for you and other customers.