This Janmashtami deck up your child as Krishna with our easy guide.
"Haathi ghoda paalkhi.. Jay kanhaiya laal ki"
All geared up to transform your naughty tot into the mischievous Krishna?
Janmashtami is just around the corner. That time of the year when we prepare for the birth of little Krishna and dress up our little ones as Krishna and Radha to enjoy this festive spirit. Everywhere you are greeted by child Krishna images.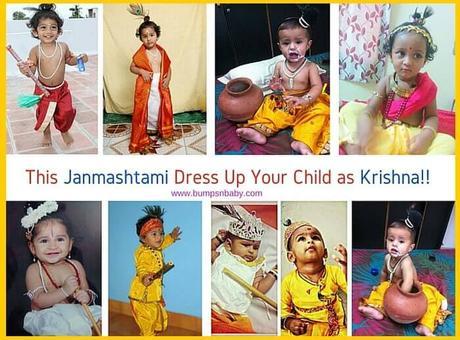 Why do people dress up their kids as Krishna?
Every mother relates to the naughty little Krishna. Every child is like the manifestation of little Krishna. Full of mischief, causing troubles and yet making everyone around them happy with their antics.
Dressing up your little one as Krishna is a fun activity.
If you still haven't got any Krishna costume ideas, here is our guide to deck up your little Krishna this janmashtami.
The attire - Dress up your little one as Krishna
Putting together a Krishna costume is not really difficult. Let me walk you through the various components of the costume.
#1. Dhoti
Dress up your little one in a dhoti, preferably a silk one. Yellow is the favourite colour of lord Krishna so that is most commonly used. However you can use any colour. You can also go for a ready to wear dhoti to make things simpler.
With the dhoti, you can make your little Krishna wear a kurta. If you have yellow kurta, it is perfect.
Usage of a stole instead of the kurta is also a good option (as shown in the picture)
#2. Crown
Crown is the most important part of our little Krishna. Adorn your little one with a crown. You could buy a readymade crown or make one at home from a card paper and stick golden paper to it.
Also ensure that the crown is not very uncomfortable for the kids to carry around. Preferably a cloth or a light card paper crown should be used.
A thin strip of golden lace is also a good alternative to a big crown (as shown in the picture).
If you don't get a crown, you can tie a pony and use a pearl necklace to decorate the pony (as shown).
#3. Peacock feather
Use a peacock feather to decorate the crown. You can attach the peacock feather with a tape. If you don't have a crown, then you can tuck it into the band used to secure your little one's pony.
Remember to use a prominent feather, which can be seen and will add to the look.
#4. Flute:
The lord Krishna look is incomplete without the flute. You can wrap the flute with a golden paper and attach some beads to it. If you don't have a flute, a small rounded stick will work as well.
#5. Other Accessories
Use your pearl necklaces or garlands to add to the charm of the little Krishna. Ensure you use lightweight jewelry to avoid any discomfort
You could use an armband or 'baaju bandh' to accessorize your little Krishna. A rakhi can double up as a baaju bandh too. You can refer to the DIY Rakhi ideas.
Waistbands are purely optional. But this will definitely add to the look.
Another optional accessory is anklets. But trust me, when your little Krishna runs around the house, the sound of the anklets is just music to the ears.
Little Krishna is also called as the maakhan chor or the butter thief. To complete your little Krishna, you can use a mud pot filled with butter.
Take a look at our little maakhan chor enjoying maakhan ☺
Some Dos and Don'ts:
Here are some dos and don'ts while dressing up your little one as Krishna.
Do not over accessorize. Last thing you want is an uncomfortable little Krishna
For the attire of Krishna, use a comfortable material.
Ensure they do not have sharp edges or any other thing that can hurt your little one.
For little kids under 3, make sure you are not using anything that can cause a choking hazard. If they complain about anything just remove it.
If you plan to use some makeup, keep it minimum and ensure its safe for your child.
Ensure that your little one is able to move around freely in the attire.
You can refer the pictures from our contributors. In the pictures we have Jayadev, Deetya, Tishya, Tejaswini, Ahaana and Rithvik.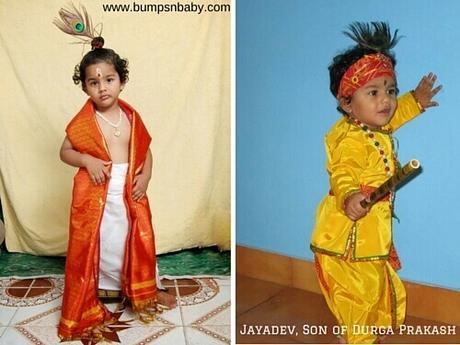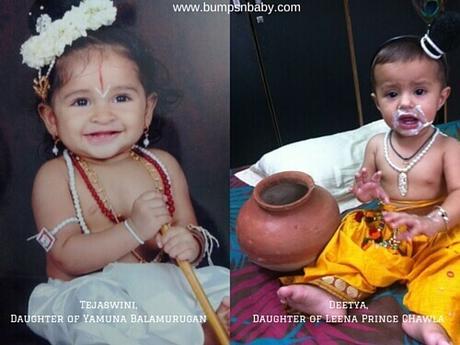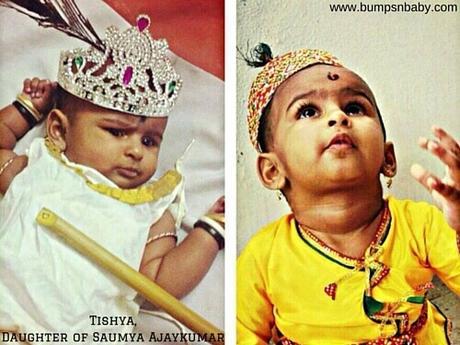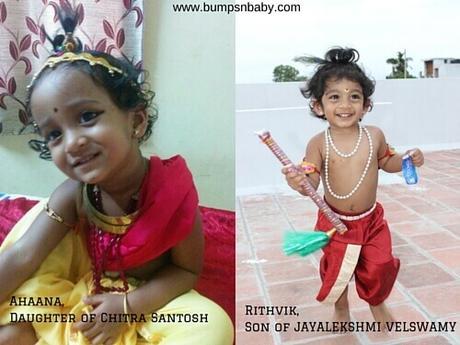 If you want to go all out or you feel you are missing certain elements of the Krishna costume buy it online. But that won't match the excitement and joy you get when you deck up your adorable little one with the costume you have made yourself!
Let us know how you have got your little Krishna ready for this Janmashtami.