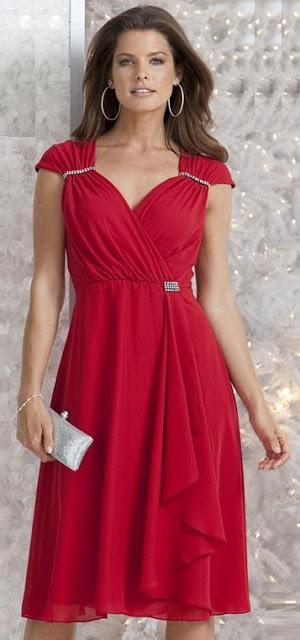 If you are planning to dress up for an evening party, you need to consider a very important thing – the location of the party i.e. where is the party being held. Depending on the location, you will actually have to choose the outfit. Your dress, shoe, jewelery and makeup all will depend on the place where it is being held. For instance, if it is in a fancy club or restaurant, you will have to go a bit dressier and wear something cute like a pretty dress, a skirt and top combo or a playsuit. 
Your personal style is also going to matter a lot. Wear something that will match with your personality. Even if you haven't worn something before but want to wear it now, just go for it but make sure you are able to carry yourself wearing it. 
When it's about jewelry, decide whether you wish to go understated & classic, or over-the-top and bold. For evening parties that are elegant and classy, wear things such as a delicate diamond or crystal earrings & pearl necklaces. Bold statement pieces, chunky silver or gold chains and chandelier earrings are also perfect. 
And don't forget about your shoes and handbags. Usually, women used to match their shoes to their handbags before but this is not the case nowadays. You can pick out any color of attire and match your shoes and bag to that. For instance, if you're wearing a black dress for your party, gold shoes along with a pale gold and cream handbag will look fabulous. You can get these evening bags online with just a few clicks of mouse. 
Doing the hair is important as well.  But when doing the hair, keep things simple or try an updo. If you want, you can even make an appointment with a stylist and get your hair done at his or her salon. Trying a new cut or colouring the hair is not a bad idea either. 
Plan your makeup well. Look elegant and glamarous when going for your evening party. Smell great all through the duration of the party by rubbing some perfume or antiperspirant deodorant. Brush your teeth and use mouthwash so that your breath smells fresh.