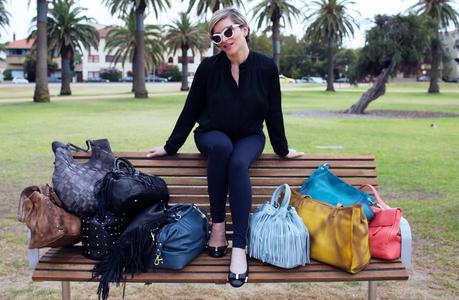 Handbags are one of the most preferred accessories which all women love to carry with them for a styling statement. Different type of handbags are available for different occasions. Whether it is about a wedding ceremony, birthday party, a dayout or a date with boyfriend, girls always love to choose everyday bags, wedding bags or evening handbags online. Given some of the example of handbags that can be carried in different occassions.
Bowling bag: As the name suggests, this bag is circular in shape and medium in size. It was used for carrying bowling balls in the earlier days. However, nowadays women love carrying this kind of hangbag to their offices.

Tote: This is a large rectangular handbag and has an open top with two straps. It is one of the most stylish handbags available. It comes in both medium and large size and is ideal to carry on a dayout with friends.

Satchel bag: This comes in a medium or large size and has a top handle for carrying. Usually a road trip is the perfect occasion to carry these bags. When carried that way, they put an extra styling flavor.

Sling bag: These handbags are a soft shoulder bag. They basically run across the front of torso. These bags are perfect when going for a date.

Clutch bag: This kind of bag is rectangular in shape and comes wihout straps. It is mainly an evening bag that allows you to carry only the things that you need to take in an evening party. It is perfect for a night out with friends in a club.

Wallet: These are pocket sized flat case bags, specially designed to carry credit cards and money. Perfect for carrying this bags is during quick task job.

Purse: It can either be small or of medium size. It is used for carrying cards, money, make up and other small things. Different kinds of purses are available in different sizes and shapes amd it's perfect for a trip to the snack or juice bar.

Minaudiere bag: It is rectangular in shape and is designed with tiny decorative crystals and beads. This kind of bag is very fashionable and gives a classy and unique look to the women carrying it. A cocktail party is the perfect party to carry this kind of fashion accessory.