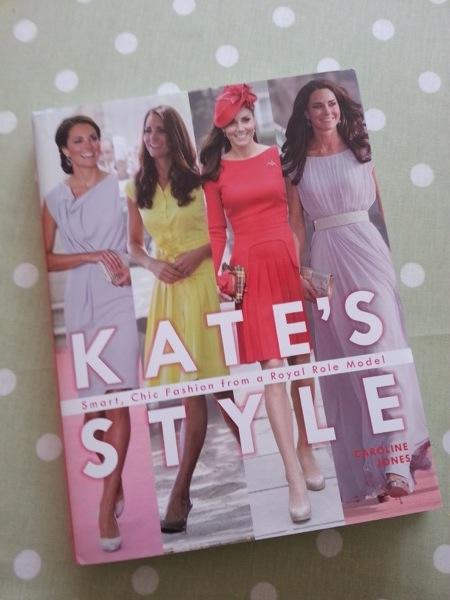 Okay, I'll admit it, I'm completely fascinated by the Duchess of Cambridge even though these days it's considered fairly un-cool to take even a passing interest in the activities of the Royal Family. Luckily I've never cared about seeming cool so that's okay then.
I don't know precisely what it is about the Duchess that intrigues me so much, although I suspect that a lot of it is down to the fact that she's a fellow History of Art graduate (I always wince and sympathise when people trot that out as a means to castigate her) as well as her evident charm, those great clothes and the fact that as a history blogger, I'm always conscious of the fact that a hundred years down the line my successors will be no doubt rowing about Catherine Middleton in the same way as we occasionally get all worked up about the likes of Marie Antoinette, Elizabeth Woodville or Mary, Queen of Scots.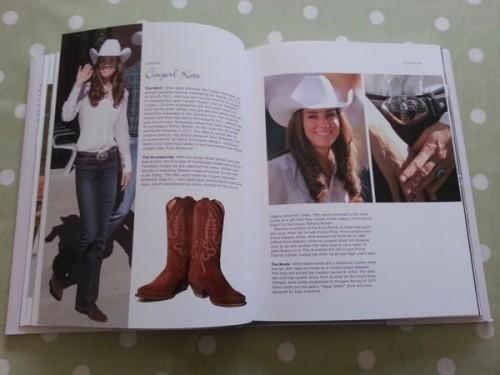 Anyway, I am entirely unabashed and unashamed about my not so secret fascination with the Duchess. I love those blogs where they detail and itemise each article of clothing that she wears and, yes, I am on tenterhooks waiting for that upcoming announcement from Buckingham Palace that the baby is here. I still remember seeing the announcement of Prince William's birth flash across the bottom of the television screen as 'breaking news' back in June 1982, which is awkward as that makes me feel VERY old and also my husband was born two months earlier which means I can REMEMBER when he was born, which makes me feel even older.
Anyway, moving on.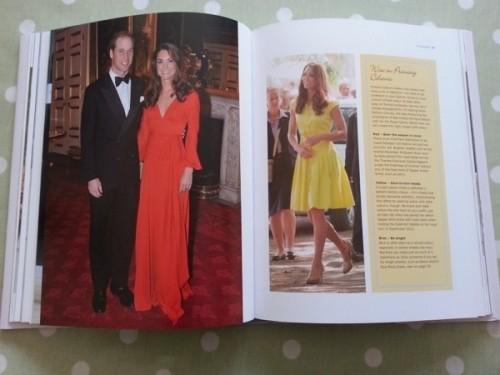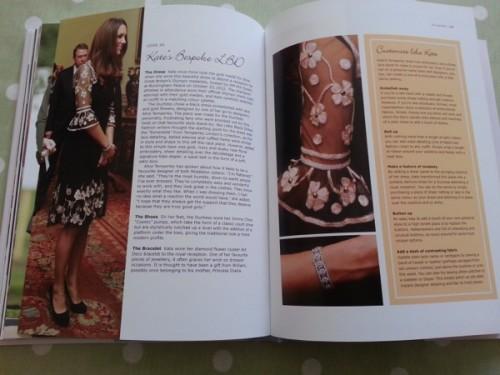 In the spirit of all this, OF COURSE I couldn't resist the new book Kate's Style: Smart, Chic Fashion from a Royal Role Model by Caroline Jones which provides a suitably glossy and very detailed look at some of the most iconic outfits worn by the Duchess, while giving tips on how to achieve the same look yourself along with a lengthy shopping directory of all the places that she likes to buy her swag. I must admit that I find this all utterly enthralling, even though I personally would never actually wear the sort of clothes that she does. It's just not my style. However, that doesn't mean I can't appreciate it for what it is and thank God that she isn't being made to dress about fifteen years older than she actually is, unlike her late mother-in-law.
Although opinions vary about that, of course. When I mentioned on Facebook that I had just taken delivery of this book, someone on there commented that her clothes were 'dull and middle aged you couldn't pay me to dress like that', which I thought was really interesting as although I wouldn't dress the same way either, I don't think the Duchess' clothes are 'middle aged'. Formal, certainly, as she's dressing for a very formal 'job' but not middle aged. As for 'dull', well that's a matter of opinion – the pastels and neutral shades favoured by Kate Middleton may not be to everyone's taste but I think they add a lightness of touch to her public engagements, where she's invariably surrounded by suits and military uniforms.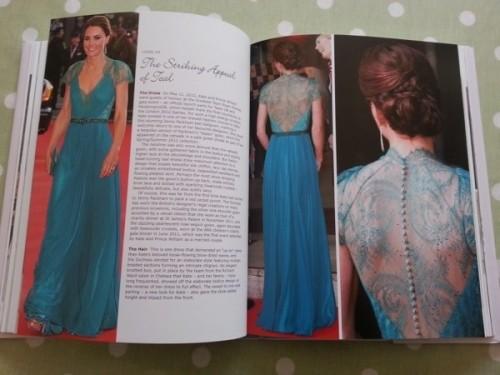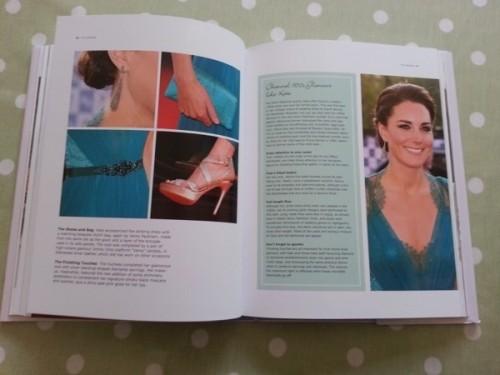 Anyway, back to the book. There are forty outfits highlighted in here, including my favourites – that amazing teal Jenny Packham ballgown she wore to an Olympic gala event and the cream and gold Alexander McQueen gown she wore to a state dinner in Kuala Lumpar. Both are just simply stunning. There's also close ups of her jewellery, shoes and bags to add a complete picture of the entire outfit.
The fashion tips are handy too, covering such topics of GRAVE IMPORTANCE as how to 'wear florals without looking frumpy', how to 'wear lace well', how to 'grab attention in graphic prints' and how to 'make high street buys heavenly'.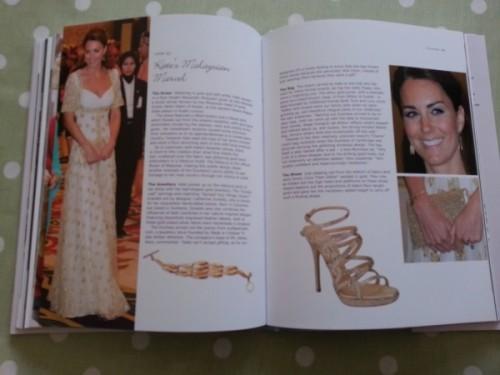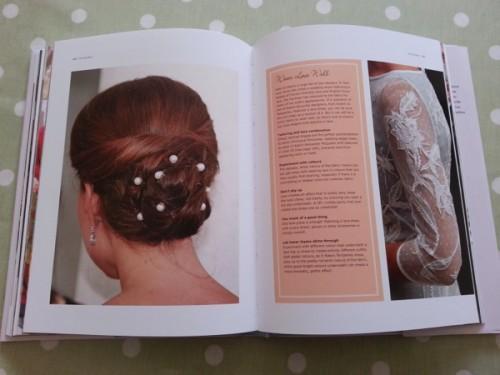 Seriously, if you are at all interested in the Duchess and particularly her clothes then I would hasten to get a copy of this then have a good long wallow. The shopping directory at the back is very handy, I expect, if you actively WANT to dress like the Duchess and does serve to reinforce the fact that her style is, as the book puts it, 'accessible as much as aspirational' with entries for shops that even the likes of scruffy goth old me have been known to frequent. There's also much made of the fact that she likes to recycle and re-wear her clothes just as everyone else does, which unbelievably enough gets her a bit of criticism (seriously, it's like she can do NOTHING right as far as some people are concerned) but I think is rather ace. It's not good that people treat clothes as disposable and I think it's great that someone as prominent as Kate is being seen to publicly wear the same things *gasp* several times over.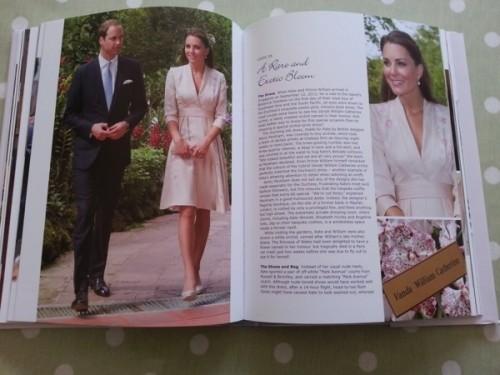 There are also several references to what is called the 'Kate Effect' whereby clothes worn by the Duchess instantly sell out as women clamour to get their hands on the exact same item and then, failing that, the inevitable copies. While some may complain, as the financially ambushed husbands of Marie Antoinette's Versailles did, that this is just frivolous and extravagant clothes horsing, the fact remains that the knock on effect on British fashion and the economy is enormous, with it being estimated that the so called Kate Effect has generated over £2 billion for the British economy thanks to her sartorial decisions. Crikey.
I suppose that would lead to my only criticism of this whole thing – the high street shops are currently rammed full of pastels, neutrals and pretty little ladylike dresses and knee length skirts. It's all so, I dunno, wholesomely PRETTY and not my scene at all, alas.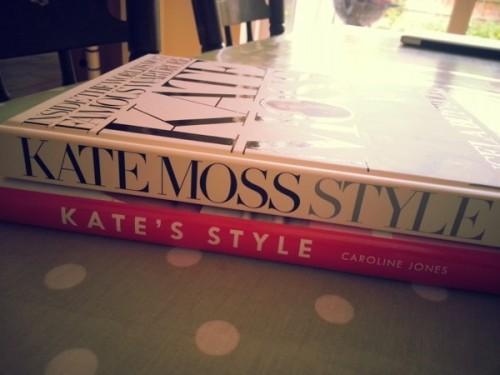 So anyway, uncool though it may well be, I care not. Although if it makes anyone feel better, I'll file this book next to my style guide about another famous Kate M, whose clothes are, perhaps, a bit more my cup of tea…
What do you think of the Duchess' clothes? Do you think she's stylish or do you reckon it's dull and middle aged?