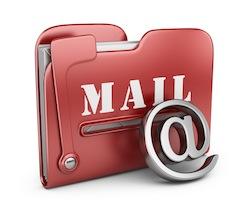 Most recently there are lots new ideas on e-mail marketing, such as email combined with social media, e-mail messages to adapt to mobility, and even breakthrough traditional multimedia mail messages… but in the realm of multimedia mail, in addition to Gif, Flash and audio, video email is the hottest one.
Video email will become a popular application trend in email marketing
Insert video into an email message and the effect is self-evident to the enterprise. Compared to plain text e-mail and standard graphical mail, video mail will be even more interesting, and will take on to the better performance in the mail CTR, interaction, sharing and forwarding. Video mail also has significance for ROI. From the user's perspective, video mail will also become a popular application trend in e-mail marketing. What causes it? 1) Daily-sent regular text messages and email that join with the graphic design has made users tired; 2) Users' desire for information and content in various forms and lengths, such as white papers, blog posts, information, video clips etc.; and 3) Users are using a variety of mobile devices to find content and video are ideal for watching on these devices.
Although video email has already become a trend, it is not yet widely applied. A survey found that only 1/4 of marketing staff use video in email marketing campaigns. Why this lack of application for video mail? The reason may be in many aspects, perhaps some feel that it is not suitable or feel that they do not need video content. Perhaps some are worried about ISP limitations or that users' browsers will not support the video. Others are worried about how video mail might affect open rates, unsubscribe rates etc.; or, perhaps, some feel that it will increase costs, or questions the effect of video mail.
Currently better video mail practice: video on a separate login page
Currently there are two main ways in the video mail application: First, through plug-ins for video files directly played in the message. Another is to put a video in the mail, and put a CTA button next to it. When the user clicks on the video screenshot or CTA button, they jump to a separate login page to watch the whole video.
In addition to subjective factors other issues may arise, such as, various ISP restrictions of javascript and videos, browsers that do not support video, poor browser speed, file size and other factors. Best practice in enterprise email marketing is to not directly insert the video in the mail, but use the second method mentioned above, that is, embed the video on a separate landing page. A comparison test of a video mail message and regular mail form showed that the video mail (video on a separate login page) has a better open & click rate (increased by 5.57%) than the general e-mail (regular text messages and adding a little graphic design mail ), and this video mail does not adversely affect mail delivery rate.
Applicable scenes for video mail and video material sources
Video Mail is generally more suitable for on-site activities (such as meetings, events, conferences etc.) and virtual events (online salon, online seminars etc.) with promotional use. In deciding to use video mail, you should first consider whether the activities are suitable for using video to performance, rather than just to do video mail.
To take advantage of video mail (hereinafter refer to: Video on a separate landing page video mail), the first step is with the appropriate video content material. Video content from two sources: One, editing the external video source, such as movies background and scripts, video media sites, professional free video clips websites; another is exclusive video shot on your own and hiring a professional to fast handling all types of video editing, so that the video can be high efficiency used besides in email marketing channels but also used in the official website, mass media, social media and other marketing channels. This will not only improve the marketing resource utilization, and but also increase cost savings.
Produce Video Mail steps and precautions
First, put a video shot in the mail, as well as a brief description of the video content (three paragraphs or less), to ensure the overall message is very small;
Length of each video should not be too long; it is best to keep it to a minute or so, focusing on showing the highlights and stimulation points in the e-mail marketing campaign;
Set a hyperlink in the video screenshot message and nearby set a CTA button so that the user can click to enter a standalone landing page to watch the video ;
When the user clicks to enter the login page , do not rush to require the user to take action but try to let the user immediately watch the video; after the user feels the value of the e-mail marketing campaign during watching the videos, then provide fast channels to the user for registration, data provided, participate in activities etc.
After everything is ready, send video mail to some users. When getting feedback, and then push the video mail for all users' address. Pay particular note on the user's negative feedback, open rates and click rates.
After conducting trying constantly experiments, if necessary, you can put video messages in the regular mail type; make ongoing strategy optimization together with other email message types.
Currently video has become a very popular way of content marketing, make effective use of video email marketing, perhaps can bring users different feeling among those plain text mails or picture mails in their mail box. 81% of marketers expressed the will try to add the video in the mail. If you also want to carry out video email marketing, act now.
SOURCE Soobest.com