Tomorrow morning, my beau leaves for the United States. San Francisco, to be exact. I can't even tell you how jealous I am. So what if he's going for work and I have midterms next week? I'm the one who's American...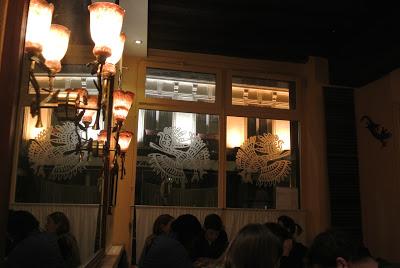 In all seriousness, aside from the primary fact that I would l-o-v-e to visit friends, I'd also love to have a burrito. I miss Mexican food here in Paris. The U.S. must have spoiled me with its proximity to this fantastic cuisine. For instance: "Long week at the office? Let's meet for tequila cocktails and whatever Mexican dishes we're in the mood for."Or, "tough hike on Runyon Canyon this morning? No worries, I know a stand that serves the best tacos." No matter how much I enjoy the multitude of North African culinary delight here (Lebanese is my favorite), I can't help but need more guacamole in my life. It must truly be in my blood.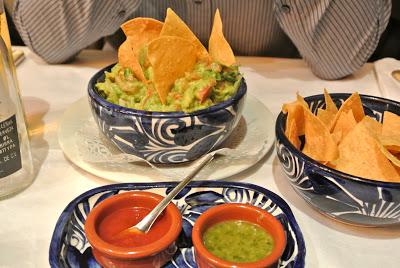 Thankfully, I do know one place to go: Anahuacalli. This invited restaurant accented with Mexican decor serves the real deal. Their guacamole was chunky (as I prefer it), accompanied by two complimentary salsa (one was quite spicy, a rarity in France) and housemade chips. Alongside a perfect margarita, I had diy tortillas of sorts with an assortment of flavorful fillings including chicken in a tomatillo sauce, refried beans with queso fresco, and fajita-style beef. My date enjoyed a plato fuerte of prawns in a mildy picante sauce over rice with a Corona. The only thing I regret is not remembering the names of our dishes.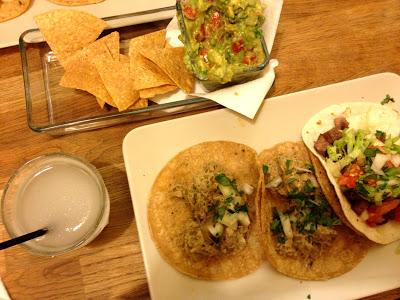 It's not the kind of place I could go to all the time though. And that's where the more casual and economical option #2 comes in: El Guacamole. It's not surprising they're owned by the same people. This simple taqueria serves deliciously filled and wonderfully garnished tacos. I devoured three, plus a margarita, for only 17 euros. Other menus

at 14

€

 (3 tacos, 1 cerveza) and 10

€

 (3 tacos, soda/agua fresca) are also available.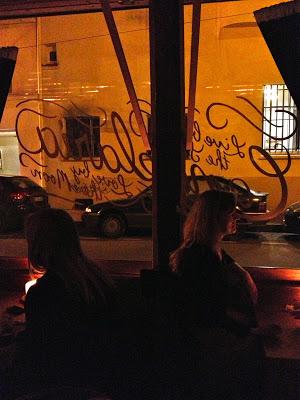 Recently, I also had the opportunity to try the much buzzed about Candelaria. I was disappointed. It wasn't just the small, crowded space that got to me; my tacos carne asada were dry and over-priced, and the butternut squash tacos, which could've been an exciting innovation, were just alright. The only thing that'll keep me going back is the unmarked bar in the back. The Guapo--made with crema mezcal, chipotle, red pepper, agave, lemon, and tequila--is just spectacular. Speaking of drinks :) I'm so looking forward to belatedly celebrating National Margarita Day with Anna at happy hour tomorrow. Think cinnamon.