We are still in "Save the Date" season, but I'm finding that some couples would like a custom monogram used on this stationery component. This element will obviously be carefully weaved through the balance of their wedding paper. Great move because everything will be more uniform, however you shouldn't be under pressure to have your Save the Dates and invites be too "matchy-matchy"...
There are so many monogram styles now that it is easy to get a little overwhelmed. I think the natural steps to take are:
determining the colors
what style monogram will work best for you...
After these things are confirmed, its time to start designing! 
A FEW WEDDING MONOGRAM STYLES
Initials Only
You can elect to indicate initials only, initials with an ampersand, a + symbol, or simply "and" between the letters. I like to use SOMETHING because it lends to the design, however using the letters alone works too. Don't just plop the letters together... Some time should be invested in organizing the initials just so. Remember that this monogram creates its own shape. Note: I am only indicating the couple's first name initials here... The new last name initial can be used, but it IS thought to be improper to use it until AFTER the couple is married. Because of this, I like to recommend not using it at all.



Initials and Date
Its nice to add the date to your monogram, especially when you consider how it will be used.  Maybe you will use it on your invitations, favors and place cards...  The date will be a nice reminder to your guests of your big day. Note: you should ask your stationer for a version without the date to prevent redundancy on your wedding invite.

Names Written Out
The design results of using both the full first names of the couple is so subjective based on the fonts that you decide to use. You should have a lot of fun playing with this method though because the possibilities are endless!

Adding Design Elements
This is the fun part! So many flourishes and design elements out there... Flourishes and scrolling elements can accomplish three things:
They can help frame the couples names and date
They can act as separators between the names and the date to ensure legibility
The can make the design feel more "complete"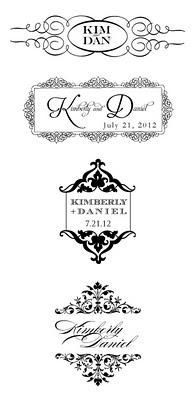 These are just a few tips and tricks that work for me. Let me know if there are any others our readers should know about! Also, after your monogram is designed, don't forget to consider the many uses for this item!Take care til' next time... --ct