After decluttering our bathroom last weekend, I got high on minimalism. Decluttering is addicting. The more stuff I give away, the more stuff I am willing to part with…it's so freeing! Just like last time, the very first step is to take everything out of the cabinets and drawers: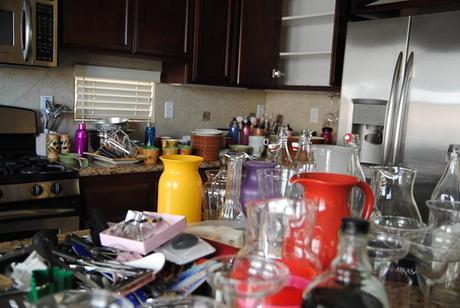 Do you see ALL THAT STUFF?! That is only stuff from two cabinets! I had to do the kitchen in small waves, because I was afraid if I actually removed everything at once, I wouldn't be able to walk. The act of physically removing everything from its "home" is truly one of the most important aspects of decluttering. It's the point where you look your stuff in the eye and ask it, "Do you belong here?" In The Joy of Less, Francine talks about having conversations with your stuff, which I have to confess I found slightly silly. Until, that is, I started doing it myself. On Saturday I walked around my kitchen for four hours talking to my stuff.
"Are you useful?"
"Have I used you at all in the past year? Past four years?"
"Do I need you, when I have four other versions of you?"
"Do I find you to be incredibly beautiful?"
Despite the puppy eyes some of my stuff was giving me, the most frequent answer was NO. No, I have never used the fancy cheese slicer we received at our wedding. No, I have never used the bread maker, handed down to us from my mom, who never used it herself. No, I do not need seven salad bowls of varying sizes, or eighteen coffee cups that don't match.
The other benefit of taking everything out of the cabinets and drawers is the sudden ability to assess your kitchen logically. What might have made sense four years ago while storing away new wedding gifts might not make sense now. For instance, why are our champagne flutes in the same cabinet as our everyday glasses and mugs? Why is our electric knife, that we use once a year, in the same cabinet as our blender, which we use three times a week? These are the kinds of questions that popped into my head as I was organizing, which helped me move things around accordingly.
I found that the best process for organizing my kitchen was to separate the everyday from the occasionally used. Now, things that are used every day are in the center of the kitchen, within easy reach, while things that we only use occasionally (nice dishes, champagne flutes, waffle maker, etc) are in the outer parts of the kitchen, not within easy reach. Here's a few before and after pictures…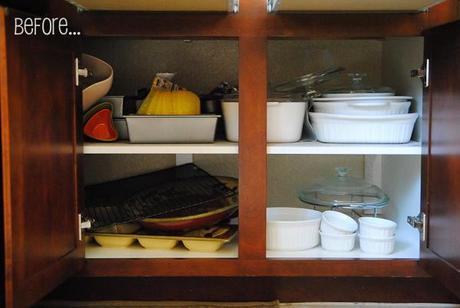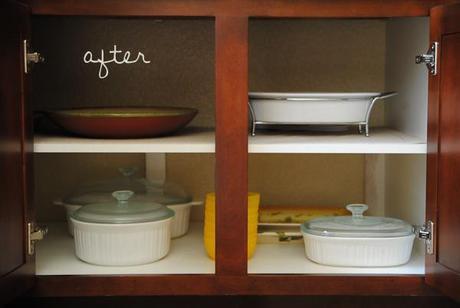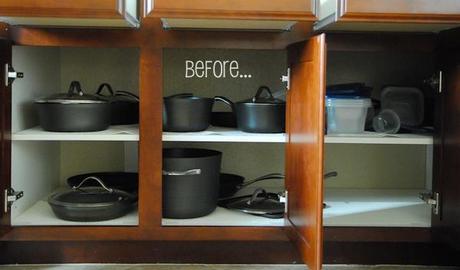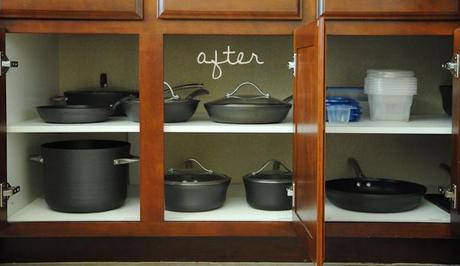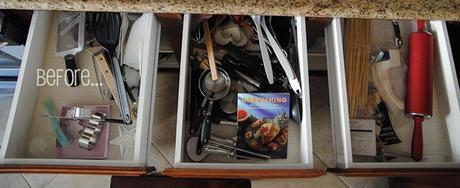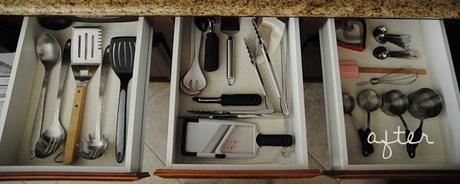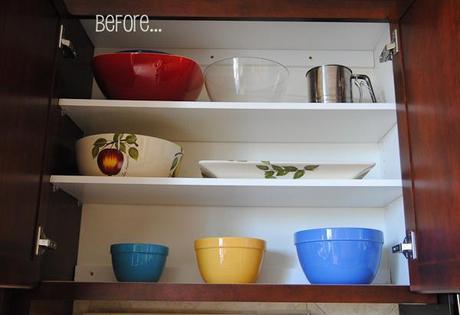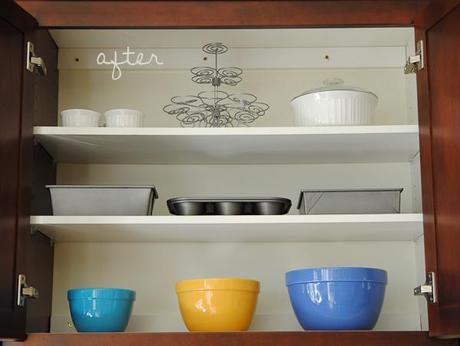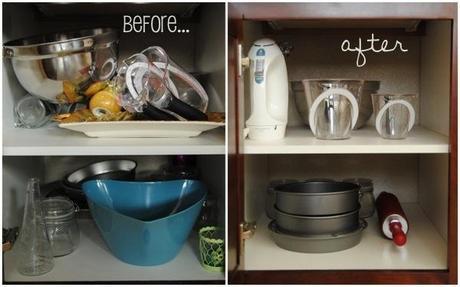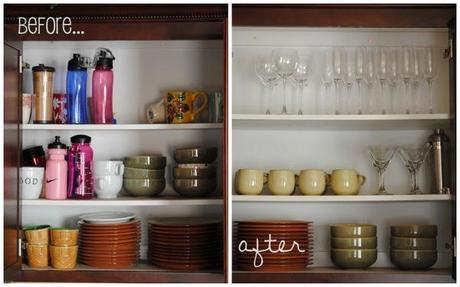 I literally gave away an entire car full of dishes, appliances, serving plates & bowls, dish towels, cookie sheets, etc. And it felt so, so good. Less stuff to store, less stuff to clean, less stuff to care for and look after.
All I'm left with is SPACE. Space to try new recipes and wash fresh herbs and vegetables from our garden. Space to bake cookies and decorate birthday cakes. Space to entertain friends and spend time with Brett each night as we talk about our days over a healthy, homecooked meal.
Space to create….what a beautiful thing!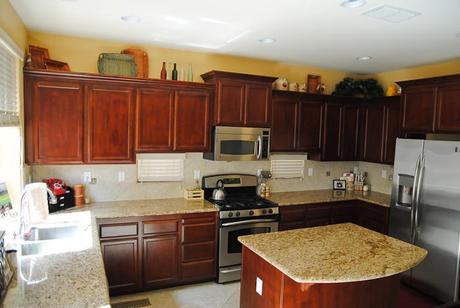 I think I'm getting high on minimalism again. What should I declutter next?!