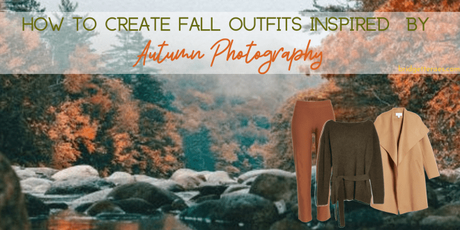 Lately, members of my Facebook Group have been uploading gorgeous photographs for wardrobe color inspiration. It reminded me of some past posts I did on the topic where I took stunning photos and used them as color inspiration for stylish color combinations. With the beauty of Autumn here, I thought it would be a great time to do another post showing fall outfits.
How to Create Fall Outfits Inspired by Autumn Photography
I have chosen five beautiful autumn landscape photos and used them to create fall outfits in color combinations that capture the colors in each photo. I love doing these posts. Playing with color is so much fun and a really wonderful way to get inspired. Take a look at them below and try this type of exercise with your wardrobe. I even challenged members of my Facebook Group to come up with some of their own.
Outfit #1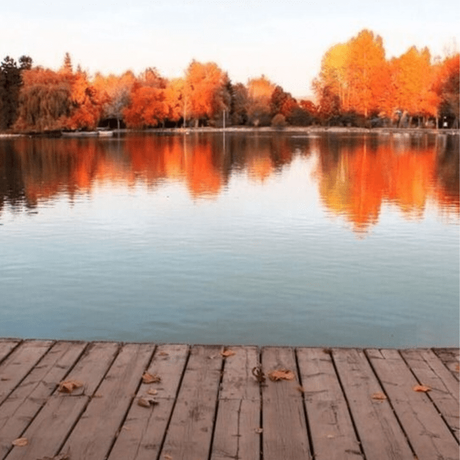 What a stunning photo of the blazing autumn trees with the cool colors of the lake. Check out how I used these colors in an outfit.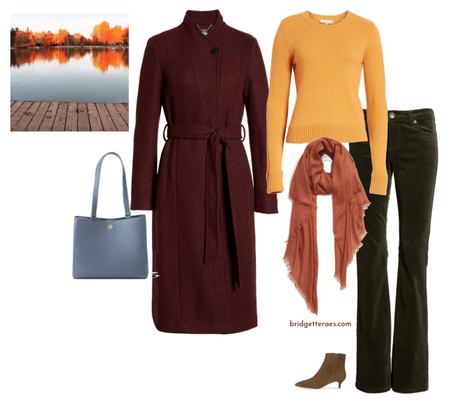 In this first look, I took inspiration from all the shades of the trees by styling this yellow sweater from Vince with a pair of olive corduroy jeans from Kut from the Kloth, burgundy coat from Cole Haan, soft orange scarf from Sole Society and cypress boots from J. Crew. For the cool water, I added this Dagne Dover bag.
Outfit #2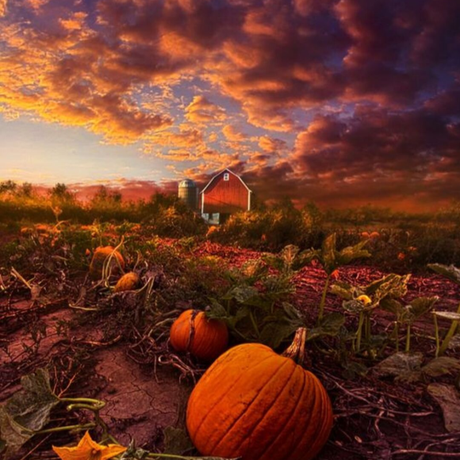 Photo: Phil Koch
I love the vibrancy of this photo. The bold purples, the rich green and the splash or orange and red. Just stunning.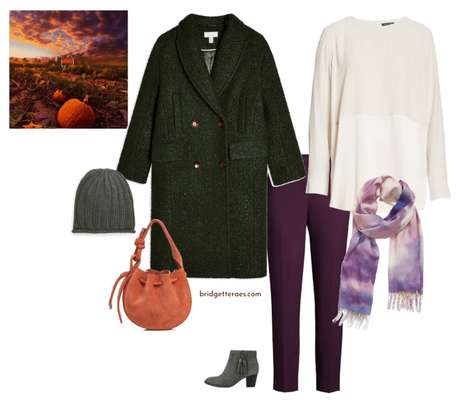 In this photo, I had to choose between the orange of the pumpkins and the red of the barn. I selected the orange for a pop. I styled this hunter green coat from Topshop with an ivory top from Eileen Fisher and deep purple pants from Elie Tahari. It was almost too perfect that I found this scarf from Nordstrom which picks up the shades of the sky perfectly. I finished the look with a pair of olive-y gray booties from Vionic, eucaplyptus colored hat from Treasure & Bond, and orange suede bag from Behno.
Outfit #3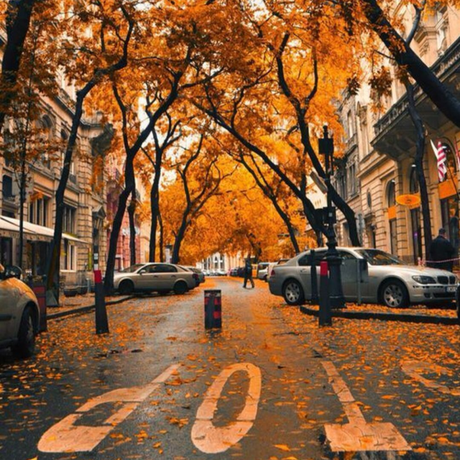 Next, a cityscape of autumn with flaming leaves that jump off a neutral background which creates a stunning amount of contrast.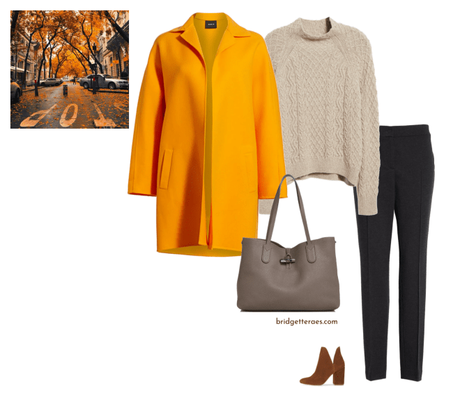 This budget buster outfit captures the vivid contrast of cement and charcoal and the bright shades of the leaves. I styled these charcoal pants from Akris Punto with a cozy sweater from Vince. I added this yellow double faced wool coat from Akris Punto and finished the look with chestnut booties from Steve Madden and taupe bag from Longchamp.
Outfit #4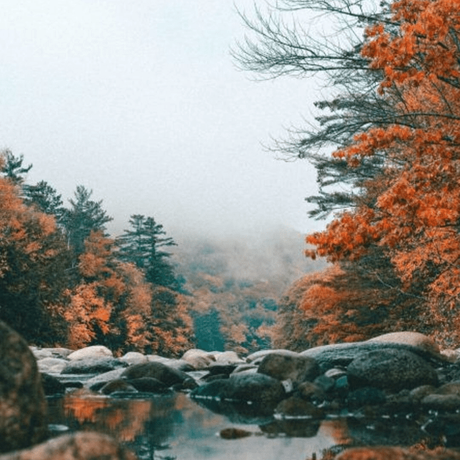 I took inspiration from how layered all the colors of the foliage is in this photo. The colors range from orange to a rich teal.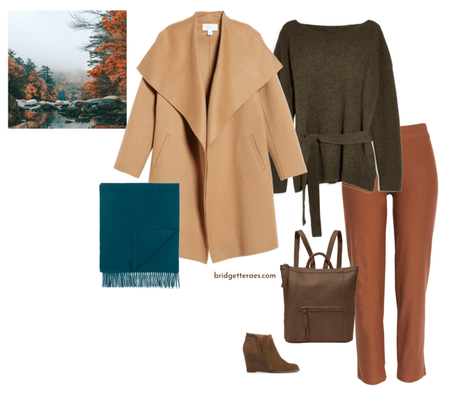 In this fall outfit, I styled an olive sweater from Madewell with a nutmeg pair of pants from Nic + Zoe. Over it, I added this camel coat from Nordstrom and I finished the outfit with a pair of brown wedge booties from Lucky Brand, a mocha colored backpack from Urban Originals and teal scarf from N. Peal.
Outfit #5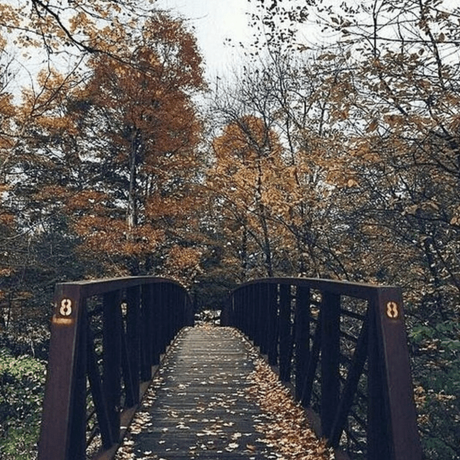 Photo: Nikki Mason
This last photo lacks the vibrancy of the other photos and has a subtler autumn look. It's a gorgeous photo of soft fall colors.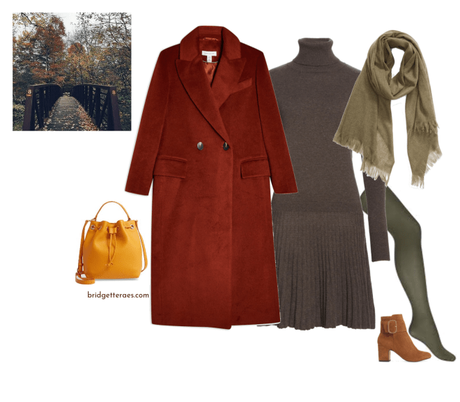 Taking a softer approach, I styled this Autumn Cashmere dress in soft brown with olive green tights and cognac booties from Bella Vita. I added this rust colored coat from Topshop and finished the outfit with a light olive cashmere gauze scarf from Nordstrom and bright yellow bucket bag.
Photos from nature can give us great direction in color combining. The next time you are stumped for fall outfits, give this exercise a try.