Keeping track of financial records and invoices in particular is part of every person's daily routine. Managing digital invoices can be a time-consuming task, especially if you want to reuse old invoices. And what's more, it may happen that you are away from your home or office computer and you need to get the job done. In case you didn't know, there is an alternative solution, a real time saver which can help you out in situations like these.
If you have an iPhone or iPad, you will be able to edit invoices on the go and finish your daily tasks on time. Since financial documents, including invoices, are usually saved in PDF format, you won't be able to reuse old invoices unless you convert a PDF to an editable file format. Of course, you can always make an invoice from scratch, but why would you do that when you can edit an old invoice and save time?
Read More:- How to Unlock Data from a Scanned PDF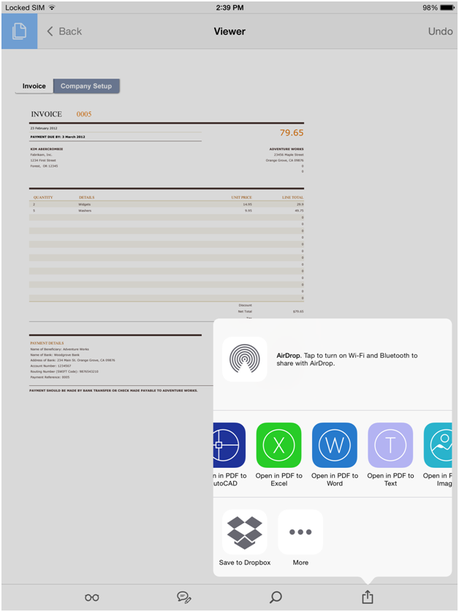 So, if you want to be more productive when it comes to managing invoices, you need only one thing - an app for PDF to Excel conversion. With this kind of app you will be able to edit your old invoices, even scanned PDF documents. By converting an invoice from PDF to Excel, you can add or change your financial records without having to create an invoice from scratch.
Once you download the app for free, you just need to follow these easy steps:
- Open a PDF - that old invoice you want to reuse. - Tap on the share button

- Access PDF to Excel app from the OPEN IN menu
The converted file will wait for you in the same folder where the original file is. When you open that file in MS Office or LibreOffice, you will be able to edit your financial records.
Regardless of where you are at the moment you need to finish your daily finance management tasks, you will still be able to stay on track.
Did you like this article?
1. Please share it with your network, we'd really appreciate it!
2. Would you like to write for Computer Geek Blog?
3. Keep subscribe us and follow us on Facebook and twitter for more tips & ideas about new technology.

Savita Singh is the author of computergeekblog, She has a superlative knowledge of Graphic and Web designing. She is a part time and award winning tech blogger who loves to write about latest technology, social media and web design. Her blog focuses on creative things of designing and tech, providing professional opinions on designing products, performances and a variety of business.