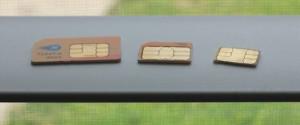 I was wondering there should be a "Desi Way" to convert Micro SIM into Nano SIM card for Apple iPhone 5, because many people in India did the same to convert Normal SIM to Micro SIM. So Here I found one tutorial, those guys share wonderful video there. I am here sharing it with you. I think this will work pretty sure.
Note: This converted Nano SIM card isn't practiacally tried in iPhone 5, but I am sure that this will work. One morething, First try this out with Old SIM card and then try it out on your Working one. Don't act before watching the full tutorial. If you want specific information about Nano SIM the you can get from this link.
This is the metrics for Micro SIM,
Width: 14.99mm
Height: 12.03mm
Depth: 0.81mm
So after doing the proper calculation, You need to trim 2.69mm from the width, 3.28mm from the height, and perhaps the most challenging part, 0.14mm of depth.
Hope this will work for you. You can see original article here.