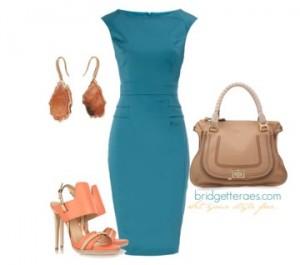 We're in a time in fashion where it's all about color blocking.  Color is everywhere and it is completely acceptable to push the boundaries of how you wear them combined in an outfit.
Most women are afraid of color, period.  Few know what to do with it besides wear it with black or with jeans.  Therefore, I can only imagine how squirmy many women must be about wearing multiple colors in one outfit.   If color blocking is something you'd like to try, but you're afraid that you'll look like a clown if you do it, I wanted to share some styles I put together with you that can show you how I go about combining color in ways that still remain looking elegant, sophisticated and polished.
Here are some looks and the thinking behind each one when I put them together.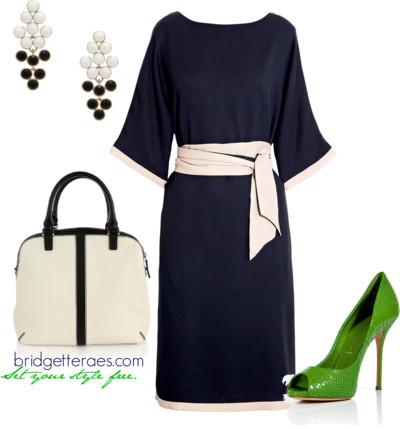 Pop of Green by
bridgetteraes
featuring bowling bags
One of the first, and easiest ways to start color blocking is to do it with a pair of shoes.  In this case I chose a very elegant, yet simple dress, that was navy.  I love this dress, would own this dress and am sort of salivating for it in my wardrobe.  Now, while it would be incredibly easy to grab a tan shoe or a black shoe (if that's your thing), when I put this look together I thought about choosing a shoe in a bright color.  The nice thing about navy is that it is just as versatile as black.  Pick a color, any color, and it will complement navy.  While I chose green, because I happen to love green with navy, whatever your color preference is you can wear it with this dress.  Pink would look beautiful, red would be stunning and even a soft purple or orange would work.
If you want to step out with color blocking, you can easily grab an existing black, navy or brown dress from your wardrobe and pop the outfit with a colored shoe to update it and achieve some color blocking success.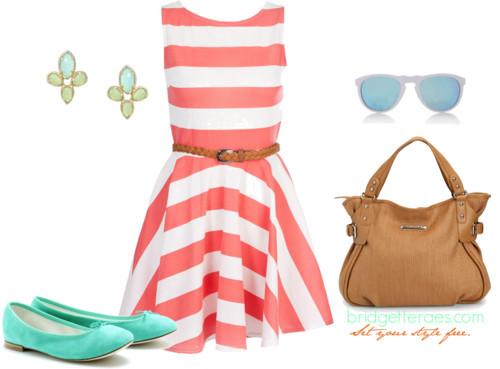 Striped Summer by
bridgetteraes
featuring stud earrings
Color blocking does not mean that you have to only choose bright colors.  You can color block in soft shades.  In the case of the outfit above, I started with the dress.  Again, a more subtle shoe in a neutral would work perfectly fine, but wanting to color block the outfit, I looked at the peach stripe of the dress and thought about what color would complement it.   Mint came to mind, not just because the color is so popular, but because, figuratively speaking, on the color wheel, peach and mint sit more opposite of each other.  Colors that are opposite of one another are called complementary colors which are usually aesthetically pleasing when put together.  Lastly, to bring in just a little bit more of that minty green, I chose earrings that worked and tied the whole look together.  Lastly, when you color block, it doesn't mean that you can never use a neutral shade.  In this case, I chose a versatile tan bag that worked with the belt that comes with the dress to make the outfit look even more complete.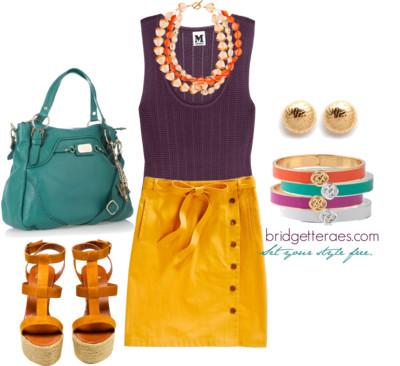 Summer Office Casual by bridgetteraes featuring turquoise handbags
With all the colors found in this outfit, there is definitely a bit more of an advanced strategy going on here.  Done wrong, too many colors in one outfit can make someone look like a clown.  Yet, when done right, and all the colors are in harmony, it can be stunning.  So, let me explain how this outfit was created, step by step.
I started with the skirt when I put this look together.  Looking at the bright mustard shade, I chose a top in a dark purple that is a complementary color to yellow.  Now, while these two shades are color blocked, it is important to point out that these particular shades of yellow and purple work as neutral shades because of their deeper tone.  Because of this, there is more freedom to play with additional colors.  The next item I chose were the orange sandals and finally the turquoise bag.  However, what makes all these colors work so well together are the additional hits and splashes of the colors found in the accessories.  The orange necklace picks up the orange in the shoes, and the bracelets tie all the colors together.  If you removed the necklace and bracelets, all the colors found in the skirt, top, bag and sandals would be much more random and much less cohesive.  When color blocking, it is great when you can find accessories that tie your color blocking choices all together.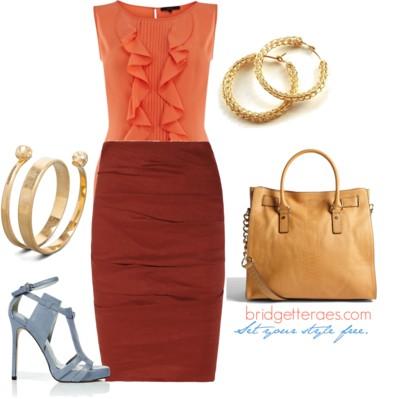 Peachy Sky by bridgetteraes featuring a knee length pencil skirt
Another way to successfully color block is to think tonally.  In the case of this outfit, I started with the skirt, which is a warm rusty shade.  When I looked at this skirt, I thought of a tonal peachy orange that, while it seemed a bit bold to put together, when I did it, there was a harmony created between the two colors.    When the top and bottom were put together, I also wanted to hit this outfit with a pop and, again, thought of complementary colors found on the color wheel.  By choosing a soft blue that matched the level of softness found in the top, that also could pop off the darkness of the darker shade of the skirt, it worked in a way that made a statement but still blended together and created a cohesive outfit.  Finishing off the look with a neutral bag and gold accessories created a look of sophistication that matched the look of the outfit.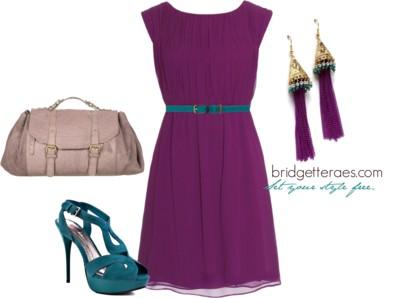 Purple Teal Outing by bridgetteraes featuring a rouched dress
For this look, I started with this bold purple dress.  With the depth of the color, I wanted to choose a complementing color that met the same level of bright depth found in the dress.  Teal called out to me.  Teal is a great versatile shade because it works with just about any color you pair with it.  Teal looks great with yellow, it looks great with orange, it works with pink, and more.   Teal is also what is called a universal color which means that just about everyone looks good in it because there are equal parts warm and cool found in the color, meaning it is a very yellow blue.  I found a teal belt and a pair of shoes that really harmonized with the dress and, as luck would have it, found a pair of purple tassel earrings that also had a hit of teal in them.  Lastly I chose a neutral handbag that had a pink cast and, therefore, complemented the purple dress.
One last thing I am noticing is that women are using thin belts in pop colors to update their looks and color block them.  For example, I saw a woman on the street yesterday wearing a grey cardigan and a pair of jeans.  She popped the outfit with a bright red belt which made it look more complete.  I am also seeing a lot of women taking a dress, like the one above and using a thin brightly colored belt to color block.  If you have a few dresses in your wardrobe that could use a belt, grab a bright one to make what you already have a bit more trendy and now.