When living in a different country and acclimating to the people, the language and just the environment in general, it is very important to have someplace where you feel your most comfortable where you can end your day. Luckily, during your time at Expanish you can choose from 6 different atmospheres to reside in while enjoying Buenos Aires. These include; homestay city, homestay city premium, homestay suburbs, shared apartment with host, San Telmo residence double room, or a private apartment. All of these accommodations are great in different ways to suit people with different tastes.
If you are interested in experiencing the life of an Argentine family living in the city, then the city homestay is the one for you. There is no better way to improve your Spanish than by actually living with a family. In the city homestay you will be able to bond with Argentines and practice your conversation skills over the two meals that you are given each day. The best part is that after a long day of classes and speaking you can come home to a home cooked meal and private bedroom to retreat to. Along with experiencing the life of an Argentine, you will also be enjoy living in a pleasant neighborhood that is located 30 minutes by bus, subway or walking.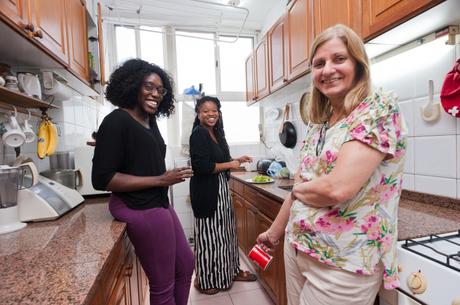 The homestay city premium is basically the same concept as the regular homestay city but with a little more luxury. These luxury items include, guaranteed Wi-Fi access, cleaning services, a personal bathroom and many other luxury items. Although you have access to these luxury items, the conversational and family aspect is still included in this experience.
The homestay suburb option is for those who prefer to reside in a home outside the city limits. Living a more calm and relaxed Porteño life you will enjoy coming back home after a challenging day in the city to a tranquil atmosphere. This accommodation includes the same amount of meals and opportunities as the city homestays but you get to enjoy it all with a bigger family than of the families in city homestays. What can be better than that?
The next option is the shared apartment with host. Here you have the opportunity to live autonomously while still being able to practice Spanish conversation skills with your Argentine host. Although meals and other services aren't included like in the other accommodations, this option allows students to cook their own meals and live independently from a family. This is a perfect option for students who are looking for a cheaper, more private accommodation in Buenos Aires.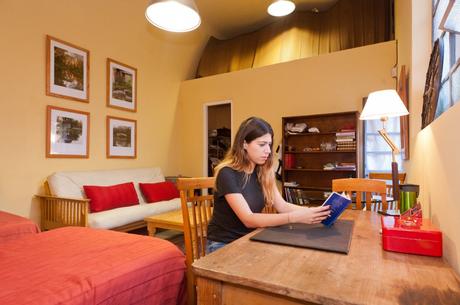 The private apartment option is also great for those who wish to have a space of their own. These apartments are fully furnished with utilities included, and the best part is that the student has 100% control over where they will live. This is an ideal option for groups or couples that want to choose the location and style of their apartment as well as those who are traveling together and would enjoy more privacy.
The final option is a double room option in a residence hall located in the beautiful barrio of San Telmo. This option is great for those who are social, as you will be living in a residence hall with 6 floors of students. Living with a student of the same sex, you will be able to practice your Spanish all the time as well as meet people from all over the world. This is also a great option for those who want to independently without having a host or family living with you. No matter which accommodation you choose, you are sure to enjoy the facilities as well as your time with Expanish in Buenos Aires!