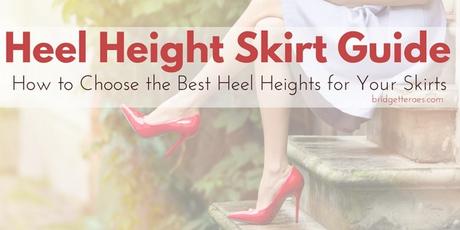 From choosing the right colors to finding silhouettes that make your body look slim, getting dressed can be riddled with challenges. Quite often, proportion plays a huge role in making a body look balanced. I have seen something as small as an inch in the wrong place make a woman look 10 lbs. heavier than she actually is.
Picking the right heel heights to go with the different skirt shapes is definitely one of the many obstacles of making an outfit look great. In this post I decided to put some easy cheat sheets together to help you make the best choices when choosing heel heights to work with the skirts you wear.
How to Choose the Best Heel Heights with Skirts
Below you will find seven common skirt silhouettes along with the heel height pairings that are best to consider when wearing each style, and why.
Pencil Skirts
Shop for shoes for your pencil skirts

Pencil skirts traditionally need to be worn with a bit of height. Rarely do I see women who look good in flats when wearing pencil skirts. Those who can get away with it usually need very slim legs, narrow hips and thigh and usually need to be quite tall, particularly if the pencil skirt hits right above or just below the knees. Due to the tapered look of pencil skirts, women with curvy figures and heavy legs benefit from a little heel height elongates the legs to create a leaner proportion. Even the smallest heel height, like 1/2″-1″ can make a huge difference. The heel shape can vary and you can select styles like stiletto, kitten, block, wedge, and more.
If you love your flats with your pencil skirts, consider hemming your skirt just an inch or two shorter to help get the proportion more balanced. You can also try this work around that I share in this post.
Knee Length A-Line Skirts
Shop for shoes for your knee-length a-line skirt

There is way more flexibility with knee-length a-line skirts than there is with pencil skirts. Pencil skirts typically look more professional whereas a-line skirts can look different depending on fabrication and/or print, among other things. Therefore there are a lot more options when it comes to shoes. Shoe style should not only be selected by silhouette but by venue and situation.
What also needs to be considered is body shape and the sweep (width of the hem) of an a-line skirt. Very wide sweeps will make women look shorter than they are, a typical no-no for petite women, making heels ideal. For women with heavier legs, a bit of heel height will also help. That said, depending on a few personal variables, heel heights above can be considered. Flats can often be fantastic options with knee length skirts in more casual or business-casual situations.
Knee-Length Flare Skirts
The difference between an a-line skirt and a flare skirt is the flare skirt has a lot more flounce and less structure. Typically they are seen in dressier or more casual skirts and less often for daytime work situations. However, similar to the a-line, body shape and situation should be considered. The same tips for the a-line apply here. Very flat shoes are best for those with slim legs and narrow ankles and calves. Even a small bit of height will work better with knee length flare skirts if you have heavy legs.
Shop for shoes for your knee-length flare skirts

Pencil Midi Skirts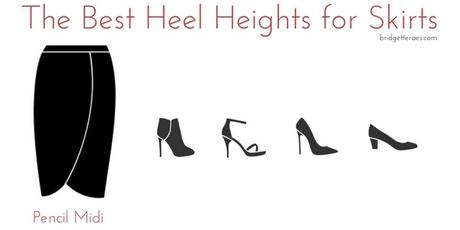 Pencil midi skirts look really elegant and sophisticated on the right woman but rarely work well for the masses. With a hem length that typically cuts right through the widest part of the calves, you have to be careful which shoes you choose to wear. Heels are usually crucial in order to look balanced. Tall boots rarely work because they often fight with the length of the skirt and booties look best when worn monochromatically with tights...unless you are super tall and thin. The pencil is a pretty style but a tricky one as well.
Shop for shoes for your midi skirts

Maxi Skirts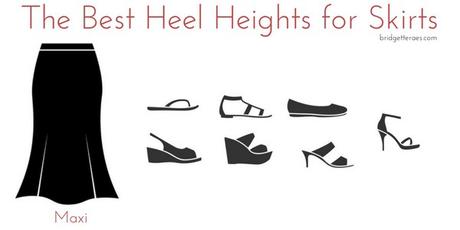 Maxi skirts look better with flat shoes and sandals, wedges and platform sandals or strappy styles. Rarely do they look good with pumps or stilettos. It's hard to generalize heel heights for maxi skirts because the best pairings are dependent on how the maxi skirt is being worn and how dressy the skirt is. However, all heel heights above will. Flats and maxi skirts in the summer can be quite perfect.
Shop for shoes for your maxi skirts

Mini Skirts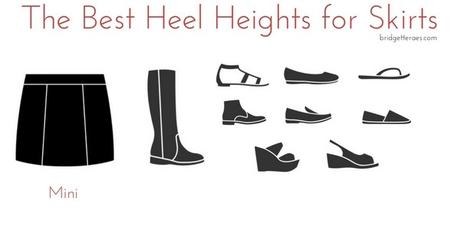 Stilettos with mini skirts work well for about .001% of the population and 50% of that population are likely either under 25 or walk the streets. Once you hit a certain age, heels and mini skirts can look ridiculous. This is a skirt style that can look fantastic with flats. If you do want to wear heels with mini skirts, more substantial and sturdier heels work better, like block heels and wedges. Mini skirts do look good with flat boots and booties, particularly when worn with tights.
Shop for shoes for your mini skirts

Full Mini Skirts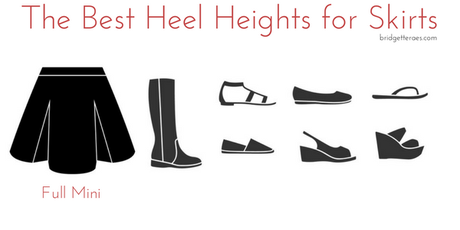 A full mini skirt can sometimes look a bit like a cheerleader skirt, which can look a bit juvenile is you're not careful. Very slinky stilettos and spindly heels can also show off a little too much leg in a "trying to hard" sort of way. You've got enough leg going on in skirts like these making flats ideal. Should you want to wear heels, platforms, wedges and chunkier heels is the way to go.
Shop for shoes for your full mini skirts

Remember, every body is different
Please keep in mind, every body is different. Before you run off and trash the shoes you have been possibly wearing wrong with your skirts, the advice above are general guidelines. Quite often you have to consider the entire outfit, not just the skirts and heel heights, personal aesthetic, body shape, and more. However, when you are questioning or feeling like something just isn't right about the heel heights you have chosen, I hope consulting this handy guide will help.