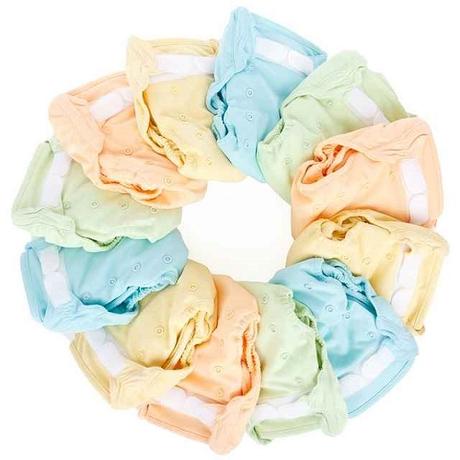 How to choose the right diaper for my baby?
Do I go in for reusable cloth diapers?
How do I know what is the right brand?
How do I ensure I get the best deals on diapers in the market?
This is one universal dilemma that every mom goes through.
Well the list is long when it comes to diapers for our baby. I went through all these questions a lot of times and the conclusion lies below.
Let's start with my favorite line 'Every child is different'. What may suit best for your child need not be the best for another.. You can definitely take in advices. But at the end it's how your child reacts and his or her comfort zone.
Are Diapers Safe for My Child?
Diapers are definitely safe if they are used as per the guidelines like the size, frequency of change, stretching capacity etc.
Obviously if you use a diaper night long which needs to be changed every 4 hours, then this is definitely not hygienic. Keep a baby diaper rash cream handy.
It's always better to prevent rashes or skin irritation by changing the diapers regularly and ensuring cleanliness.
How To Choose the Right Diaper?
There are so many diaper brands available in the market and different styles as well. Every brand has something or the other to endorse about.
However the best way is to buy small quantity initially for each of these one by one. Try what suits the best in terms of comfort, leaks and reactions by the baby if any.
If your baby has sensitive skin, it would be better to buy diapers addressing the issue to avoid any further harm to the little one's skin.
When you try few you would definitely know which one suits the best, you can stick to it .
Styles of diaper for babies and toddlers in the market:
There are reusable cloth diapers which are quite good (look out for a good quality one).This definitely helps in considerable savings on diapers.
Cloth diapers are eco-friendly too where as the commercial diapers available do not degrade even for years!
If cloth diaper suits your baby you can definitely use them. You get these online as well.
Then there is the normal wrap around diaper, the age old ones.
Pant style diapers (I prefer these) easy to manage and change. The baby has no difficult time either in getting his diaper changed 🙂
Diaper size varies from brand to brand. But usually there are new born, small, medium, large, extra-large; 5 sizes of diapers available in the market. Try various brands to find the best fit.
Where do I buy my diaper stock from?
Each of us need a diaper stock at home. Considering the fact that these don't come cheap, it's better to find some deals online.
You could even go to supermarkets where there are always deals on diapers. Considering the quantity of diapers that is needed, these make for a good saving. However stick to one brand.
Don't choose your diapers based on the deals instead choose the best deal for your diaper brand.
To conclude choose diapers wisely based on the size, comfort, fit and your baby's skin reaction to it. Your child has to be comfortable at the end of the day.
Which diaper brand do you use for your baby? How did you choose the right diaper for your little one? Do share with us in comments. We would love to hear your thoughts too.
If you want to stay updated on many more articles like these, please subscribe to the newsletters of Bumps n Baby.