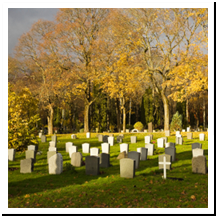 It is important to know how to choose headstones for graves before you purchase a monument for your loved one. Depending on the type of material you choose the headstone may last hundreds of years, which is why it is so critical to make the correct choice.
Headstones for graves are known by many other names. Some people refer to headstones as tombstones, others say gravestones or grave markers, but all of these terms refer to the same thing. A headstone is used to mark a grave. It is placed over the location where the casket of the deceased has been buried, and it is usually made of stone. As a marker, it is used to let the living know who was buried on that spot. Oftentimes, the birth date and the date of death are also written on the tombstone. Most families or loved ones of the deceased also include a short message or prayer in honor of their departed loved ones.
Unless people have had to buy a headstone personally, they probably do not know that there is actually more to a headstone than just a stone marker. The following are important points to consider when choosing headstones for graves.
How To Choose Headstones For Graves
1. Learn the cemetery restrictions
Most cemeteries will have restrictions on what type of headstone you can use. The restrictions vary and some cemeteries can have size, material and design regulations. Your local monument companies should be familiar with the restrictions, but it is important that you speak to the cemetery yourself. Visit the cemetery and see if there are limitations on the headstone size and material.
2. Make sure you know the fees
Cemeteries will typically charge a fee for installation. However, not all cemeteries will offer installation services. The company that you purchase the monument from may do the install for you, or can recommend someone who will complete the installation. It is also important to find out if the cemetery has maintenance fees. Many cemeteries will have ongoing fees that you should be aware of.
3. Choose the headstone material
Although most headstones are typically made of stone, there are still different types of stone available. Granite, marble, limestone, sandstone, and slate are the most common types of stone used. Still, there are other materials used for the construction of headstones such as iron, wood and bronze. Learn more about the types of materials available by reading our Types of Memorial Headstones article.
4. Choose the headstone shape
There are a number of different types of headstones for graves and each one of these have their own appeal. The most common way to differentiate headstones is through the way of their orientation. One of the most used headstones for graves are those that lay flat on the ground, simply referred to as flat headstones. Also known as ground-level headstones, these markers are just a couple of inches off the ground. There are some cases however, when this type of tombstone is raised more than a few inches off the ground and are thus called raised-top flat headstones. Other headstones stand tall from the ground, and are called upright headstones. This is also one of the most commonly chosen types of headstones because they are easier to see than the flat types. Learn more about headstone shapes and sizes by reading our Grave Markers Buying Guide.
The choice of which headstone to use is dependent not only on the orientation of the markers and the material of the tombstone, but also on other important aspects such as the design and the form of the tombstone. Most forms and designs are used to symbolize certain values or meanings. A dove symbolizes purity and love, while a lamb is a sign of innocence. The headstones for graves that people choose do not only mark the location and state the information about the person, but it also stands as a show of love and honor for the dearly departed.
There are a lot of important points to consider when selecting headstones for graves. Your local cemetery or monument company will be able to answers most questions you have. It is important to do your research before selecting a headstone so that you choose the perfect monument to memorialize the life of your loved one.