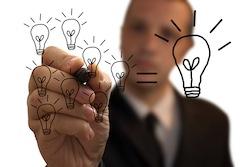 "Google's recent Penguin algorithm updates have forced many business owners to take a hard look at their content strategy and link portfolios. Sites with unsavory linking practices, sub-par content, and no social media signals, are losing visibility in Google's search rankings.
Many sites have also incurred manual penalties that have either caused them to rank much lower in search engine results pages, or become de-indexed completely. And once you've been knocked into search engine oblivion, it's nearly impossible for people to find your site.
Whether the main goal of your site is to make a little extra cash each month or your site the main hub of your business, your content conveys your message, establishes your brand, and converts potential customers into sales. There are a few key questions you should ask yourself when examining your content strategy or when determining that you need to get started with one altogether.
High-quality content serves two purposes. It:
Attracts your readers and keeps them engaged.
Helps your site rank well in search engines." More from the article at Search Engine Watch>>>