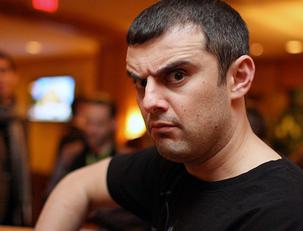 This is the fourth post in a series of 5 posts about blogging: why to start, how to start, how to get readers, how to build community and how to monetize your blog.
The title of this post is a bit misleading. Read on and you'll understand why.
If there's one person who I admire in social media, it's Gary Vaynerchuk.  He's the author of one of my favorite books, "Crush It" in addition to being somewhat of a pioneer when it came to applying social media to a regular brick-and-mortar business.  Gary took his family business – a liquor store in New Jersey that he ran with his Father- from a couple million dollars a year to $50 Million per year.  Yep, a liquor store. He did this by building community online (one channel you may have heard of is Wine Library TV), being passionate about his product and caring about every single person who emailed him, tweeted him or asked him what wine goes with fish. (Sidenote: Gary tweeted me back this morning and I am totally star struck!!!  It's pretty ironic considering I was in the middle of writing a post about how much he cares about his community.)
The reason I said that the title of today's post is a bit misleading is because building community is not as black and white as the other topics we've discussed in this week's series and is debated by many.  I can't make you a list, or show you a process or turn on a plugin to make community grow.
Instead today's topic is very subjective. Therefore, I want to hear what YOU think about building community online. I also want to know what blogs and online communities you admire the most.
Gary Vaynerchuk is one of my favorite speakers ever.  Therefore I want to share this video below with you.  Gary will illustrate the concepts of building community online way better than I could in a written post.  He is so animated, so funny, so unique. Warning: he swears. A lot. If this offends you, beware.  I take his swearing as pure passion.
I hope you enjoy this video as much as I do!  I'd love to hear your thoughts.
There are many marketing consultants out there who will charge companies thousands of dollars to give bad advice on building community.  There's not a magic bullet, an algorithm or a piece of software that can effectively build a long-term community.  There must be a genuine human element that is REAL.
Like Gary says in this video, building community is about passion, patience, caring and pure HUSTLE.
The truth is that without passion, you couldn't really expect to have patience, nor could you care enough to pump out great content day after day and respond to all of your readers.  And if you don't have passion, you definitely aren't going to want to work around the clock and sometimes that's what it takes.
I have been getting a lot of emails from people who want to know how busy Moms or those who work full-time can build their side business.  The answer is quite simple.  Do something you love and work A LOT. Yep, this means making changes in your life to accommodate your goal.  It means working really hard right now in order to change the course of where you're going.  No one said it was going to be easy.
And another misconception: just because your business is on the internet doesn't mean it's any easier than a traditional business.  Don't start an internet business or a blog expecting that you can put a few hours in and get hundreds or thousands of dollars in return.  You must be patient, you must hustle, you must have a plan.  If your goal is, "I want to get a ton of readers" it's not enough.
Another great point Gary makes is that people have huge "bullshit detectors" these days.  Lots of the big brands are failing at social media and community these days.  Why?  Because they are trying to disguise their content as genuine, but it's really a self-promotion.  They don't care.  They don't have passion.  People smell it and people run the other way.
Ok, it's your turn.
Which online communities or brands are you a fan of and why?
How do you build community in your own blog?
Does the thought of building community scare you because it requires you to put yourself and your personality totally out there?