Why should I be concerned about Internet privacy?
Do you like online ads following you around from site to site?
Can you discuss your health problems online without fear of losing insurance?
Do you worry about publishing private information that could lead to stalking, surveillance, or identity theft?
Does your work place monitor your Facebook or Twitter? Could you be fired over a post?
Do you live in a country where you could be arrested or tortured based on what you post online?
Did you know that third-parties collect information the government is not allowed to collect? The government has purchased this information too.
Companies such as FinFisher are selling hacking software to countries and corporations to break into people's computers and monitor them.
Visit the EFF's Panopticlick site to see what you are telling the world right now, before using the tools below.
60% of people polled by the WSJ.com were tremendously worried about the loss of online privacy.
The Internet appears to facilitate privacy and anonymity, but in recent years has been a battleground that pits advertisers on one side and users on the other. It has become increasingly difficult to maintain privacy on the Internet because money has gotten into the game. As online advertising has grown, companies have sprouted up, attempting to optimize Internet advertising performance by combining advertising with profiling. While individual users may not be known by name, they have become ghost profiles that are increasingly matched up with appropriate advertising. If you have found Internet ads following you from site to site, you have been profiled and are seeing the results. In this article, we will examine many methods to enhance our Internet privacy and perform operations anonymously.
One of the main goals of Internet privacy is to make that people have the ability to make informed decisions about how they act online. Users should be told ahead of time how their personal information is used and shared.
The Real Cost of Free Content
While many users assume that most content sites are free, there is a hidden price being paid, the users private information. Most online advertising companies are tracking web browsing activity across many websites in order to build profiles of users. They cross-reference and trade information to generate revenue and better target online advertising and promotions.
Internet Browser Cookies
In the past, users have been able to delete their Internet browsers' cookies and thereby foiling efforts to track the user. Here are instructions for clearing the browser cache in Google Chrome, Microsoft Internet Explorer 9, and Mozilla Firefox.
Below is how to set browsers to not accept third-party cookies. These cookies are typically generated by tracking and advertising companies when you visit a website. Occasionally this technique will cause a website to malfunction, particularly if it uses a third-party to handle tasks like commenting.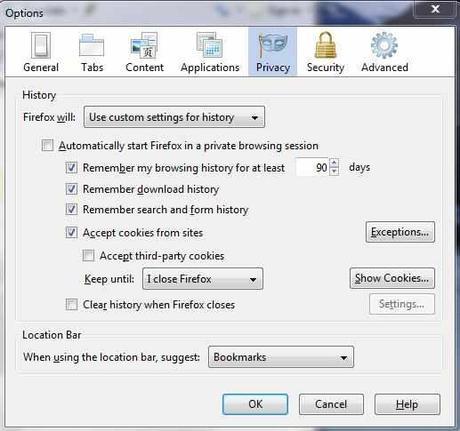 To optimize third-party cookie privacy settings in Firefox do the following:
Select Options… from the Tools menu
Select Privacy tab
Select Use custom settings for history
Uncheck Accept third-party cookies
Optionally select Keep until: I close Firefox – This will delete cookies after every browser session, which you may not want to happen.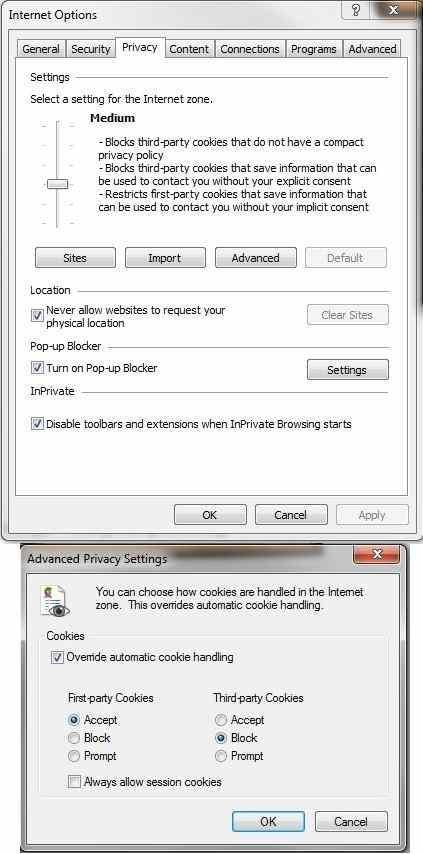 To optimize third-party cookie privacy settings in Internet Explorer 9 do the following:
Select Internet Options from the Tools menu
Select Privacy tab
Check Never allow websites to request your physical location under Location
Select Advanced
Check Override automatic cookie handling

Check Block under Third-party Cookies
Press OK
CCleaner is useful Windows utility to clear out unnecessary files including temporary files, and cookie files.
Identity Finder helps you remove personally identifiable information from your computer's files. They have a free Windows and Mac version.
While this technique is still somewhat helpful, the advertisers have gotten smarter and utilize other tracking techniques. Consult our guides to Google Chrome, Microsoft Internet Explorer 9, and Mozilla Firefox for information.
HTML5 and Privacy
HTML5 represents the latest standard for web design that significantly increases the flexibility and interactiveness of websites. Along with these impressive new features, comes a major privacy issue. HTML5 local storage allows data to be stored in your browser. It can potentially be used to track your movements and regenerate any cookies that you delete. New methods of blocking need to be created to block this intrusive technology.
Google Chrome and Firefox clear HTML5 local storage whenever you clear your cookies. Safari clears this when you select: Preferences -> Privacy tab -> Cookies and other website data -> Remove All Website Data
You can set Firefox to warn you whenever a website is attempting to use HTML5 local storage by selecting: Options -> Advanced -> Network -> Tell me when a website attempts to store data for offline use.
Flash Cookies
Adobe Flash also generates cookies that have been used for tracking and are difficult to remove. Adobe has a special page that requires Flash, in which you can delete your Flash cookies. Also visit this Flash configuration page to prevent 3rd parties from storing Flash content on your PC. You can install a Flash blocker to prevent these cookies from being installed on your system. Flush for the Mac, removes Flash cookies.
Adjusting Google Privacy Settings
To clear Google's "web history" which includes a log of all your searches, follow the instructions on this page.
To see and revoke access to your Google account by third-party sites, follow the instructions on this page.
To get a copy of everything Google has stored about you, visit Google Takeout. Additional Google services not covered by Takeout are located at Data Liberation.org. To delete the information, you must visit each Google service and delete your data manually.
Adjusting Facebook Privacy Settings
Our article on Facebook security covers how to adjust Facebook's privacy settings. Keep in mind that privacy settings only prevent others from seeing your profile. Advertisers and Facebook still have access to your private profile.
Privacyfix.com helps you manage your Facebook privacy settings by showing you which ones need to be fixed.
Logging Off for Privacy
Intentionally logging off a site helps preserve your online privacy. If you were on Amazon, Facebook, or Google, we recommend you log off the site and not click away to a different site. This will help prevent ads from following you.
 Anonymous Browsing
Most modern Internet browsers have options to perform anonymous browsing. You can utilize this function to help hide your identity. Here are instructions for anonymous browsing in Google Chrome, Microsoft Internet Explorer 9, and Mozilla Firefox.
Optional third party browser plug-ins are also available to help enhance Internet privacy.
Better Privacy is a Firefox plug in to help increase privacy
ChromeBlock is a plugin to help increase privacy. Chrome
Cookie Monster is a Firefox plug-in to manage cookies
Do Not Track Plus is a Firefox plugin to help increase privacy.
Ghostery is a free plug-in to view and block what trackers and advertisers a website uses. Available for most web browsers
NoScript for Firefox prevents scripting from automatically running
NotScripts for Chrome is similar to NoScript
PrivacySuite is a plugin to help increase privacy. Firefox – Internet Explorer (Soon)
TrackerBlock is a plugin to block trackers. Firefox - Internet Explorer
Trackmenot is a Firefox plug in to prevent tracking. Chrome version

Opting Out of Online Ad Personalization – Do Not Track

Advertising companies that are members of the Network Advertising Initiative (NAI) and other self-regulatory efforts allow users to opt out of personalizing ads that are shown. Here are instructions for opting out of online ad personalization in Google Chrome, Microsoft Internet Explorer 9, and Mozilla Firefox.
If you are running Internet Explorer 9, you can install Tracking Protection Lists (TPL) that include lists of 3rd parties to prevent tracking. You can install multiple TPL's, but an Allow rule takes precedent over a Block rule in another list.
The Network Advertising Initiative also has a page that allows you to opt out of online ad personalization from a variety of member advertising companies.
Other Opt-out pages:
SelectOut – Optout of almost 200 trackers
Using Linux for Internet Privacy
Linux can be utilized to enhance our Internet privacy. We can set up a bootable Linux USB key or CD, which allows us to start up our computer into a totally clean operating system, devoid of cookies and the like. Consult our article Creating a Bootable Linux USB Key or CD for more information.
Using a VPN for Internet Privacy
A VPN or Virtual Private Network allows you to tunnel your Internet traffic through a third party provider, making your traffic appear to come from a different location. While this option is more complex to implement, when combined with the suggestions listed above, a VPN connection forms a very powerful tool to protect your privacy. Consult our article How to Use Wireless Networks or WiFi Safely in Public for more information.
Anonymous Registration
It is annoying registering for forums and many content sites where your real information is not necessary. When asked for personal information, we suggest you enter bogus information if you wish to remain anonymous. Create an email address that is tied to this information and save this information as a profile within password management utilities.
Removing Yourself from Online Databases
There are several large databases that contain personal information that is culled from telephone books, court records, and other third parties. You can opt out of their data by visiting the following links.
Identity Theft Protection
If you are a Comcast subscriber, you are eligible for free Identity Guard. Consult your ISP to see if they have any free identity theft programs.
Opting out of TV data
Cable and satellite television networks have their own opt-out for anonymous-viewer information.
Turn off iPhone Diagnostic Log Sending
To turn off sending of diagnostics data and Carrier IQ to Apple do the following:
Open Settings

Select General
Select About
Select Diagnostics & Usage
Click on Don't Send
Color Laser Printer & Color Copier Privacy Issues
The Electronic Frontier Foundation (EFF) discovered that most color copiers and color laser printers have been adding invisible tracking codes to every single printed page they produce. The government asked printer makers to do this in an effort to prevent counterfeiting. The dots help track what type of printer and its serial number as well as when the document was printed.
This relativity little known tactic can undermine anonymity for political, religious, or any other reason. Users need to understand this and tell printer manufacturers that they do not like this hidden invasion of privacy. For more information, take a look at this webpage and support their efforts.
If you are purchasing a new color laser printer, try to purchase one that does not print these invisible codes.
Kindle eBook Privacy issues
Reading in the new age via eReaders such as the Kindle expose users to additional privacy issues. Previously, with physical books, it was difficult for bookstores and publishers to know whether you had really finished a book, highlighted specific passages in the book, or what book you purchased next.
With eReaders such as the Kindle your privacy has gone out the door. Kindle users have to agree to allow Amazon to store information on the device and Amazon's servers including where you left off in the book, notes, highlights, bookmarks, and more. With all of this information, the Electronic Frontier Foundation (EFF) is pushing for legislation to prevent eBook sellers from reveling people's reading habits without a court's approval.
If you are concerned about your privacy, you may want to steer clear of eReaders or utilize an eReader that does not any have Internet connectivity. Find one that allows eBooks to be downloaded to a computer and manually added to your eReader.

With some leg work, we can significantly improve the privacy of our online activities.