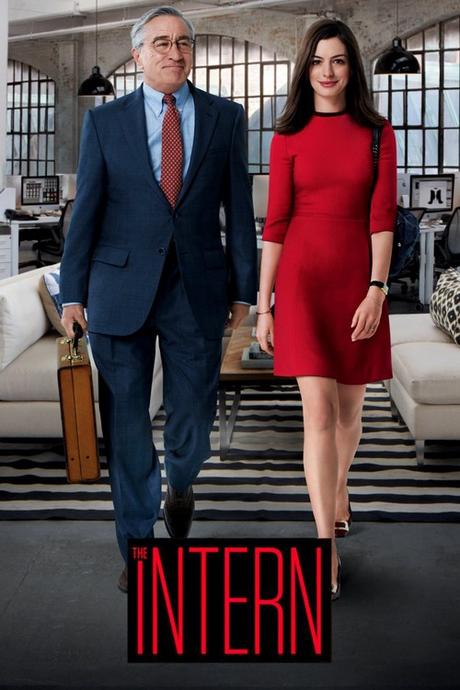 "The Intern" featuring Robert De Niro and Anne Hathaway
*This piece contains spoilers.*
I was excited to see The Intern. The cast, including Anne Hathaway and Robert De Niro, is impressive and the unconventional story of an inter-generational friendship seemed promising. Unfortunately, however, I left a recent screening feeling disappointed.

I wanted to like this movie in no small part because it was written and directed by Nancy Meyers, who is known for films like The Parent Trap, The Holiday and Something's Gotta Give. Given that women directed only 7% and wrote 11% of the top 250 films of 2014, I wanted to support a female director and writer — especially one who some critics noted pushed back on the conventional "chick flick" stereotype in this film.
Perhaps the most obvious way the film bucked these stereotypes was Anne Hathaway's portrayal of Jules, the young founder of an online fashion company. It's very uncommon for the protagonist of a film to be a young, successful businesswoman, let alone one who isn't conniving and "bossy." But, unfortunately, the film seemed aware of this anomaly and constantly emphasized Jules' struggles over her success in ways both big and small.
The main conflict of the film, for example, is Jules' search for a CEO to take over her role. Despite being a successful businesswoman, Jules is fumbling. She has work literally piling up and her secretary is on the edge of a mental breakdown. Employees constantly comment on how frazzled she is and her struggle to maintain control persists throughout the entire film. Additionally, while Jules' employees clearly respect her and perhaps admire her drive, they also frequently talk about her behind her back and undermine her — one male employee even tells her to speed up her decision, which she does after apologizing to him. I doubt an audience would buy this depiction had Jules been Julian.
In addition to struggling at work, Jules also faces challenges in her love life. Jules' husband is a stay-at-home dad and Jules faces plenty of criticism for this from the mothers of her daughters' friends. The husband is framed as a hero for sacrificing his career so his wife can succeed, and when it is revealed that he has been cheating on her, Jules immediately internalizes his behavior. Her self-doubt and blame undermine any professional success she has achieved and she prioritizes her marriage over her career when she decides to pursue finding a CEO for her company so she can spend more time at home.
In fact, Jules is only able to break this pattern due to the influence of De Niro's character, Ben. To be fair, this character — a senior citizen who isn't just a grandparent figure, but an autonomous individual seeking self-fulfillment — was interesting and commendable in and of itself and does much to push back on ageist stereotypes. But Ben's main purpose in the film is to tell Jules what to do: He essentially saves her from herself. Despite her success, Jules asks for her intern's advice throughout the film, highlighting her own inability to make decisions and trust herself. Ben even actively intervenes and talks to her husband — who only then realizes his mistake. It may be accomplished in an untraditional way, but this film sends the message that men must ultimately save the day.
It's certainly important for films to tackle the issue of women "having it all." But this film's contribution to the debate seems to be that it's impossible for women to succeed professionally without risking their husbands' masculinity and their own happiness (and perhaps sanity). Yes, the movie is a beacon of hope in terms of women's representation in front of and behind the camera, but that achievement is ultimately overshadowed by effectively reiterating the age-old idea that women need men's help to succeed.