Update: Twitter just bought Summify…
Summify Joins the Flock at Twitter (Summify blog)
Twitter to Acquire News Aggregator Summify (SearchEngineWatch.com)
Social Summary Site Creator Summify Acquired by Twitter (Marketingland.com)
There are many ways to filter a stream, and we're all desperately seeking the "Perfect Filter" to bring us only what we really want or need from the firehose of socially-shared information. I'm starting to use – and like – Summify.
As you connect your social and news accounts (Twitter, Facebook, Google Reader) to Summify, their algorithms prioritize the text-linked news stories shared by your connections. Stories with more retweets, likes and more shares get higher priority as do your friends and fans who are being shared most often. Over time, the system learns your preferences, too.
Here's a sample of what I see in my email daily from Summify – an easy to digest list of top news stories that doesn't overwhelming me.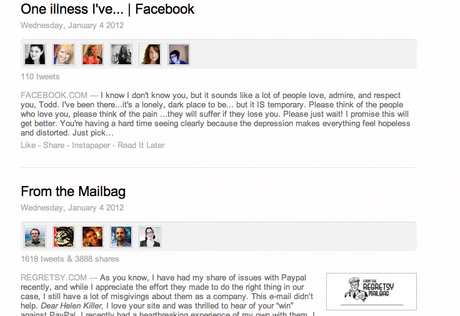 If I click over to my Summify account page on the web, this is what I see: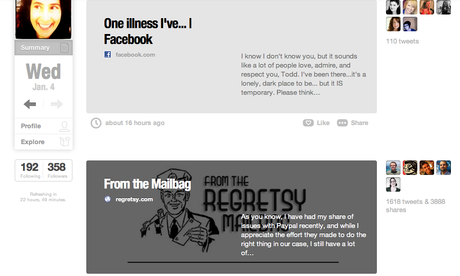 When I click over to a story of interest to me,
there's a Summify bar across the top that gives me some stats about the article like who of my friends shared it along with a Share button and Favorite button (the heart). I personally close this bar and tend not to share from it but that's just a personal preference and habit I got into a long time ago when I started seeing those pervasive bars.

On the web,
you can peruse your followers and who is following you as well as see who you're influenced by and who you are influencing. I'm much more interested, however, in the Summary feature and how it presents a smart selection of news items for me to review.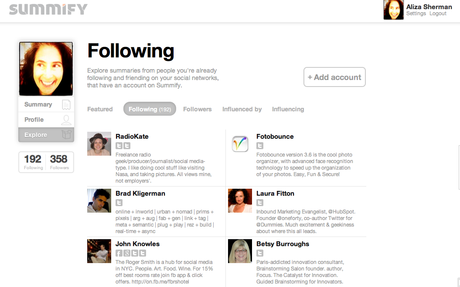 In a world of overload, it is a relief to find a tool that eases some of the stress of "too much."
Summify is also available for iOS devices.
What are you using to filter, prioritize or summarize your news? How's it working for you?