As parents, many fear the moment when they would have to bring their children to the dentist's office. Even when it is a mere checkup or cleaning of teeth, a lot of children dread going to the dentist because of terror, discomfort and dislike of either real or imaginary pain. The negative feelings related to dentist appointments are very common especially to those who have first-hand accounts of such traumatic experiences. Meanwhile, the media also contribute to this increasing anxiety amongst children when dentists or dental procedures are conveyed in a negative way.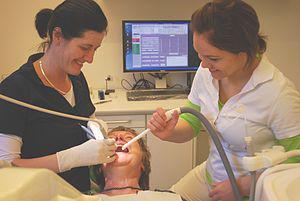 English: A Dentist and her Dental assistant (Photo credit: Wikipedia)
Hence, a lot of parents try to ease away the fears of their children by resorting to sedation dentistry, which has been a fairly common practice in many countries. Sedation dentistry involves relaxing the patient either through approved drugs or by inhalation of nitrous oxide. These methods have been quite reliable for many patients who suffer from minor to severe phobia and anxiety when undergoing a dental procedure. However, as parents, the main concern will always be the safety of such sedation techniques. How safe are these methods? And what are the risks involved when deciding to be sedated?
As in any medical procedure, these sedation methods have possible hazards to one's health especially when administered without the proper training. Safety must come first which is why parents have to be aware of all the advantages and possible negative consequences of these techniques. Prior to making a decision, they need to discuss with their dentist and medical doctor the proper techniques to use based on the medical condition of the patient. The dentist and medical doctor have to confer with each other and agree which one will be most appropriate and effective. Parents need to explain to their children the whole scenario and prepare them for what's about to happen.
To get some idea on the risks involved, parents and their children must know the different types of sedation in dentistry. In oral sedation, patients are required to take in approved anti-anxiety pills or medicines to relax their bodies. It is important to make sure that the chosen dentist is well educated on these types of medicines so that the proper dosage is administered to the patient. Excessive dosage of these pills may be harmful to a person which could lead to an unnecessary level of sedation and even unconsciousness. It is also important to note the patient's allergies to such medicines.
Another popular sedation technique is the intravenous (IV) sedation which works faster than oral sedation. Some dentists are not fully-trained to administer this technique which requires injection into the vein. Thus, parents need to carefully choose a dentist with the proper accreditation or experience when it comes to IV sedation. Even if this procedure seems simple enough, improperly injecting the needle can still cause severe discomfort and pain. Moreover, the dentist also needs to be capable in carrying out CPR when the worst possible situation occurs. In order to ensure that the condition of the child is properly monitored so that CPR won't ever be needed, parents need to check if the dentist's office is equipped with the complete tools and functioning equipment such as the pulse oximeter to monitor oxygen in the body. These and other safety precautions are necessary to ensure that any chosen sedation technique will run smoothly without a hitch.
Marc Tony is a freelance writer who writes about dental care and other medical industry topics. He was commisioned by Sedation Dentist Las Vegas .