SPF added in our makeup products are convenient but not enough to protect our skin, it's like an umbrella with a lot of holes, yet many people still looking for an alternative to cream-based sunscreens because of skin allergies and sensitivities, or to combat oily skin. And so, they opt for powder sunscreens. But are they safe and effective? Read my Acwell UV Cut Bosong Sun Powder review below to know more.
If you don't know yet, sunscreens are important to keep your complexion even, prevent premature aging, and most of all, reduce the risk of skin cancer. So you need something that will fully cover your skin, choose a broad-spectrum option that protects against both UVA and UVB radiation and a high SPF such as SPF50+.
WHAT IS IT?
Acwell UV Cut Bosong Sun Powder has an SPF 50+ PA++++. It's formulated with 85% of natural mineral powder and protects the skin from UV rays and fine dust all day long while imparting a soft matte finish. Oily skin types will love this as it even helps to control oil! Safe for sensitive skin. No white cast or greasiness.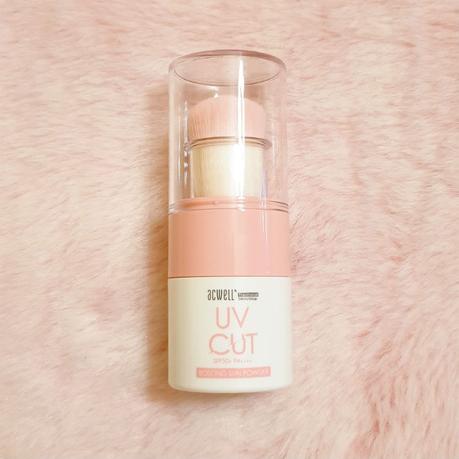 Notable Ingredients
The sun protecting ingredients in this product are Zinc Oxide and Titanium Oxide which are the same ingredients found in children's sunscreens thus they are deemed safe. I also check its full ingredient list in CosDNA and found no irritants.
PERFORMANCE
APPLICATION: Brush over the face to dispense the product. Re-apply every 2-3 hours.
SCENT: It has a generic sunscreen smell.
PACKAGING: If you're thinking of opening the bottle so you can get more product out, IT WILL NOT HAPPEN unless you break the packaging. The only way to dispense the product is thru the brush. Sometimes I don't even know if there's a product coming out, so I shake the bottle and test on the back of my hand before I apply it to my face. When I posted this in my Instagram Stories, some people told me they encounter the same problem.
TEXTURE: Since it's a powder, I love that it doesn't have white cast nor feel greasy. It's also a mineral powder so it's not irritating and feels light on the skin.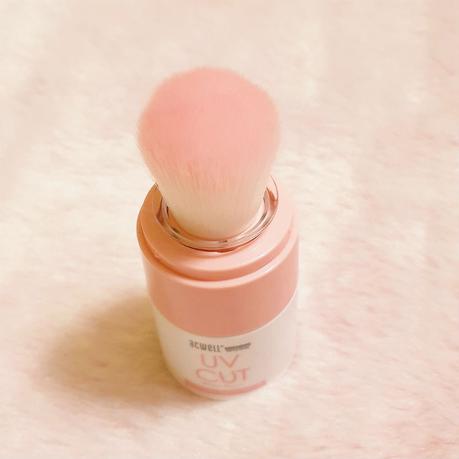 MY THOUGHTS
My biggest concerns before using the Acwell UV Cut Bosong Sun Powder are, does it crease or look cakey. Luckily, it's neither. However, I see my skin looks a shade lighter than my actual skin tone when I applied it thickly. But I rather do that than apply it really light. Besides, it doesn't mess up my makeup anyway and it does really control my oily skin.
But if you're wondering if has enough protection from the sun, well... for the record I have naturally tan skin and lives in a tropical country. I don't get sunburn easily. But I did use this Sun Powder around noon for a while without even wearing a cap or using an umbrella (I'm lazy like that) and my skin is fine, no sunburn and I don't see my dark spots getting darker.
I know there are a lot of good lightweight broad-spectrum sunscreens good for oily and sensitive skin like the Cell Fusion C Laser Sunscreen, but overall, the Acwell UV Cut Bosong Sun Powder is a good alternative for the really sensitive skin. Though I only have two concerns.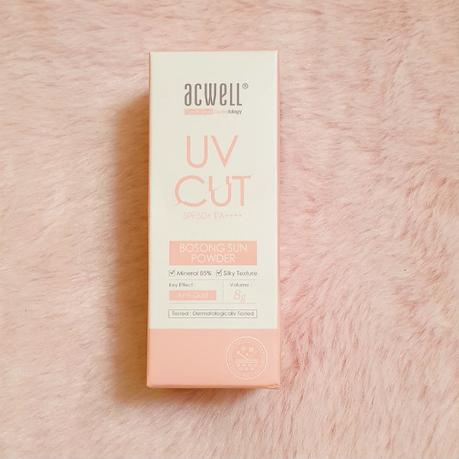 How safe and effective is powder sunscreen?
One of the main concerns using a powder sunscreen is that users may accidentally inhale some of the product. Since it contains zinc oxide and titanium oxide as their protective agent, the particles of the finely ground sunscreen product could make their way into the lungs. Although there are no known reports of its complication, it's better to be safe than sorry. This never happens in a liquid form since these nanoparticles cannot pass easily into the body. For this, I recommend not inhaling while applying the Acwell UV Cut Bosong Sun Powder for safety reasons or apply it in a well-ventilated place.
The second risk is coverage. People may fail to cover their ears, hairline, and neck since we are used to applying powder exactly on the face only. Therefore exposing their skin to harmful UV rays. Additionally, if the product is only lightly applied, it is possible that its full SPF protection might not be provided. But in defense, I know many people neglecting the ears and neck when they put on regular sunscreens or applying it lightly not to ruin their makeup. I've seen this many times from people who vacation in tropical countries and Australia for the first time. So make sure you always apply it all over the face and thickly.
VERDICT
PROS: It's really good for those with sensitive or oily skin. Non-irritating, non-greasy, and it doesn't cake or crease. It also doesn't leave a white cast. And it can really give sun protection as long as you apply it enough.
CONS: Besides the possible risks mentioned above, dispensing product out of it can be REALLY tricky.
WHERE TO BUY?
You can purchase the Acwell UV Cut Bosong Sun Powder in Kbeauty Cafe for Php1400.
What do you think of this Acwell UV Cut Bosong Sun Powder review? Have you tried a mineral powder sunscreen before? Share your thoughts below!
** I received one or more of the products mentioned above for free in the hope that I would mention it on my blog. Regardless, I only recommend products I use personally and believe will be good for my readers. All thoughts and opinions are my own and not influenced by the brand or its affiliates.