Game controllers, joysticks and keyboard, mouse have always been the main parts of video gaming. No matter how advanced game consoles we have today, the gamepads and controllers are still somehow similar to gamepads we had 20 years ago. Oculus Rift aims to change this by introducing a revolutionary way of exploring and controlling gameplay by immersing gamers virtually inside the game.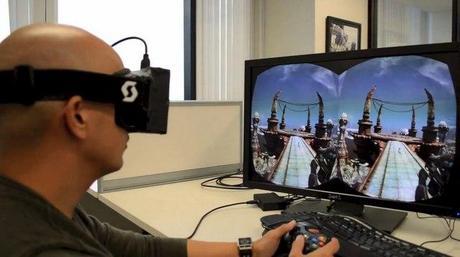 (Image credit: Geek.com)
Oculu Rift simply allow you to actually "step into the game". Giving you a chance to live in virtual worlds, play Skyrim as if you're actually in the world of Skyrim or virtually present yourself in multiplayer activities such as online casino games to play poker alongside your buddies as if you're actually sitting at the table with them, or even fight WWII battles in Call of Duty, without even leaving your living room. The Oculus Rift offers an innovative way to play games by creating the game world right before your eyes. Take a look at how Half Life 2 looks like with Oculus Rift.
Since the device is still in development, the number of Oculus Rift compatible games is very low. But it will only be a matter of time before all new FPS, Role playing and even online games become compatible with the VR headset. In fact, there's also an erotic adventure game in the works for Oculus Rift. According to the developer it will change the ways of adult entertainment industry by offering the "world's first erotic virtual reality experience".
Read Also: Is Facebook Planning to Build a Virtual World with Oculus Rift?
Oculus VR recently launched the new DK2 version of the Oculus Rift at just $350 and now with Facebook acquiring the company, the future seem much brighter for the VR headset. When the final version of Oculus Rift rolls out globally later this year, the gaming revolution will begin to take place. Are you ready to be part of it?