There are so many simple ways to help someone.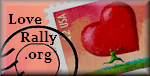 Hold the door for someone even though you are running late yourself.
Lend someone a hand when they are walking on slippery ground.
Bring in your elderly neighbors mail.
Lighten someone's load by helping to carry books or groceries.
Help your neighbor with a project or in the yard.
Shovel your elderly neighbors snow.
Offer to do an errand for someone.
Be a mentor or tutor.
Share an experience with someone going through something similar.
Take on an extra chore in the house for the day.
Give directions to someone who looks confused.
Offer to pump someone's gas for them.
Ask,
"what can I help you with today?"
Be perceptive this week to those that might need a little bit of help.  Share a minute or two (or 20!) of your time — as often as you can.
*This is a sampling of the type of posts you will find on my Love Rally site!
Come and join in!
A brand new monthly mission starts in just a couple days!!!