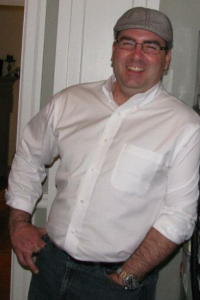 Nearly everyone is completely surprised to learn that I didn't plan on becoming a search engine specialist – not by a long shot.
Truth is I came home one day to tell my wife I had quit my corporate job to go-it-alone with my first business (looking back, her reaction wasn't what I had envisioned, but she has always been my biggest supporter and I wouldn't be where I am today without her). That was 1997, and like any other bootstrap entrepreneur, I had a ton of ambition but with a new home and our first child on the way – little money to back up my idea. So I did what everyone was doing in the dot.com days, I built a website to promote my little start-up.
In no time I also had a newsletter and a weblog (that's what blogs were called before they were cool) and was creating content like crazy.
Before I knew it my website was nominated for an industry award, and I was making new clients from this new thing called "the world wide web".  And then Google was born (which BTW – I thought was a stupid idea).  Ranking & SEO quickly became an obsession of mine and a passion that to this day I enjoy.
When I tell business owners I know how SEO works for them – I mean it, and have the experience (and mistakes) to back it up.
It's this experience that differentiates me from my competition, and in this industry – experience pays dividends.
Reading DIY SEO articles makes you as much a SEOer as reading MotorTrend makes you a race car driver.  Experience is in doing.  I learned this the hard way in my early days, and continue to learn every day.
My business lasted several years, but I was ultimately made an offer for a corporate position from the software manufacturer I was using that I couldn't refuse. I spent a few years in the corporate environment for two fantastic companies until I was faced with the only option of having to move to the mid-west to grow professionally.
So, like I had done in 1997, I came home from my day job one day to announce to my wife that I had quit my corporate job to go-it-alone with a new business. I built a website, opened a blog (or two), and jumped into social media.
The year was 2009 – and the story continues. . . .