When Christine offered up a guest post about Greece, I couldn't possibly say no. We share a mutual love for Santorini sunsets, which is enough to bond two girls forever, right? Keep up with Christine's writing + photos here.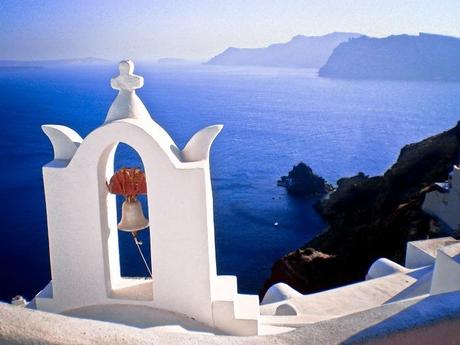 Before studying abroad in Greece, I spent my university days in Seattle, racking up as many PR internships as I could. I thrived on perfecting my résumé, sought out every club, conference, and networking event that could connect me to someone-who-knows-someone, and imagined a comfortable life after graduating; living in the city and working at the job of my dreams.
Then I was introduced to travel.
While I was no stranger to it, as I had been to a good number of the fifty states, Canada and Mexico, I'd never set foot in the place I'd always dreamt about: Europe.
Going into my junior year of college, I met someone who'd quickly become my favorite professor, Taso. He was lively and engaging, and he challenged my thinking and made me excited to learn. Taso was also Greek, and would often speak fondly in class of the country that he left as a boy for America. He would also often mention the study abroad program that he created himself. It led a hand-selected group from the university to conduct undergraduate research through the cradle of Western civilization.
Something told me this opportunity wasn't just something I wanted, but something I needed; so I worked my butt off to impress him and his TA in essays and interviews, and a few months later, I was on a plane to Athens.
There were 13 of us, all strangers who attended the same college, sharing a gorgeous, two-story neoclassicist house at the foot of the Acropolis. We affectionately called ourselves "The Real World: Athens" for our unique living situation and the inevitable conflict and friendships that came along with it.
While I did partake in some stereotypical study abroad student things like enjoying the incredible Athenian nightlife (when in err, Rome!), I also dug deeply into Greek culture, as far as I possibly could in just a short summer. As part of our research, we investigated the delicate relationship between the Athenians, their government and media, all in relation to a devastating series of fires that took place in 2007, several the result of arson for intended financial gain. We spent our days on the streets of sweltering Athens interviewing Greeks of all ages and backgrounds, all the while getting closer to the heart of the city with every conversation.
Our weekends were dedicated to fun: filled with trips to the islands, where I fell in love with the Greek culture even more. Days were spent eating fresh figs and Horiatiki salads, finding isolated coves and beaches, exploring the villages, and becoming enamored with everything Greek—I have yet to visit a country with such incredibly warm, hospitable people, and while I've seen lots of beautiful places on my travels, Greece will always come out on top.
In those days of peeling back the layers and being invited into Greeks' homes and family businesses for a frappé, in-between the Santorini sunsets, and rooftop views of the Acropolis lit-up at night, my infatuation with travel grew astronomically. I knew I'd never be content settling for the safe path I had once craved before.  Travel wasn't just a distant daydream anymore; it had become a part of me.
I felt a strong calling I couldn't ignore to see more of the world, so after I graduated, I bought a one-way ticket to Spain, a country I hadn't so much as visited before. In October, it will mark my 4-year anniversary in this country. As cliché as it may be to say studying abroad "changed me", it did. The exposure I had then to a new language, lifestyle, and culture sparked a wanderlust that I don't know I'll ever fulfill. But, I'm willing to spend a lifetime trying.