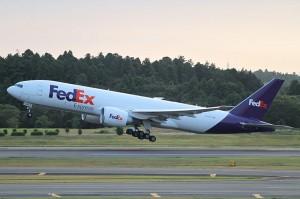 With more than 650 planes and 90,000 delivery trucks worldwide, it's not hard to see how FedEx went through 1.3 billion gallons of fuel in 2006—half the amount used by the Air Force in the same year. However, between 2005 and 2012, FedEx reduced the carbon emissions of its air fleet by 18 percent and the fuel consumption of its ground fleet by 22 percent. Those figures, outlined in the company's recent global citizenship report, put FedEx way ahead of its goal to reduce carbon emissions (from planes) and fuel consumption (from trucks) by 20 percent by 2020. 
Given the faster-than-expected pace, FedEx is now looking to achieve a 30 percent reduction in both metrics over the same period. Echoing a message reminiscent of Obama's "All of the Above" approach, Chairman and CEO Fred Smith has indicated the company is taking a diversified approach to accomplish these goals. Below are some of the most significant factors that will continue to help FedEx make its air and ground fleets more environmentally friendly.
With respect to aircraft, carbon emissions in 2012 were reduced by 4 percent. To accomplish this, FedEx has focused primarily on two areas: more efficient planes and its Fuel Sense program. FedEx most recently purchased 16 Boeing 757s in 2012 (36 percent more efficient than the planes they replaced) and seven Boeing 777 (18 percent more efficient), and is on track to have 43 Boeing 777 planes by 2023. The company says newer aircraft saved 37 million gallons of jet fuel in 2012 alone. Even more effective has been Fuel Sense, a multi-program, multi-departmental initiative launched with EarthSmart @ Work. By analyzing every stage of flight operations, the program has saved 49 million gallons of fuel each year. The program has also resulted in collaborations with the FAA to modify flying regulations, including reclassifying minimum space requirements between aircraft. FedEx also plans to use 30 percent alternative fuels (such as biofuels) in its aircraft by 2030, but since there's a lot of gray area in calculating carbon emissions from these sources, it's unclear just how much this will impact reported carbon emissions.
As mentioned, FedEx's ground operations have become 22 percent more fuel efficient since 2005. The biggest improvement from fuel economy resulted from right-sizing delivery trucks to their routes (i.e., deploying smaller delivery trucks and vans where possible). For example, if a truck on a certain route handles only a small payload, it can be downsized from a full-size vehicle to a Sprinter van, which the company says is 70 to 100 percent more fuel efficient. In 2012, this effort saved 17 million gallons of fuel. FedEx has also implemented 364 hybrid-electric vehicles and 118 electric vehicles, which together saved just under 500,000 gallons of fuel in 2012 and 14.8 million gallons since 2005. While electric vehicles are all the rage, the company says one of the most promising fuel efficiency developments is the use of hybrid hydraulic vehicle systems. As with hybrids, the system captures the energy that is produced while braking. These systems are undoubtedly cheaper than full-on hybrid vehicles and have yielded a 50 percent improvement in fuel economy in demonstrations.
FedEx is not alone in the quest to conserve fuel, reduce emissions and save money. UPS also increased its aircraft efficiency by 20 percent from a 2005 baseline, and efficiency is now one of the hottest and most competitive aspects for plane manufacturers. It seems that when billions are at stake, anything is possible.
Image by Kentaro Lemoto