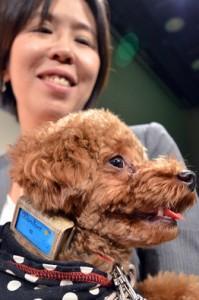 Once upon a time, pet care was a demanding but simple responsibility. But, befitting this age of doggy pampering and dog whisperers, Fujitsu Ltd. said there's still something missing between man and his four-legged best friend: information on how the dog feels at any given moment.
In what Fujitsu claims is the first pet management service of its kind, the Japanese electronics company said it will launch on Wednesday a new Web-linked pet healthcare management service, called "Wandant", that will allow owners to count their dog's every step, stress levels, and surrounding temperature even when they are apart. The service is another step in Japan's long-running fascination in better understanding their pets. Japanese toy company Takara Co. created a stir nearly a decade ago when it developed "Bowlingual," a product that it promoted as a dog-to-human translation device.
The name "Wandant" is a hybrid of the friendly Japanese term for dog "wan wan" and the word "pendant," in reference to the half-ounce data-gathering device to be worn around the dog's neck. The information is collected and sent automatically to the Internet. That data will be converted into graphs onto a personal profile page so owners can keep tabs on their dogs' health through a computer or Android smartphone. (It is currently unavailable on Apple Inc.'s iPhone). Consumers can also manually add information such as how much food the dog ate or when it went to the bathroom to help manage its weight, while also keeping a daily diary of that day's activities. The "Wandant" is 4.6 centimeters wide, 2.8 cm high and 1.3 cm thick – about the size of a business card holder.
Borrowing technology developed for smartphones and Fujitsu's K supercomputer, crowned the fastest computer in the world in 2011, the gadget is packed with sensory capabilities key to monitoring the dog's every movement or slightest discomfort like an itch. A 3-D acceleration sensor inside the device can read what direction and what speed the dog is moving in, similar to the way a smartphone is able to adjust the screen size to go long or wide based on the angle it is being held. Such smartphone sensing technology has been adapted to create what Fujitsu says is the pet industry's first pedometer for dogs.
The Wandant can offer clues on a dog's stress level by analyzing its "buru buru score", using a Japanese onomatopoeia that denotes shaking. The device can detect the dog's shivering motions, which may indicate it has an irritable ear itch. Thermo-hygrometer sensors can also relay external temperature changes.
Known more for squarish technology businesses like telecommunications equipment and electronic components, Fujitsu's foray into the cuddly world of pet care is part of the company's push into cloud computing by integrating Web-based technologies into traditionally low-tech activities. One of its other services helps farmers use the Internet to improve the output on the farm.
With about 17.7% of Japanese households considered dog owners as of December 2011, retooling its technology for the pet industry could be a mini boon at a time when the country's electronics giants struggle to find new revenue streams.
Fujitsu said that Wandant could be the beginning of a comprehensive healthcare service for pets where health-related information stored on the Internet would provide veterinary hospitals with a wealth of data showing the dog's recent behavior and routine. Fujitsu said it aims to have about 400,000 accounts within the next three years. Fujitsu is also a major advocate for digital medical records — for humans.
The Wandant goes on sale in Japan on Wednesday for ¥9,800. After the first year, consumers will pay a ¥420 monthly fee for the cloud service. Fujitsu said it is considering expanding the service overseas in the future.
~ Courtesy of The Wall Street Journal
Tags: dog feelings, Fujitsu, smartphone dog app, Wandant