I will confess right away that I am not much of a philosopher. I am a biblical studies guy myself and philosophy does not come easy to me. That does not mean that I am not interested, it is just that many philosophy books seem to be philosophers talking to each other.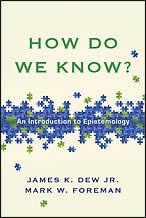 For this reason, I was interested in
How Do We Know? An Introduction to Epistemology
by James K. Dew Jr. and Mark W. Foreman. Finally a philosophy book that was written for me.
Epistemology is becoming more and more a battleground between world views, even if many people do not know the word. This book provides a good introduction in easy to understand language. It is not "dumbed down" but rather is translated for the layperson. All of the standard issues of epistemology are touched on and there is even a chapter on revelation as a source of knowledge. The chapter on natural revelation was particularly interesting to me.
If you are looking to introduce yourself to this subject or if you are a philosopher trying to help others understand, this would be the ideal book. I also think that would be good for an introductory class at the undergraduate level. I thoroughly enjoyed reading How Do We Know? and I will continue to recommend it to others.
An Introduction to Epistemology
Epistemology
How Do We Know?
James K. Dew Jr.
Knowledge
Mark W. Foreman
Post navigation
←

Do We Need Biblical Commentaries?