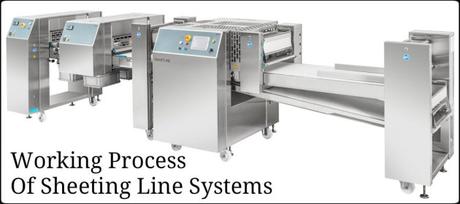 Sheeting lines are versatile bakery equipment pieces that can be used for everything from ciabatta to pan bread, having a wide variety of sizes and shapes. These machines are considered by many people as suitable only for the dough of artisan bread, which is very sticky & wet and contains about 60 to 90 percent water. However, their ability to assist in the preparation of various bakery items shows how versatile they really are.
The process of sheeting generally begins with a low stress head having a hopper right above it, into which the dough is normally dumped from the mixing bowl or mixer. Often, the dough is chunked into small pieces and then allowed to enter the sheeting section. In case somebody is using stiffer or grain dough, they usually have to bring it down via the rollers on the conveyor bed in the form of a narrow and thick layer. Bread sheeting lines equipment necessitate the usage of flour dusters all throughout the entire processing method. This helps in preventing the dough from sticking onto the conveyor so that it can be managed through various reduction stations and rollers.
The first thing needed to decrease the dough is often an efficient quick reducer, also known as multi-roller or satellite head. The reducer has a central shaft surrounded by multiple small rollers that would act like a rolling pin on the wet and sticky mass at high speed. And all of these will take place against a bottom roller, which can then be replaced by a cross roller.
The cross roller not only helps in setting breadth of the required sheet, but also allows to apply some stress or tension in the opposite direction. Besides that, it also enables the operator to spread out some of the tension on the sides for ensuring a relaxed dough sheet. Thereafter, the sheet goes inside the gauging station where it is made even and smooth. This step improves the weight control and also enhances product forming.
Many bakers suggest that a space of about 1 to 2 metres should be left between the steps associated with reduction. They believe that it allows the dough to relax and takes out some of its bulkiness. The space also helps to obtain a smooth and uniform sheet that is easy to handle or mold for any food product, be it normal or artisan bread, ciabatta, baguette, and so on.