Written by Ryder Supply Chain Services
Sustainable Supply Chain Goals and Challenges
Contributions to sustainability are a growing priority for many corporations. Company leaders are realizing that sustainable supply chains can not only have positive environmental and human impacts, but also improve a company's bottom line. Along with this emerging commitment come challenges that require a new way of viewing and managing our supply chains.
The U.S. Environmental Protection Agency (EPA) calculates that freight transportation by truck accounts for approximately 20% of greenhouse gasses generated in the U.S. These emissions are projected to grow rapidly over the next two decades due to higher demand and aging fleets with declining emissions performance. Yet, many companies have embraced the challenge to reduce emissions in their own supply chains and have reached out to logistics partners who have similar environmental goals and innovative approaches.
Transportation & Logistics—The Circulatory System of the Economy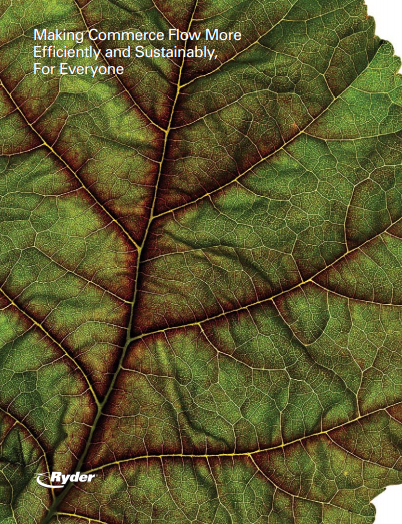 Making the right decisions regarding your supply chain can benefit your company economically and environmentally. Ultimately those benefits can cascade throughout society.
"We have a tremendous opportunity to contribute to the sustainability of our economy because of the nature of our business," writes Chairman and CEO of Ryder System, Inc., Greg Swienton, in the company's 2011 Corporate Sustainability Report.
A healthy supply chain—with its people, vehicles, and network of operations—keeps goods and materials flowing efficiently so that the economy can grow and thrive.
Creating a More Sustainable Supply Chain
There are many opportunities in which corporations can make contributions to sustainability. Environmental changes are sometimes the most obvious impacts; but others exist as well, such as security and investments in people and community. Here are some examples.
Environmental Innovation
Introduce low emission transportation technologies such as alternative fuel vehicles using natural gas
Use resources and facilities more efficiently by limiting electricity, gas, and water, and by reducing materials and packaging in warehouse operations
Take advantage of partnerships between public and private sectors that make green technology more accessible in the marketplace
Cargo Security
Administer government-authorized security programs (C-TPAT)
Employ real-time vehicle monitoring
Use security monitoring centers to manage customs and border security
People and Community Investment
Join with U.S. Chamber of Commerce Veterans Employment Advisory Council to hire veterans
Implement new learning management systems to improve employee access to training
Increase total charitable giving
The sustainability options available are plentiful, but it can come down to a few simply choices, by just selecting the right supply chain problems.
Are the supply chain decisions you are making today in line with your company's sustainability goals?
Read more about Corporate Sustainability.