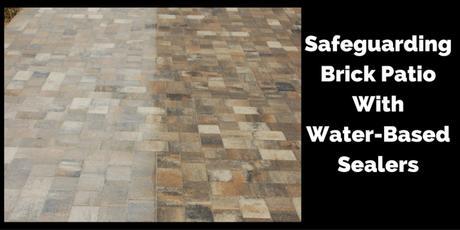 Having a brick paved patio can greatly enhance the aesthetic and curb appeal of a residential property. It creates a fantastic space for a wide range of entertaining and relaxational activities. Another attractive feature of brick patios is that they are low maintenance. Unlike wooden decks, they do not require re-staining or annual cleaning. However, they necessitate some form of upkeep in order to last longer and withstand weather elements. Without care, they can get damaged by weeds, fade or become uneven.
Just like any other area outside a house, a brick paved patio remains exposed to sunlight and rain that fade its colours and wash out the sand from its joints. It can eventually cause erosion and make the paving uneven, lead to growth of weeds within the joints and provide an ideal place for ants to colonize. In order to prevent such issues or fix erosion damages, the surface must be sealed using a good water-based sealer.
Water-based sealers have the amazing property of solidifying after application within brick patio joints. By doing so, they keep the sand from washing away due to rains. Moreover, since the joints get filled entirely, there is no space left for weeds to grow or ants to nest. There are even special sealers which can impart an appealing polished appearance to the brick pavers. The polished look would, in turn, make the pavers seem more vibrant and rich in addition to accentuating their color. Besides that, the sealer will also offer durable and strong protection to the brick patio from the UV rays of the sun and prevent color fading.
Before applying a sealer, it is better to consult with an expert first. There are plenty of reputed paving contractors in Perth. Contacting any one of them and asking to come & take a look at the brick patio can be a wise move. They usually possess adequate knowledge about all aspects of paved surfaces and would be able to suggest the right sealing product for a paved patio.
Sealer can also be applied by following a simple DIY procedure, only if an individual has the required skills and equipment for handling the task. First, the surface will have to be power washed and then cleaned with a small amount of muriatic acid to eliminate minor stains. Next, the bricks should be levelled out by adding sand between them. Finally, the sealer has to be applied in two coats using a pump-up garden sprayer.