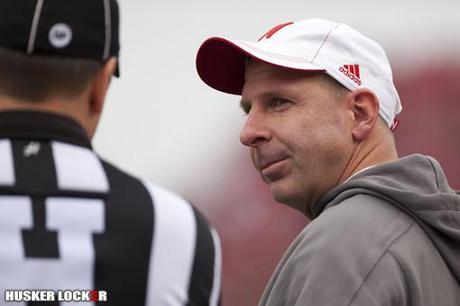 Share this story
By Chris Labenz
There's no question that Bo Pelini has had a positive influence on Nebraska football since taking over prior to the 2008 season.
Since his hiring, Pelini has led the Huskers to four nine-win seasons, making Nebraska one of only seven teams to win at least nine games during that period.
Digging further into Pelini's record, you'll find that Nebraska has also lost four games each year, usually falling against ranked opponents.
2011:
9-4 (5-3 Big 10) 1-3 vs. Top 25 (Best win: No. 11 Michigan State)
2010:
10-4 (6-3 Big 12) 2-2 vs. Top 25 (Best win @ No. 13 Oklahoma St.)
2009:
10-4 (6-3 Big 12) 0-3 vs. Top 25 (Best win @ Missouri)
2008:
9-4 (5-3 Big 12) 0-4 vs. Top 25 (Best win: Clemson)
How does Nebraska break this "Four Loss Curse" in 2012? There's no simple response to this question, and it's likely caused the Husker head coach to put in some late hours trying to solve the riddle.
Despite the many reasons for Nebraska's struggles, all discussed ad nauseum in newspapers and on message boards, let's examine some specific components of Pelini's team that must be fixed in order for the Big Red to overcome potential roadblocks set.
While obvious, it's critical that Taylor Martinez make strides in the passing game for the Husker offense to put up points against quality opponents.
In the four games Nebraska played against AP Top 25 teams last year, the Huskers were only able to put up 17.8 points per game, 12 below their season average.
A big reason for this meager output was that Martinez struggled mightily when throwing the ball against ranked teams, averaging a pedestrian 123 yards passing per game.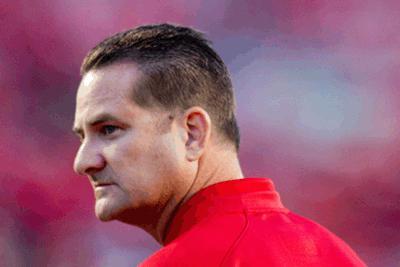 This was partially due to Tim Beck allowing (and trusting) T-Mart to throw the ball only 18 times per game, of which No. 3 completed only half on average. In those same games, the then-sophomore signal-caller threw just three touchdowns to six interceptions.
Since these teams were able to force Beck's offense to be so one-dimensional, the Nebraska rushing attack struggled to consistently move the ball against eight-man fronts that could play with reckless abandon knowing there was such a limited threat through the air.
It's clear Pelini and Beck want the offense's main course to be the rushing attack, but success demands a more balanced passing game as a side dish.
If this can't happen, Big Red opponents will continue to feast on the Husker offense, constantly asking head chef Tim Beck for more helpings of Rex Burkhead draw plays and Martinez read-options smothered in three and outs and field goals.
In that same vein, wide receivers coach Ross Fisher has a lot of work to do this summer in terms of developing the current group of Husker pass-catchers.
While a good portion of of the blame for Nebraska's passing woes falls on the shoulders of Martinez, he didn't always get the best assistance from his receivers in 2011.
Catching Martinez-thrown balls half the time produced a mind-numbing three touchdown catches. The leading receiver was Kenny Bell, who was good for 35 yards per game.
These numbers have to improve noticeably in 2012 if Beck's group is to average more than 18 points against their best competition.
While Martinez doesn't throw the prettiest or most catchable ball, Husker receivers have to help him out by eliminating the high number of frustrating drops and hauling in those throws even when they are catchable, but not on target.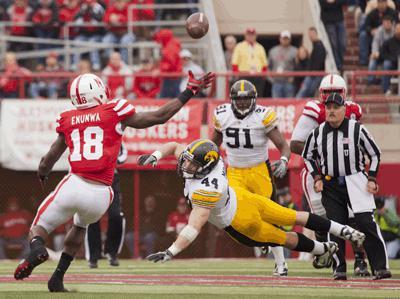 While improving the passing game will be a tremendous challenge, Beck and Fisher won't be lacking the talent to do so. Along with Bell, Nebraska has assembled perhaps its most talented group of receivers in team history.
Sophomore Jamal Turner has elite athletic ability and we should see his route running and pass-catching technique develop in only his second year as a full-time wideout.
Quincy Enunwa is a wrecking ball out wide when he's asked to run block, and has enough speed and size to be a solid weapon over the middle, giving Martinez a safety valve when things get hectic around or in the pocket.
Tim Marlowe was reliable in 2011, if not spectacular at times. While it's unlikely they'll make a huge impact in 2012, redshirt freshman Taariq Allen and incoming freshman Jordan Westerkamp have the skills to be All-Big Ten receivers once they have a total understanding of Beck's system.
I expect the first group to be on a short leash this year. If the drops and errors pile up, don't be shocked if Bo tells Beck to throw Allen and Westerkamp into the fire.
On the other side of the ball, Pelini must remold his Blackshirts if he wants to achieve the sort of success he became accustomed to while he was the defensive coordinator at Oklahoma and LSU.
Nebraska allowed a disastrous 173 rushing yards per game (3.8 yards per carry) against Top 25 opposition last year.
In these same games, the Huskers gave up 11 rushing touchdowns, five more than the Big Red offense produced.
Opposing quarterbacks had a field day through the air against the Blackshirts in these four games throwing for 188 yards per game and averaging a shocking 9 yards per attempt.
Nebraska's secondary, one year removed from being considered the best in the nation, gave up six touchdowns and only grabbed two interceptions against these teams.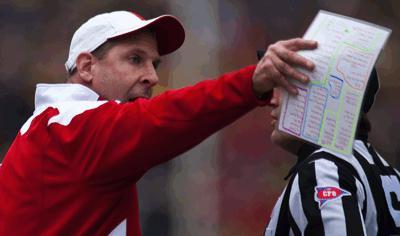 While Bo Pelini is considered by many to be one of the brightest defensive minds in football, the former All-Conference safety was unable to brainstorm ways to stop opponents on a week-to-week basis.
Carl Pelini's departure is potentially good news for Pelini's stress level and for Nebraska's defense as a good friend of the head man taking his brother's spot in John Papuchis.
The two go back several years to when Bo was making the calls in Baton Rouge, and there is definitely a level of trust between the two fiery coaches which will aid Pelini in handing off the reigns.
New secondary coach Terry Joseph will have to learn Pelini's famed pattern-matching scheme on the fly as he works to rebuild the confidence of a back seven who looked confused and out of place all too often in 2011.
If this new-look coaching staff can get back to basics and teach the Huskers to play fast, smart, and mistake free (all characteristics of Pelini's best defenses), then Nebraska should get the stops it needs to win close games in 2012 and break the Four-Loss Curse.
Follow Chris on Twitter:
@chris_labenz
Follow Husker Locker's Official Feed:
@huskerlocker
Like us on Facebook:
Official Husker Locker Page
Permanent Link to this Blog Post