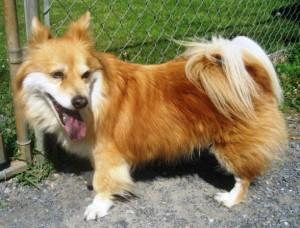 There are moments in life in which you know you need to do something. And along the way, you discover that you actually love dogs when you have no idea that this was the case.
This is exactly what happened just a few weeks ago. I was walking with a friend and in the middle of the road we saw a dog that seemed to be laughing.  You know the type: the one that always wiggles his tail and seems to have a smile on his face even with a closed mouth.
We stopped and we pet him for around 10 minutes. I had read about how to approach a strange dog and that most likely helped. We were headed toward a fast food joint for a late-night dinner. The dog started to follow us, wiggling his tail all along the way, which was totally adorable. During our small trip at 2 AM the dog kept following us, avoiding some cars and taking his time to find the best route toward us when he ended up being distracted by a bark or by another person.
The dog was simply adorable and he was trained. I told him to sit and he did so instantly with that smile on his face.We pet him some more, and I decided that if he followed us to the fast food joint we would feed him a hot dog.
Guess what!
He followed. I went ahead and bought the hot dogs, which he basically gulped instantly.
At one point he stopped and he started to lick the concrete as he was really thirsty. I bought a bottle of water. He did not want to drink out of my hand since he was obviously afraid but he did drink out of a cup.
After all this we went home and the dog kept following me. I closed the door in front of his face and the trip up the stairs was probably the longest that I ever took. I was heartbroken. During the night I couldn't sleep and that smile of his kept popping up in my mind. I finally went to sleep and I actually ended up dreaming about him. When I woke up I said that if I see him again, I will definitely take him home.
Guess what part 2!
The second day, as I went shopping, I saw Foxy (my name for him) pop up from the corner. It was obvious.
I took him home, fed him and the only real problem was that my rental does not allow pets.  However, I went on to My Pawson and managed to find him a really great home, one where I can visit whenever I want.
The Bottom Line
How can you hate dogs? This little one followed me simply because of the fact that I petted and scratched his belly. It was obvious that he wanted to protect me. The second day he came back around. This is a clear statement that dogs are incredible and those 24 hours changed my mind completely. The next time I move, I will adopt a dog and move somewhere where I can keep a dog. Foxy is happy and  has a great home now, and one day I will provide a happy home to another dog.
Tags: dog adoption, dog home, dog strays, strays