Last night, I hopped on over to Houzz since I always find a ton of inspiration there.  I had mentioned yesterday in my post that I am looking for inspiration for my kids bathroom or as we like to call it, the White Box.   I must admit, I got side tracked.  It happens to me a lot.  I go to the store for one thing and end up coming back with something completely different forgetting to pick up what I had actually intended to get in the first place.  I am also like that when I work on things in my home.  I have 50 things going and nothing completed, but doesn't every creative person?  No, well let's pretend we do ;-)  Oh yes, And apparently, I get side tracked searching online and by the time it's over I have no inspirational photos for my kids bathroom, but a ton of inspiration for the rest of my home. BUT believe me, You are glad that I got side tracked because I found a lot of inspiration to share.  All of the pictures I am going to show you are from a Custom Home Building Co. called Wallmark Homes.  They are located in Vancouver, Canada. So for you lucky people living in that area, you may be able to have them build your home.  Now let's take a look at some photos...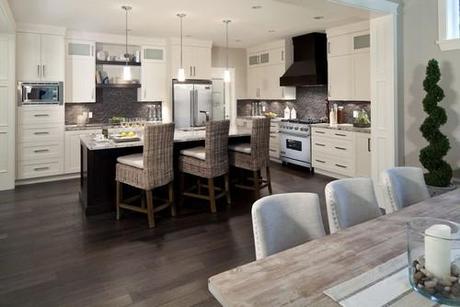 What do you love about this space?  I love the whole combo effect.  The dark brown wood floors with the white cabinets, dark island, and light sea grass chairs.  I love the bleached wood dining table to the right with the linen covered seating that has nail head accents.  I really love the feel of the whole kitchen.  I could really see my family completely hanging out together in this space.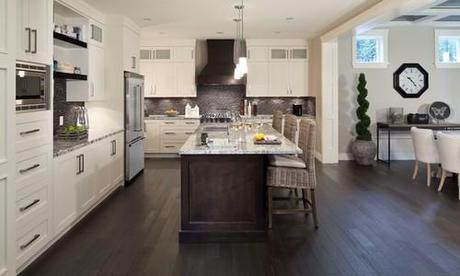 Here's another angle of the kitchen.  Off to the far right I spy a console table made from wood and metal.  Just gorgeous.  Now, can I convince myself and my husband to go darker with the floors when we have a whopping 62 pound Bulldog sliding into everything?  I hope so.  I think there has to be a nice bamboo flooring out there that will satisfy all of us. Have no fear, there is more...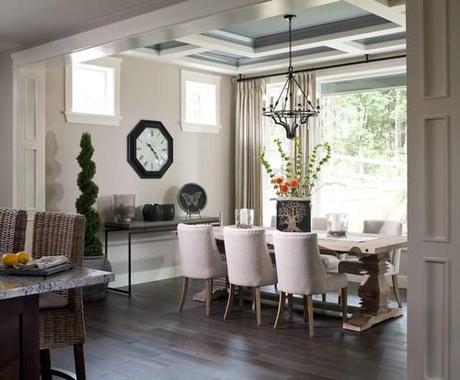 Look at those ceilings.  I love custom homes for that reason right there.  Such great detail work!  It looks like they chose to paint it a bluish gray color.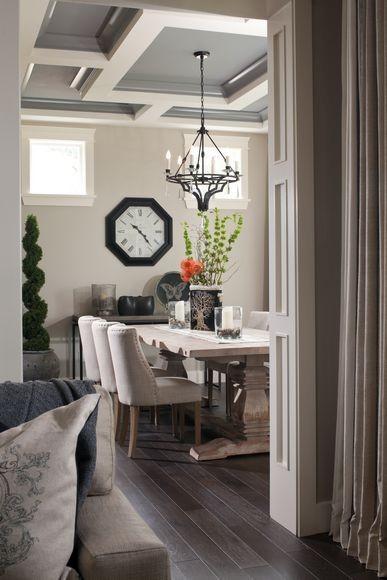 Here is a better shot of the ceilings.  The whole color palette feels so relaxing to me.  Don't you think the trim work around the doorway is really cool with the way the wood has been inset?  It sort of mimics the ceiling design, but in a smaller form.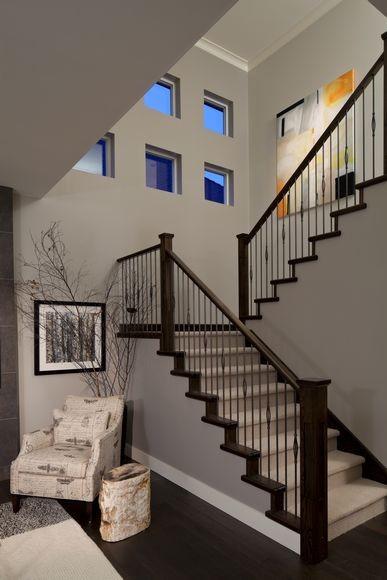 I really like the white trim contrasting with the dark floors.  I don't know what color that is on the walls, but I think I need to find out.  It is a perfect greige color.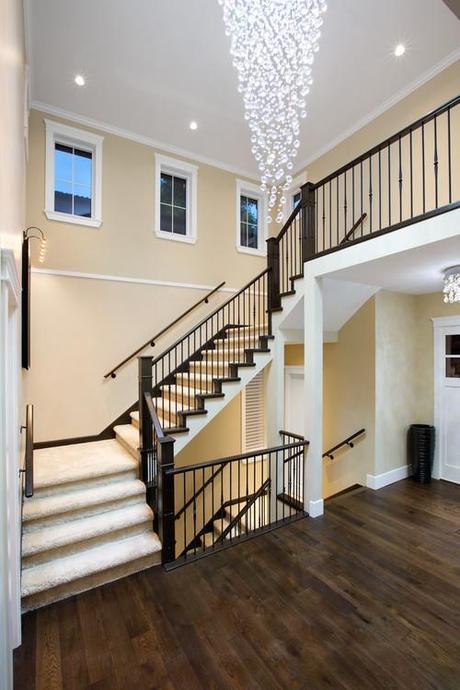 I don't know if this is from a different house than the previous picture or if it is just the second floor, but notice how there is not much else around to clutter up the view of this beautiful chandelier.  When you have a statement piece like that, it's better to keep everything simple.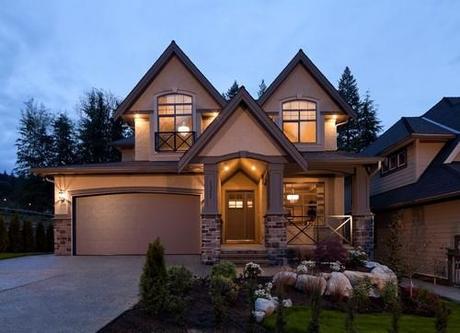 This is the house from outside. Look at that entryway!!! Wouldn't you love to pull up to this home after a long day at work? I know I would.
The rest  of the photos are from some of the other houses that Wallmark Homes built.  I pulled a few of my favorites...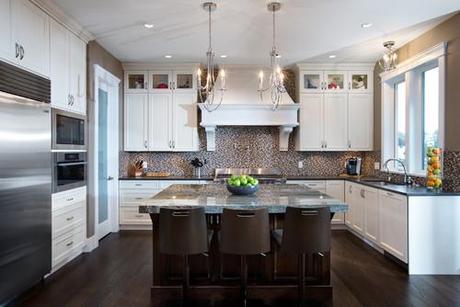 So many people have to wash their dishes while looking at the wall or out of a small window, but that looks to be a beautiful view and the chandeliers over the island aren't too shabby either.aren't too shabby either ;-)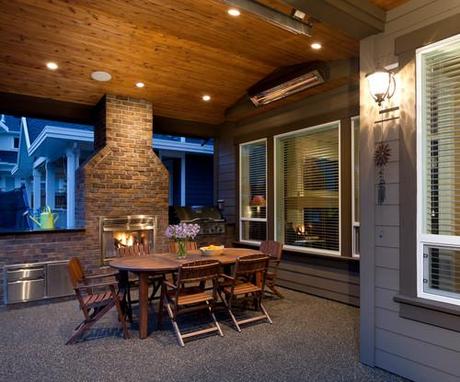 I am ready to throw some kabobs on that grill, bring out a bottle of wine and relax.  If you look up above the window, I think they have space heaters to keep everyone warm.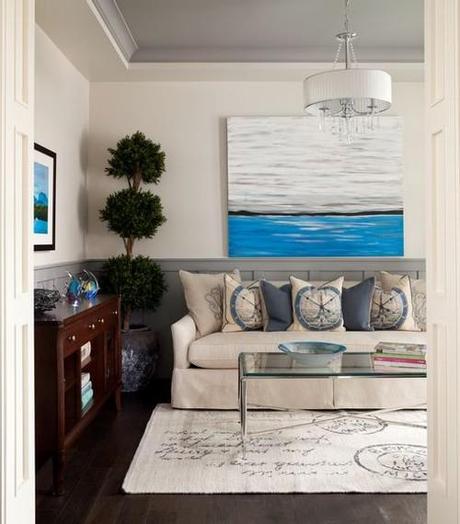 And finally, I think anyone would want to hang out in this room.  The teenagers because of the cool painting and vibe the room gives off and the moms because of the lighting and ceiling detail.  I see a lot of board and batten painted white, so it is nice to see the darker color on the bottom and the white on the walls.  The white on the walls can open up the possibilities of having more choices in wall decor or artwork and this artwork pulls in the gray from the board and batten detail.  If you want to check out more of their spaces, then you can visit Wallmark Homes on Houzz here or visit their website here, which also has the full gallery of photos.