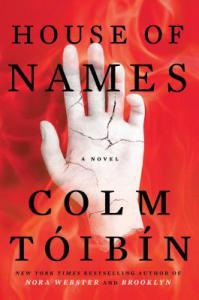 Book Cover Image: House of Names by Colm Tóibín

" data-orig-size="265,400" sizes="(max-width: 199px) 100vw, 199px" aperture="aperture" />
BOTTOM LINE: Beautiful storytelling but uneven characters leave this one feeling flat.
Genre: Literary Fiction
Publication Date: 9 May 2017
Source: Publisher via Edelweiss
"'I have been acquainted with the smell of death.' So begins Clytemnestra's tale of her own life in ancient Mycenae, the legendary Greek city from which her husband King Agamemnon left when he set sail with his army for Troy. Clytemnestra rules Mycenae now, along with her new lover Aegisthus, and together they plot the bloody murder of Agamemnon on the day of his return after nine years at war.

Judged, despised, cursed by gods she has long since lost faith in, Clytemnestra reveals the tragic saga that led to these bloody actions: how her husband deceived her eldest daughter Iphigeneia with a promise of marriage to Achilles, only to sacrifice her because that is what he was told would make the winds blow in his favor and take him to Troy; how she seduced and collaborated with the prisoner Aegisthus, who shared her bed in the dark and could kill; how Agamemnon came back with a lover himself; and how Clytemnestra finally achieved her vengeance for his stunning betrayal—his quest for victory, greater than his love for his child.

In House of Names, Colm Tóibín brings a modern sensibility and language to an ancient classic, and gives this extraordinary character new life, so that we not only believe Clytemnestra's thirst for revenge, but applaud it. He brilliantly inhabits the mind of one of Greek myth's most powerful villains to reveal the love, lust, and pain she feels. Told in fours parts, this is a fiercely dramatic portrait of a murderess, who will herself be murdered by her own son, Orestes. It is Orestes' story, too: his capture by the forces of his mother's lover Aegisthus, his escape and his exile. And it is the story of the vengeful Electra, who watches over her mother and Aegisthus with cold anger and slow calculation, until, on the return of her brother, she has the fates of both of them in her hands."
My Thoughts:  When I think of Greek tragedies and myths, I think of extreme emotion and intense drama. Colm Tóibín's retelling of Clytemnestra in House of Names lacks both the emotion and the intensity with the result being a impassive story with lackluster characters. One expects more given Mr. Tóibín's propensity for beautiful storytelling.
The strange thing is that Mr. Tóibín still writes a gorgeous story. The sentences are filled with lush descriptions and fierce emotion. They border on the poetic with their capacity to evoke imagery. Yet, for all of their beauty, they do nothing to incite similar emotion in readers.
The fault, I believe, lies in the characters. Of the three narrators, Clytemnestra is by far the strongest and most interesting. Her reasons for revenge not only evoke sympathy but ring with conviction and truth. Her later actions show her relative inexperience in political intrigue, while her eventual regret calls forth her love for her children and the sacrifices she made on their behalf. She is fiery, committed to her family's welfare, and in over her head. Were the story only told from her point of view, one would have a different opinion of the book.
Unfortunately, there are also Orestes' and Electra's viewpoints one must read, and there is where interest wanes and the dispassion begins. Electra comes across as a spoiled child, self-centered and unreasonable. She makes no attempts to understand what occurred to her sister, and her bias towards her deceased father exacerbates her lack of reason. She is the stereotypical bitter woman holding a grunge for no other reason than the fact that she can.
Meanwhile, Orestes is the character to whom things happen and the one who fails to take any action of his own accord. He is purely at the whim of others, recognizing this fact and taking it for granted on one hand and yet lamenting it at the same time. He is less driven than his sister or his mother and spends most of his time searching his feelings, which are muted when compared to his sister's cold calculations or his mother's passion. His one shining moment of action feels out of character given what we learn about him to that point, so much so that it is easy to overlook or ignore, especially as the story takes a supernatural bent towards the end.
Both Orestes and Electra pale in comparison to Clytemnestra, and their stories do likewise. Clytemnestra's narrative passages are what one expects from a Greek myth with its focus on violence and love in equal parts. Orestes' and Electra's narratives are lackluster and highly unsympathetic. This split between the three narrators harms the overall story by creating an unevenness in sympathy and general lack of interest for the events.
House of Names is not a faithful retelling of the Clytemnestra myth. Mr. Tóibín takes many liberties with the story and creates his own version. While this is perfectly acceptable, it does make it difficult for any reader who may want to learn more about any of the characters. Readers who are already familiar with the myth may find this a non-issue as they will be better able to discern where Mr. Tóibín deviates and where his version follows the others.
I finished House of Names feeling like I completely missed the point Mr. Tóibín is trying to make. Three weeks later, and I still feel this way. The unevenness of the characters and the general lack of interest and sympathy I feel towards them keeps me from being able to immerse myself into the story. While his prose is beautiful, I find the entire novel clinical and cold, and I cannot shake the feeling that this is on purpose, that Mr. Tóibín makes us feel this way to prove his message. Sadly, I simply cannot determine what that is. Given that it is a re-imagining of a Greek tragedy, I cannot also help but think that listening to it should be the preferred medium by which to experience the story. After all, traditional Greek stories were shared orally. Alas, I read the print version and feel like I missed out on something. As such, my experience with House of Names is a disappointing one.