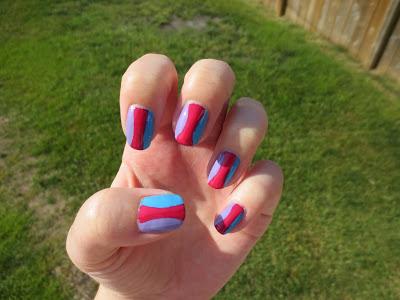 I was recently flipping through magazines and I saw this nail trend everywhere! Luckily it's super quick and easy to do! The thing I like most about this nail trend is that it doesn't require and sort of tools; just nail polish. I used three different nail polishes but you could use two if you prefer one base color and then one color to do the hourglass shape. I think this nail look would look really cool in black & white too!
Products Used:
Essie Using My Maiden Name (Purple)
Revlon Coastal Surf (Blue)
Essie Watermelon (Red)
Seche Vite Fast Drying Topcoat (not shown)
Check out this really quick video to see exactly how I did it!
Let me know what you guys think! Thanks for reading!
Twitter, YouTube, Instagram